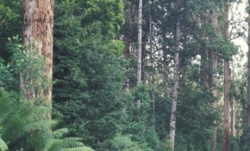 Australia has the world's most carbon-dense forest in the Central Highlands of Victoria, according to researchers from the Australian National University.
The researchers studied biomass data from 132 forests from around the world to discover the regions that stored the most carbon. Their findings overturn conventional thinking about the carbon density of different forest types that until now held that tropical rainforests were the most carbon-dense. The results are published in the US-based Proceedings of the National Academy of Sciences, one of the world's most-cited scientific serials.
The research team – Professor Brendan Mackey, Professor David Lindenmayer and Dr Heather Keith of the Fenner School of Environment and Society at ANU – found that the world's most carbon dense forest, that has currently been measured, is a mountain ash forest in the Central Highlands of Victoria.
"This is a real surprise because most people think tropical forests store the most carbon, but instead it's forests in the temperate region that have the most," Professor Mackey said.
Professor Mackey said the forest in Victoria, which is part of the water catchment for Melbourne, was a clear winner for world's most carbon-dense forest and suggested a number of reasons why this was so.
"The amount of carbon stored in an ecosystem depends on the rate that plants photosynthesise and grow, but that's countered by the rate biomass respires and decays. These forests occur at an intersection of those environmental conditions which are conducive to high rates of plant growth and, because they're cooler, slower rates of decay.
"Additionally, the trees in this forest are very old – they've been there for at least 350 years, growing dense heavy wood. That's important because the amount of carbon stored is due to volume and density. On top of that, these trees have not been subject to intensive land use, such as logging.
"Finally, it involves the way the forests have evolved in response to fire. If they get an intense fire that kills the tree, you haven't lost all of the carbon – most of it is in the trunk, branches and roots, and much of it remains after a fire, even as dead wood. Many trees survive fire in less intensely burnt patches, plus new groups of trees regenerate. Over time the total amount of carbon building up can be very large, resulting in a complex forest," said Professor Mackey.
The forest is at the head waters of the Yarra River, surrounded by national park and state forest. It is also home to the endangered Leadbeaters Possum. It is classed as part of the moist temperate forest type. Other Australian forests in this group also scored highly on carbon density, as did similar types of forest from elsewhere in the world, including the Pacific Coast of North America, Chile and New Zealand.
---
Editor's Note:
Original news release can be found
here
.