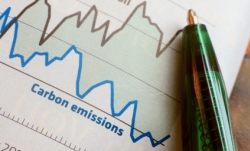 Australia needs to increase its national emission target from five to 15 per cent to meet its fair share of global action on climate change, according to new research from The Australian National University.

The study, conducted by Dr Frank Jotzo, Director of the ANU Centre for Climate Economics and Policy, found that despite the absence of an international climate treaty, many countries were taking strong action to meet the challenge of climate change.

Dr Jotzo said that climate pledges made by developing countries will mean substantial reductions in carbon emissions growth.

"For example China is set to contribute a greater total amount of emission cuts relative to a 2020 baseline than the developed world as a whole," said Dr Jotzo.

"Its commitment to cut carbon intensity of GDP is on par with US and EU targets, and exceeds what Australia would achieve under its five per cent target.

"Other developing countries are equally ambitious. For example reductions pledged by Indonesia are likely to be larger than Australia's commitment.

"The fact that the international climate regime after Copenhagen is dominated by a 'bottom-up' approach rather than a global trading scheme does not necessarily mean it will be less effective," he said.

Dr Jotzo said that the experience with the Rudd government's CPRS drove home the need for more and better-informed debate about the issues confronting the nation on climate change.

"Starting with a fixed price on carbon emissions in Australia offers a good balance between providing certainty for industry and achieving environmental outcomes," said Dr Jotzo.

"Putting a price on carbon is the cornerstone of a strategy that actually cuts emissions and keeps a lid on costs. Investing in emission reductions in developing countries will also need to be part of the mix.

"If a new Australian carbon pricing scheme is designed appropriately, it can be easily transformed into a market-based system in the future," he said.

Dr Jotzo's research will be presented at the ANU-launch of the Centre for Climate Economics and Policy as part of the University's Asia Climate Change Policy Forum taking place this Wednesday. The Centre will be launched by the Secretary for the Department of Climate Change, Dr Martin Parkinson.

---
Editor's Note:
Original news release can be found
here
.