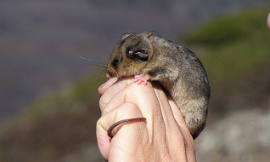 Mt Buller's Mountain Pygmy-possums have had some rare good news following the success of an emergency action to save the isolated population from extinction caused by declining genetic diversity.

A team from the University of Melbourne, Department of Sustainability and Environment (DSE) and an independent expert (Dean Heinze) took the action to genetically rescue a population of one of Australia's rarest marsupials, the threatened Mountain Pygmy-possum (Burramys parvus) that has been isolated on Mt Buller for over 10,000 years.

DSE scientist Ian Mansergh said "The team translocated six male Mountain Pygmy-possums from the genetically healthy wild population at Mt Hotham and temporarily releasing them at Mt Buller to breed with the local females in the wild, with the aim of improving the genetic health of the population."

Andrew Weeks from the Department of Genetics and Bio21 Institute, University of Melbourne said "The action was necessary because the number of Mountain Pygmy-possums at Mt Buller had rapidly declined since 1996 to be only about 30 genetically impoverished animals in 2009. More concerning was that our research showed that as few as two or three males were successfully mating with females each year, contributing further to genetic depletion."

"The first translocation in October 2010, proved that cross breeding in the wild could succeed and a subsequent translocation was undertaken in September 2011 prior to the beginning of the breeding season.  In January 2012, we captured 16 independent juvenile Mountain Pygmy-possums at Mt Buller and confirmed that eight of these were hybrids. The team also found that two hybrids from the previous breeding season had survived winter to breeding age," Dr Weeks said.

"These hybrid juveniles have a mother from Mt Buller and father from Mt Hotham and are genetically more robust than pure Mt Buller animals. To have half of the juveniles from a breeding season identified as hybrids is confirmation that the action improved the genetic diversity of the Mt Buller population in the wild."

"While it is a tough decision to move wild individuals from any threatened species, the success of this action is good news for the health of the Mt Buller Pygmy-possum population."

Independent expert Dean Heinze said "We are in the first stages of preventing genetic extinction of the Mt Buller population and it's unlikely we'll need to do any further translocations in the near future, however we will continue to monitor the situation and make decisions accordingly. If nature takes the course we expect – there will be more hybrid Pygmy-possums on Mt Buller in the coming years with a much brighter future."
Editor's Note: Original news release can be found here.