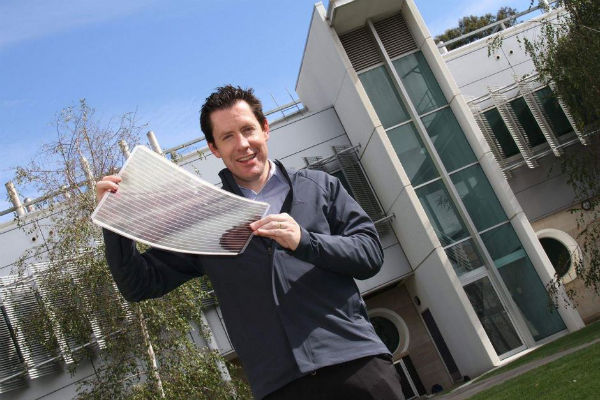 A group of Australian solar power experts known as the Victorian Organic Solar Cell Consortium, which includes scientists from the CSIRO, the University of Melbourne and Monash University, have been working on printable solar cells over the past seven years. And they're finally just about ready to hit the market.
According to CSIRO's senior research scientist Fiona Scholes, they can now print their solar cells directly onto plastic, which means the cases you keep your laptop, phone and tablet in could soon both protect your devices and collect renewable energy to power them up.
The team started off with solar cells the size of a coin, and have successfully scaled them up to a more practical A3 size. They're printed using regular commercial printers that have been modified to use special solar ink.
"We print them onto plastic in more or less the same way we print our plastic banknotes,"  Scholes told Emily Stewart at ABC News. "Connecting our solar panels is as simple as connecting a battery. It's very cheap. The way in which it looks and works is quite different to conventional silicon rooftop solar."
Scholes added that the solar cells can be printed to be semi-transparent, so could cover tinted windows all over a skyscraper to power it.
According to ABC News, the team is now working on a solar spray coating, and a number of companies are ready to buy into the technology. "We would like to improve the efficiency of solar panels - we need to develop solar inks to generate more energy from sunlight," said Scholes. "We are confident we can push the technology further in the years to come."