Last year the world took a turn for the worst. A global survey of human emotions has ranked 2017 as the gloomiest and most miserable year in more than a decade.
While positive experiences have remained steady, today's world is more stressed, worried, sad and in pain than at any point since 2005, when the annual Gallup Global Emotions Report first began.
"This is the first time that we've seen a really significant uptick in negative emotions," Julie Ray, the lead author and editor of the 2018 Gallup report and survey, told The New York Times.
"It's as high as we've ever measured it".
(Gallup Global Emotions Report for 2017)
From the spread of terrorism and war, to the global refugee crisis, to our rapidly warming planet, in 2017, the world continued to seem less stable and more dangerous.
Even in seemingly peaceful societies, political fear and polarisation has left citizens feeling isolated and downtrodden.
Surveying more than 154,000 people around the world, it was found that nearly 4 in 10 humans experienced undue worry or stress the day before the interview took place.
That's a total increase of two percent from the year before. And while that may not sound like much, with such a large sample size, it is significant.
While stress and worry led the way for negative emotions, sadness and physical pain followed with a total increase of one percent.
Slightly more than 3 in 10 people said they had experienced physical pain the day before, and 1 in 5 said that yesterday they had experienced sadness.
Anger was the only negative emotion that remained stable from the year before, holding at exactly 20 percent.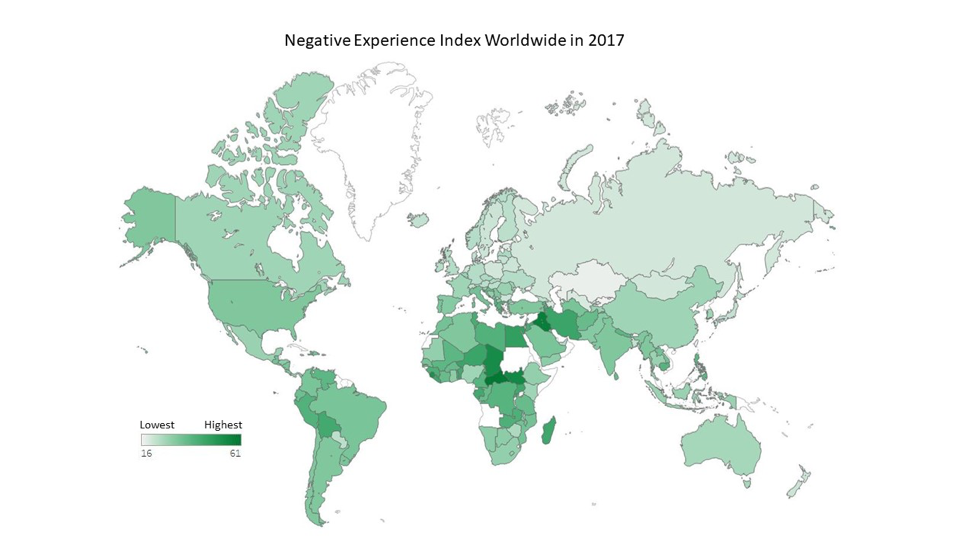 (Gallup Global Emotions Report for 2017)
As you would expect, some regions of the world are experiencing more negative emotions and experiences than others.
Up until 2017, Iraq had the highest Negative Experience Index score for four years running.
But last year, the Central African Republic (CAR) took that place, obtaining the highest score that Gallup has ever recorded for any country in the past decade.
Because renewed fighting in the country has driven many into hiding, Gallup was unable to survey 40 percent of CAR's population. Of those answers that were collected, three in four said they had experienced physical pain and a lot of worry the day before - the highest on record in both cases.
The report says that the survey "reflects a country in crisis", and many other nations in the region are feeling the same. In sub-Saharan Africa, 28 out of the 35 countries surveyed scored 10 points higher on negative experiences than in 2010.
(Gallup Global Emotions Report for 2017)
For Latin America, the results were more encouraging.
Year after year, this region continues to lead the world in positive experiences, and the authors of the study say this can be explained (at least in part) by the Latin American tendency to focus on life's positives.
But while cultural factors do seem to play a part, nearly all of the countries with the worst scores on the Positive Experience Index are experiencing some type of ongoing internal or external conflict.
In short, a positive cultural attitude can only go so far.
"Our research over the years has taught us that tracking how people are experiencing their lives is arguably more important than what their overall score is in one single year," writes Mohamed S. Younis, Gallup's Managing Editor, in the new report.
"Although developments on a national and global level tend to dominate news headlines, capturing the trends of hope - or despair - at the individual level provides the most valuable intelligence."
The full report has been published by Gallup here.