Sometimes you think you've stumbled across a ground-breaking astronomical discovery, only to find out that you were actually looking at Mars.
Usually, this kind of blunder can be hidden, buried and promptly forgotten, but unfortunately for Peter Dunsby, a cosmologist at the University of Cape Town, he published his hilarious mistake on The Astronomers Telegram - an online tool that allows astronomers to quickly share and discuss discoveries.
The two announcements only 40 minutes apart tell a very short story of discovery and disappointment - and the internet couldn't help but notice.
So what was so exciting it warranted an alert in the first place?
As Dunsby explained in the first alert, he detected a very bright optical transient – basically an astronomical object or phenomenon which is only in the sky for a small period of time.
It was so bright that he thought he might have just discovered something incredible and possibly even never before seen in our night sky - hence why he decided to blast it out to the astronomy world.
A journey of astronomical discovery in two acts. pic.twitter.com/kO0Qn7Uxqz

— Bryan Gaensler 📡🧲 (@SciBry) March 20, 2018
He was using an 80mm refracting telescope, when he discovered the transient on March 20, between 1:00am and 3:45am UT.
"The object was visible throughout the full duration of the observations and not seen when this field was observed previously (08 March 2018)," Dunsby wrote.
You can feel the excitement towards the end of the alert, concluding: "The optical transient is the brightest star in the field. Further observations are strongly encouraged to establish the nature of this very bright optical transient."
At some point in the following minutes he must have realised that he wasn't the first to spot the super bright object. In fact, it was Mars.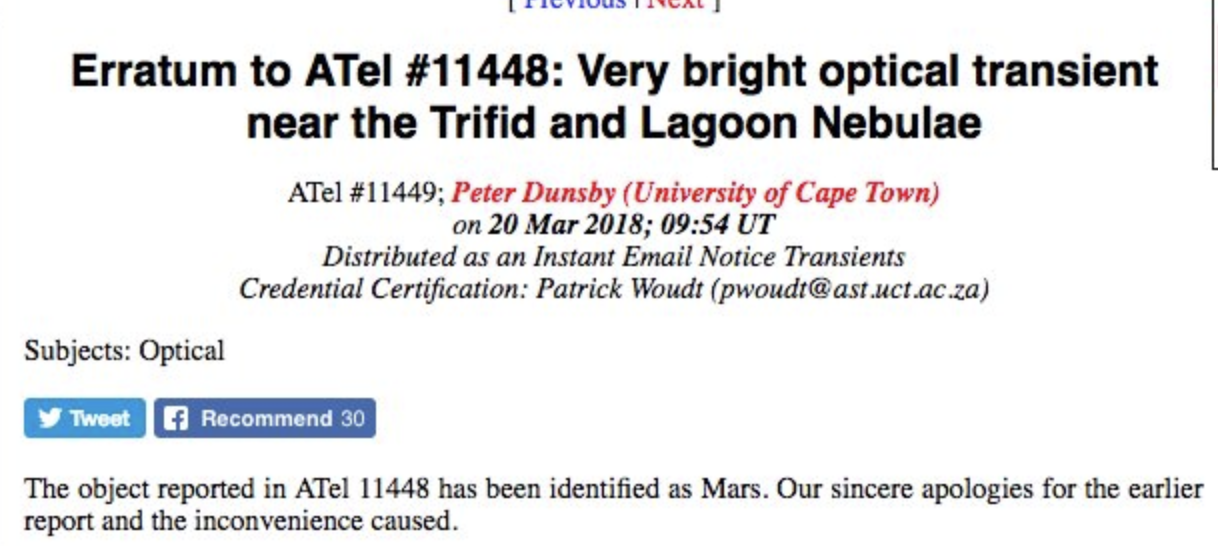 A follow up alert 40 minutes later explains the mistake, "The object reported in ATel 11448 has been identified as Mars."
"Our sincere apologies for the earlier report and inconvenience caused."
So, how does this kind of thing happen?
Well, despite the photographic atlases we have of the night sky (such as the Digitalised Sky Survey) planets in our Solar System move around a lot, and when you're looking for objects millions and billions of light years away, our closest Martian neighbour can look a lot like an exciting new discovery.
The Astronomer's Telegram Twitter account poked a little fun at Dunsby's mistake, creating a beautiful certificate to officiate the discovery of Mars.
For Discovery of Mars. Congratulations, Prof. Peter Dunsby! cc @peterdunsby Re: https://t.co/BXhOMQeSxN pic.twitter.com/JCnJyDJqBi

— The Astronomer's Telegram (@astronomerstel) March 20, 2018
Dunsby took the ribbing in good fun though, tweeting that he should probably be a bit more careful from now on.
Although it's obviously a bit embarrassing for Dunsby, it's kinda great for the rest of us.
If even cosmology professors can make that hilarious a mistake, small slip ups now and then might worry us all a little less.
As Paul Sutherland puts it so well for SkyMania, "And of course, Mars is but a speck of dust on a cosmological scale."