Somewhere on the bottom of the world, 33-year-old Colin O'Brady is readying for a task that no human has successfully accomplished. He's about to travel 1,000 miles (1,600 kilometres) across Antarctica alone, without any resupply support.
Everyone who has ever attempted that solo journey has either given up or died.
"This is something that no one in history has ever accomplished, and people have been trying for 100 years," the American explorer told Business Insider.
He talked to us from his Airbnb in Punta Arenas, Chile, just 10 hours before heading to Antarctica in a Russian cargo plane.
With the help of his wife, Jenna, O'Brady was finishing last-minute prep: they sewed a piece of warm fleece onto his face mask, weighed food, and packed it all into the 400-pound (181-kilogram) bags in which he will carry everything he needs to survive the next 70 days.
"Every little gram and ounce that I put in my sled has to be worth it," he said.
"I bring 220 pounds of food, but one pair of underwear. I'll be filthy at the end!"
O'Brady is starting his trek at the tip of the Ross Ice Shelf. A small plane will drop him off there. Then, some time about now, he'll start the uphill climb – on skis – toward the South Pole. He hopes to end up at the Ronne Ice Shelf, which borders the Weddell Sea.
Trekking 1,000 miles in 70 days means O'Brady will have to cover average of 14 miles (22.5 kilometres) per day, toting his sled of gear.
But he said the daily distance will vary from the beginning of his trip to the end. Each night, a sleeping bag and a tent will shelter him – somewhat – from the bitter cold.
If something goes wrong, O'Brady is equipped with a satellite phone.
Just a man and a sled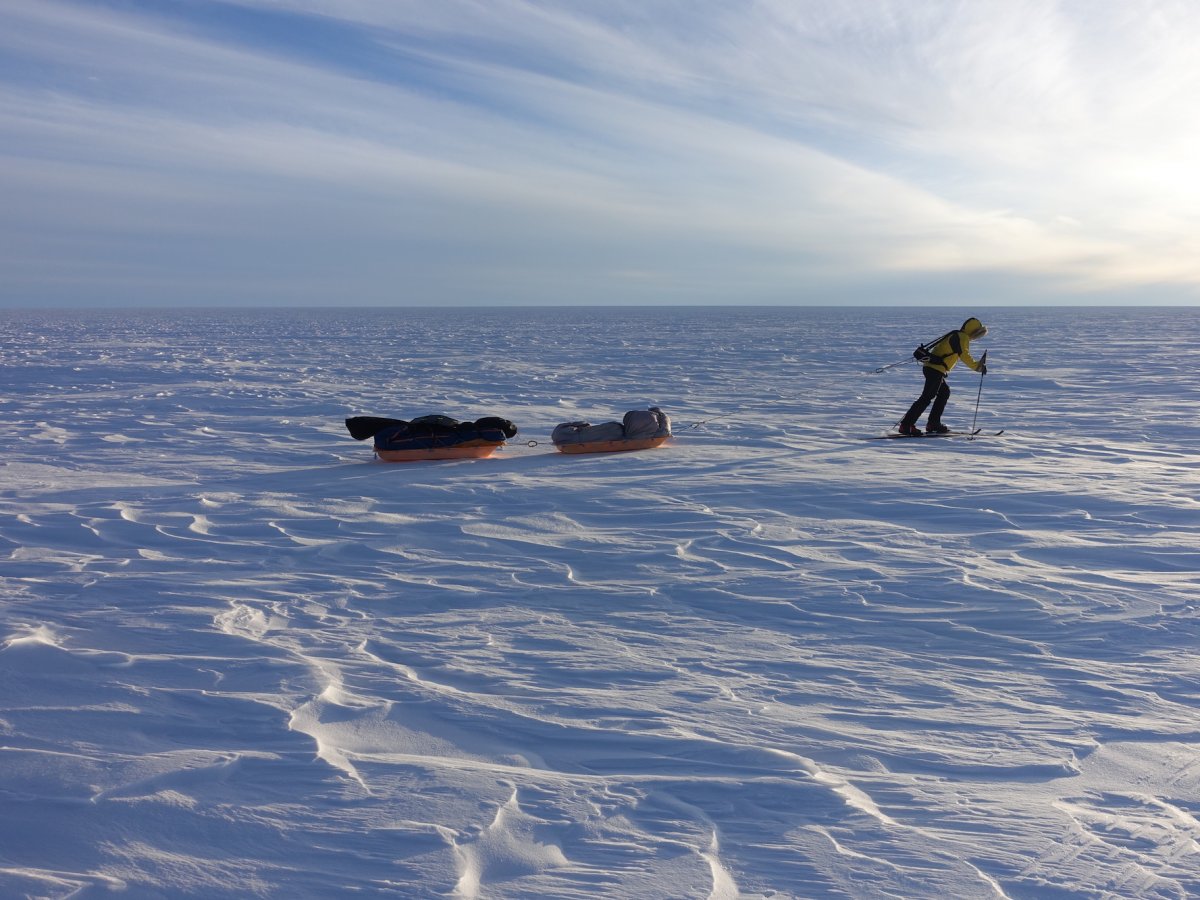 (Colin O'Brady)
The bulk of the load O'Brady is bringing on the sled is food, since he's convinced that's the element that everyone who attempted this before him miscalculated.
In addition to his skis and tent, he's also bringing a GPS tracker, a few cameras, extra phones, and a solar charger for those electronics.
It shouldn't be hard to come by sun, since daylight lasts 24 hours in Antarctic summer. For that reason, he'll use a sleeping mask when he rests.
The only "extra" article of clothing O'Brady has is a bonus pair of socks. All the other clothes will be layered to keep him warm: temperatures at the southern pole average -18 degrees Fahrenheit (-28.2 Celsius) at this time of year.
When it's that cold, the body tends to put on more protective brown fat. Unlike white fat, brown fat is a survival mechanism: it's a way of turning the food we eat into warmth.
People who live and work in cold temperatures, such as lumberjacks and cold-weather farmers, tend to have more of this kind of fat packed around their necks and hearts.
In order to keep bodies toasty, brown fat revs up the metabolism, which means O'Brady will have to consume about 8,000 calories every day to fuel his 10- to 12-hour sled-pulling sessions.
To that end, O'Brady's pack contains special, roughly 1,250-calorie energy bars that his sponsor, Standard Process supplements, developed. They call it the Colin Bar.
The bar is high in fatty coconut oil and also contains nuts, seeds, veggie protein, and some cocoa powder. O'Brady will eat four of them each day, which will account for bulk of his calories (nearly 5,000).
The rest of his diet will consist of freeze-dried, astronaut-style meals that he'll consume at the beginning and end of the day. These can be rehydrated with boiling water, which he'll heat using a camp stove and some of the 30 pounds (14 kg) of fuel he's packed.
He's aware that this meal plan sounds slightly miserable.
"Unfortunately, fresh food is a little bit too heavy," he said.
His route makes an 'L' across Antarctica
O'Brady will start his journey near Mount Markham, which is one of the continent's tallest peaks at more than 14,270 feet (4.3 km) high.
From there, he'll head down to the South Pole, at an elevation of 9,186 feet (2.8 km). At that point, he'll be a little less than half way through the trek.
"It's imperceptibly up and downhill to the naked eye," O'Brady said of the ski route he plans to take. "But you can really feel it when you're dragging that much weight."
After he passes the pole, O'Brady hopes to pick up speed, since he'll be towing a lightened load by then. His path will make a kind of "L" shape pointing towards the West Antarctic Ice Sheet.
"As I eat my food and burn my fuel… the sled will get lighter and lighter," he said.
O'Brady knows how to move fast. In 2016, he trekked to the top of the highest peaks on all seven continents, including Everest and Antarctica, in just 132 days. That earned him the world record for fastest climb of the seven summits.
He has also raced in triathlons, hiked to both the North and South Poles, and recently completed a 30-day, 400-mile (644-km) practice run with his sled in Greenland.
But this journey, on the world's driest, chilliest continent, may be his slowest endeavour yet.
"When you have a 400-pound sled, there's no running. It's very slow going," he said. "When it's minus 40 degrees outside, it's a big effort to be moving."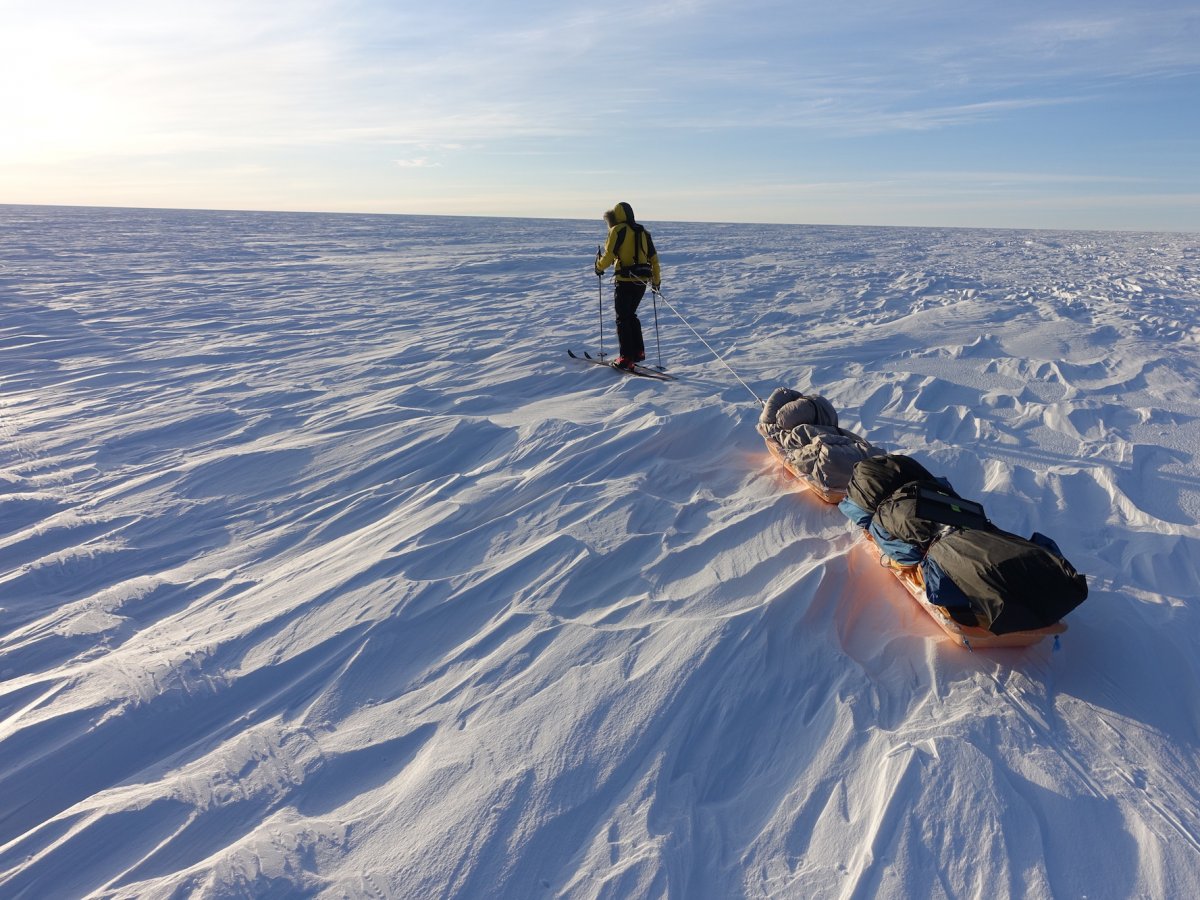 (Colin O'Brady)
The journey can chill the fingertips off your hands
While crossing the Antarctic unaided remains an open challenge, adventurer Mike Horn completed a 57-day ski trek from North to South on the continent in 2017, using a kite.
The same year, 40-year-old Englishman Ben Saunders attempted a solo crossing, but was forced to end his quest after 52 days when he ran out of food.
Before Saunders, 55-year-old Henry Worsley made it over 800 miles (1,287 km), as The New Yorker detailed.
He lost 40 pounds (18 kg) and a fingertip before calling for an emergency rescue. Saunders died of a bacterial infection in a hospital in Punta Arenas, Chile – the same town where O'Brady stayed before departing for his journey.
Despite these daunting odds, O'Brady isn't the only one attempting a solo trek this month. 49-year-old Louis Rudd from the UK is setting out now from the opposite shore of Antarctica, as The New Yorker recently reported.
It's possible the two men could cross paths as they reach the apex of their climbs.
O'Brady's preparation for this quest has required a lot of training. His strength and anaerobic power have climbed, along with his body weight.
The 6-foot-tall athlete normally weighs 165 pounds (74.8 kg), but after months of dead lifts, squats, and weight training, he's put on nearly 20 pounds (9 kg) of muscle mass.
Since this will be the longest O'Brady has ever gone without human contact, he has also spent years training his mind. He has been doing regular, monk-like Vipassana sessions, in which he spends 10 days in complete silence. No reading, no writing, no eye contact.
Being in Antarctica won't be the same as a Buddhist retreat, of course, but O'Brady hopes the training will help.
"There's not very many extra hours in the day or extra energy, so I won't probably spend a lot of time sitting in my tent meditating in a traditional sense," he said.
"But in a lot of ways, I think this will be a walking meditation."
There will be a few opportunities for human interaction, though. O'Brady plans to post regularly on Instagram, answering questions about his journey. There will also be an occasional conversation with his wife.
"It's really expensive to make those phone calls," he said. "So it's not like just sitting there chit-chatting on the phone."
He joked that he'll be so stinky when it's all through, he's not sure whether his wife Jenna will even want to hug him.
'Reservoirs of untapped potential'
(Colin O'Brady)
Kidding aside, O'Brady said he considers his trek is a "testament" to "the human spirit".
"Everyone has reservoirs of untapped potential inside of themselves and can achieve really incredible things," he said.
But he noted that even strength and determination have their limits.
"The risks are very real, and I'm aware of that, and I've prepared myself accordingly. Not to die, but, to make the best and most safe decisions as I possibly can out there," O'Brady said.
He's now getting his first taste of Antarctica's white, chilled expanse.
On Thursday, O'Brady posted his first dispatch on Twitter.
He said he's keeping a compass strapped to his chest so he can make sure he's headed in the right direction without dropping his ski poles.
If you're curious where O'Brady currently is, you can follow his GPS tracker in real time or check his posts on Instagram.
This article was originally published by Business Insider.
More from Business Insider: