Emergency evacuations are currently underway in Oroville, California, as locals fear that a gaping hole in the severely eroded auxiliary spillway of America's tallest dam could give way at any moment.
While the situation has improved over the past hour, and no damage to the dam itself has been reported, government officials are dropping water levels in the dam at a rate of 100,000 cubic feet (2,831 cubic metres) per second as a precaution, and if the spillway does collapse, repairs could take as long as 90 days, and cost upwards of US$200 million.
The latest updates from the California State Department of Water Resources say that while the erosion of the Oroville Dam emergency spillway is not advancing as rapidly as feared a couple of hours ago, evacuations of several counties in the area are still being carried out due to imminent flood risks.
Government officials are now racing against the clock to plug a massive crack in the emergency runoff structure using sandbags and rocks dropped from helicopters.
California Department of Water Resources
"A hazardous situation is developing with the Oroville Dam auxiliary spillway," the Butte County Sheriff Kony Honea posted on Facebook 2 hours ago.
"Immediate evacuation from the low levels of Oroville and areas downstream is ordered. This in NOT A Drill. This in NOT A Drill. This in NOT A Drill."
Until now, the emergency spillway had not been used since the Oroville Dam begun operations in 1968.
Officials say that operation of the spillway due to heavy rains led to unexpected levels of erosion that resulted in a massive crack over the weekend. 
Initial fears of collapse were walked back yesterday before officials saw more signs today that the entire emergency spillway could fail "within the hour".
Now, Sheriff Honea says the situation appears to be improving, with Department of Water Resources staff telling him shortly after 6pm local time that "the erosion that caused all this concern was not advancing as rapidly as they thought".
"That's a very good thing," he said in a recent press conference. 
So how did all this happen? 
A few days ago, large chunks of concrete burst off the emergency spillway, resulting in a 60-metre-long (200-foot), 9-metre-deep (30-foot) hole.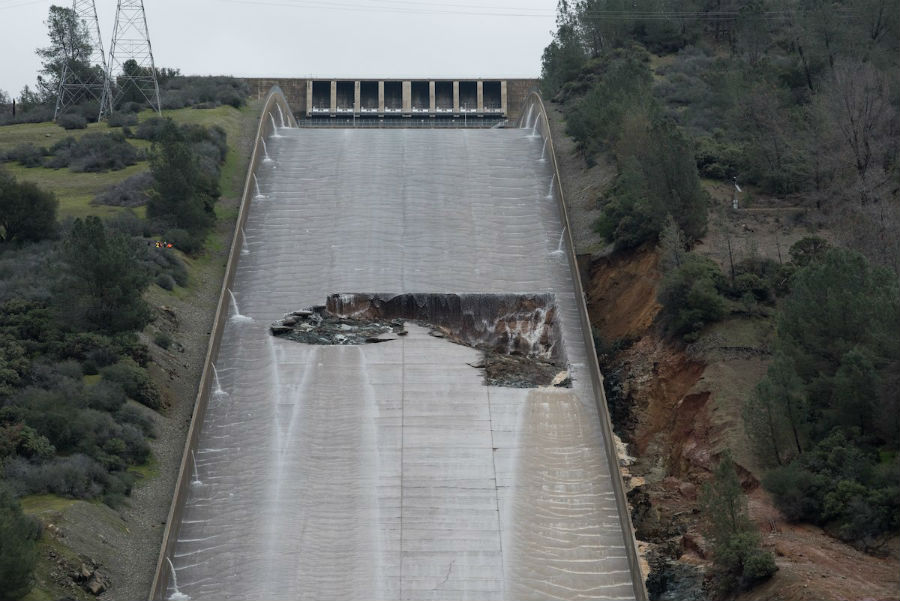 California Department of Water Resources
It's not immediately clear what caused the crack to form, but engineers at the dam were forced to release massive amounts of water over the top of it from Lake Oroville in response to torrential rainfall that happened to pour down over the Sierra Nevada foothills at the same time.
"As of noon Thursday, Lake Oroville stood at 90 percent of capacity - 6.5 percent higher than it was Wednesday afternoon - as water is still being dumped into the reservoir, while a significantly less amount is being let out," Sarah Heise reported for KCRA News on Thursday.
The severe erosion as the waters of the dam streamed over it at a rate of 100,000 cubic feet (2,831 cubic metres) per second has only made the crack bigger and more likely to collapse in recent days.
But officials are careful to point out that the collapse is only expected to affect the structure of the emergency spillway - not the Oroville Dam itself, which at 230 metres high (770 feet), is the tallest dam in the US.
.@CA_DWR on #OrovilleDam situation (pt. 5). pic.twitter.com/kk9caumpmh

— KQED News (@KQEDnews) February 13, 2017
"Operation of the auxiliary spillway has led to severe erosion that could lead to a failure of the structure," the Sheriff's Department said in a statement earlier today.
"Failure of the auxiliary spillway structure will result in an uncontrolled release of flood waters from Lake Oroville."
The story is still developing, as residents from nearby counties such as Butte, Yuba, and Sutter are currently being relocated.
Hopefully, the reduced rate of erosion that has been reported over the past hour will prevent any collapse, but whatever happens, the next task for engineers will be to ensure nothing like this risks happening again.
"We need to do everything we can to maximise our ability to move water out of this reservoir - not just for the coming storm, but for the coming storms," said Bill Croyle, acting director of the California Department of Water Resources, told the San Francisco Chronicle.
"Our planning is both short term and long term."
You can stay updated on the situation by following the California Department of Water Resources on Twitter here.