Hawaii's most active volcano is shooting lava and 'extremely high levels of dangerous' gas into the air
A day after the most active volcano on the Big Island of Hawaii erupted, fountains of lava gushed out of the ground Friday on the eastern side of the island, where residents were forced to flee from threats of fires and "extremely high levels of dangerous" sulfur dioxide gas.
Kilauea erupted Thursday, sending white, billowing clouds of steam and volcanic ash into the sky and prompting emergency officials to order mandatory evacuations.
Friday, authorities continued to warn residents to stay out of the area as molten rock shot high into the air from cracks in the ground in Leilani Estates, a subdivision in the Puna district.
The Hawaii County Civil Defense Agency said there was "active volcanic fountaining" in the neighborhood, meaning the lava was springing up from ground fractures; reports indicated it was shooting 80 to 100 feet into the sky. 
The U.S. Geological Survey said at least five fissure vents have opened in the subdivision so far — and that more outbreaks are likely to occur along the rift zone.
The island was hit by two large earthquakes on Friday. A 5.6 magnitude quake hit south of the volcano around 11:30 a.m. local time, followed about an hour later by a 6.0 magnitude one, according to the Hawaii County Civil Defense Agency, which also reported that the threat of a tsunami was low.
At least two homes in the subdivision caught fire, Hawaii News Now reported.
As Kilauea roared to life, the deafening sound of grinding rocks echoed in the air, and fiery red-orange lava could be seen spurting from the ground.
"It sounded like there were rocks in a dryer that were being tumbled around," said Jeremiah Osuna, who lives near Leilani Estates. 
"You could hear the power of it pushing out of the ground."
Emergency officials reported dangerously high levels of sulfur dioxide in the evacuation area and warned: "Elderly, young and people with respiratory issues need to comply with the mandatory evacuation order and leave the area." 
Residents in Leilani Estates and Lanipuna Gardens were ordered to evacuate to two nearby community centers serving as shelters, and the state's Department of Education announced that several schools would be closed due to "volcanic activity."
(Washington Post)
A state of emergency was issued by the County of Hawaii's acting mayor, Wil Okabe, and Gov. David Ige (D) issued an emergency proclamation and activated Hawaii's National Guard to help with evacuations.
"Please be safe," Sen. Brian Schatz (D-Hawaii) wrote on Twitter.
Less than an hour after the eruption began Thursday, wailing warning sirens joined the cacophony, Maija Stenback, a resident of Leilani Estates, told The Washington Post.
As dramatic as the sights and sounds are, the eruption and lava flow pose little threat to people's lives, thanks to a monitoring and alert system in place for years.
"It's been handled very well," Stenback said. "Civil Defense has been saying they can't predict it, but there's a good possibility, so they made everybody very aware that this could happen. You know, pack a bag and be ready to leave."
Kilauea is the youngest and most active volcano on Hawaii Island, according to USGS. The eruption from the volcano came hours after a 5.0-magnitude earthquake jolted the island Thursday morning.
Since Monday, the area has been rattled by at least 600 smaller quakes generated by magma flow from Kilauea, Janet Babb, a geologist with the Hawaiian Volcanoes Observatory, told The Post.
"Earthquakes were happening every 10 minutes, it seems like. That was kind of unsettling," Osuna told The Post, adding that it was "nerve-racking" not knowing exactly where the eruption would occur.
The event has been building for several days, Babb said, and the tremors were a sign that magma could break through the surface any time.
Thursday's strong earthquake, which occurred about 10:30 a.m. local time, caused "rockfalls and possibly additional collapse into the Pu'u Oo crater on Kilauea" and sent a large plume of ash into the air, the USGS reported.
The collapse began Monday as magma, which supported the crater, moved out and down the rift zone, triggering the quakes, Babb said.
"Eruption was possible, and that's now what has happened," she said. "Magma has made its way to the surface, and eruption has commenced."
When Stenback got a call from her son that the volcano had started erupting, it felt "unreal," she said.
It wasn't until she and her daughter saw lava coming up through the ground that she believed it.
"Once you see it, then you know it's really happening," said Stenback. She added that she even hesitated to pack because she didn't think the eruption would occur.
But after seeing and filming the lava, Stenback said, she and her daughter rushed back home to prepare to evacuate.
"We were trying to figure out what's the most important thing to grab," she said. 
In addition to collecting legal documents and medication, Stenback said, she quickly grabbed sentimental pieces from her jewelry box and stuffed the items into the pockets of her shorts because she didn't have time to properly pack her suitcase.
She said her family will stay with friends in Hilo, about 25 miles away, until it is safe for them to return.
Many residents took to social media to share photos and videos of the eruption.
On Twitter, one person wrote, "OMG my island is on fire" and included a video of lava gushing from the middle of a road.
Others also expressed worry, with a user tweeting, "Friends on the mainland asked me if I am OK. I am, not my island."
Since 1983, Kilauea has erupted frequently, many times forcing nearby communities to evacuate.
Geologists said the current seismic activities around Puna most closely resemble the events that precipitated a 1955 eruption, according to Hawaii News Now. That eruption lasted about three months and left almost 4,000 acres of land covered in lava, the news site reported.
More recently in 2014, lava again threatened the Puna district, specifically the town of Pahoa and its surrounding area, The Post reported. During that event, lava flowed as quickly as 20 yards per hour, and up to 60 structures were at risk.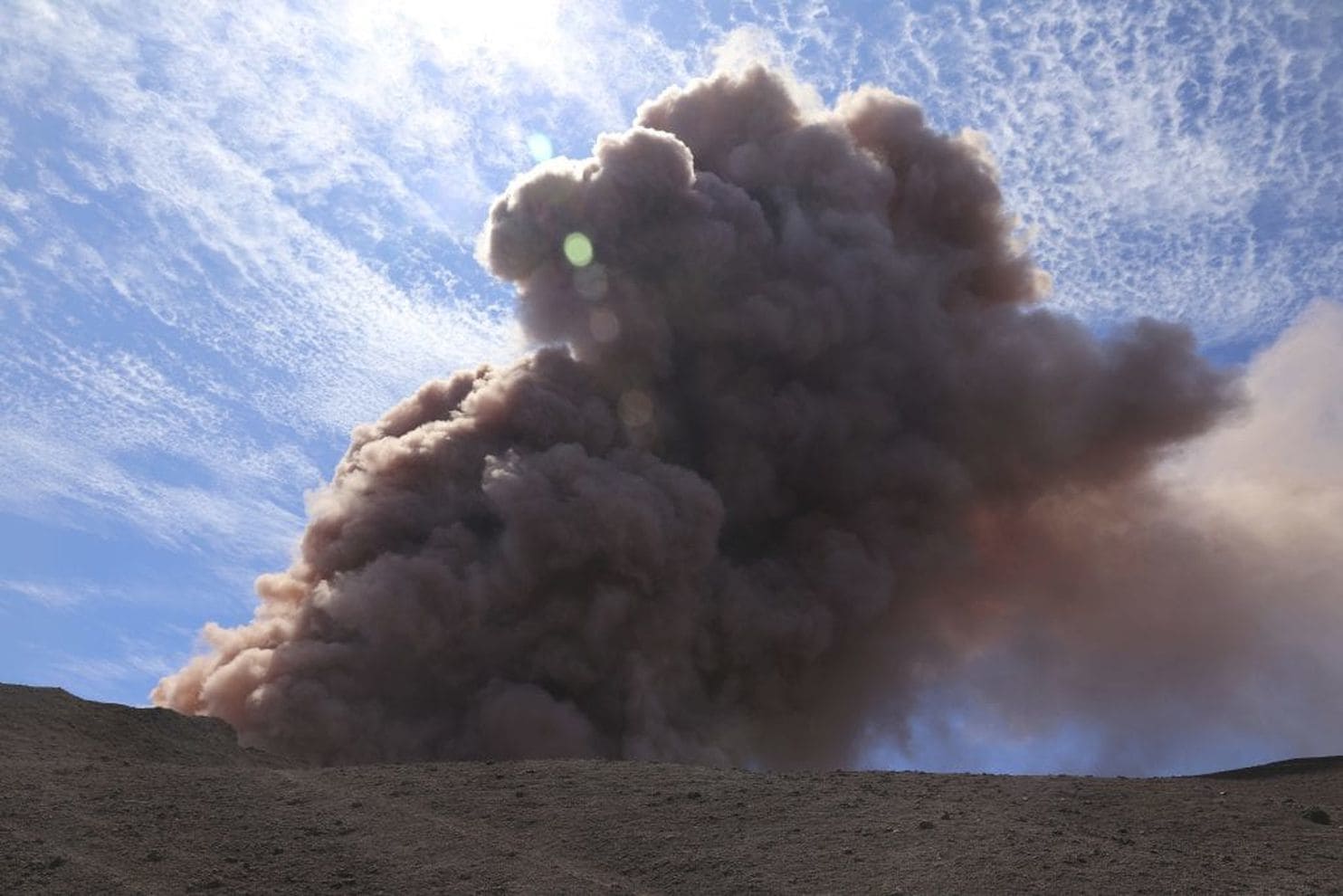 (U.S. Geological Survey/AP)
In comparison, Thursday's eruption seems more tame, as the USGS reported that lava spatter and gas bursts erupted for about two hours and the lava spread less than 33 feet from the fissure.
"At this time, the fissure is not erupting lava and no other fissures have erupted," according to a statement released from the service shortly after 10 p.m. local time.
However, Babb said the inactivity doesn't mean the event is over, and there is no way to forecast how long the eruption could last. Early Friday morning, Civil Defense also said that the fire department had detected "extremely high levels of dangerous Sulfur Dioxide gas in evac area."
Besides, the USGS noted, "the opening phases of fissure eruptions are dynamic and uncertain. Additional erupting fissures and new lava outbreaks may occur. It is not possible at this time to say when and where new vents may occur."
Hawaii County Mayor Harry Kim tweeted that the Civil Defense Agency "is on high alert on a 24-hour basis for possibility of eruption in lower Puna." The areas bordering the eastern part of the rift zone, Kim said, are "at high risk for eruption."
For now, residents don't know when it might be safe for them to return to home.
"This stuff could go on for a couple days, weeks or months," Stenback said. "Just the thought of everything now being gone — it's just not real yet. Maybe the next time we go there the house might be under 30 feet of lava."
2018 © The Washington Post
This article was originally published by The Washington Post.