He wasn't a pilot, and as far as authorities can tell, didn't have a pilot's licence. So how did a man with no apparent flying experience successfully steal and take off in a large commercial passenger plane?
According to Richard Russell – the identified culprit behind a brazen and ultimately fatal unauthorised flight above Seattle on Friday – the answer was not complicated: "I've played some video games before".
This explanation, offered to air traffic control during what is thought to be Russell's first and final cockpit session, came only minutes before the airport worker crashed the otherwise empty plane onto a sparse island in Puget Sound, killing himself, perhaps intentionally.
Full video form John Waldron on Facebook being shown on CNN #seatac pic.twitter.com/R98bl5uQBr

— Cameron Thomsen (@CameronThomsen) August 11, 2018
While "video games" may be the only clue we have, aviation experts are divided on how computer simulations alone could have equipped Russell, 29, to commandeer a 76-seat commercial aircraft and keep it airborne for an hour – even performing dangerous rolls and loops.
"Commercial aircrafts are complex machines," the CEO of Horizon Air, Gary Beck, told media at a news conference about the incident.
"I don't know how he achieved the experience he did."
Sadly, for Russell, whatever virtual piloting experience he amassed in games, it wasn't enough to help him safely land the real-life plane he'd stolen from Seattle-Tacoma International Airport (Sea-Tac) after his shift on Friday, where he worked on the tarmac handling baggage, de-icing planes, and operating airport vehicles.
However, recorded audio of his in-flight conversations with air traffic control at Seattle-Tacoma International Airport (Sea-Tac) suggests bringing the Bombardier Q400 turboprop plane in for a landing may never have been Russell's intention anyway.
Since the crash, the Pierce County Sheriff's Department has described the man as suicidal without elaborating further – but while that may not be confirmed, the wide-ranging and at times unusual comments made by Russell during the flight are being seen as suggestive of potential mental health issues.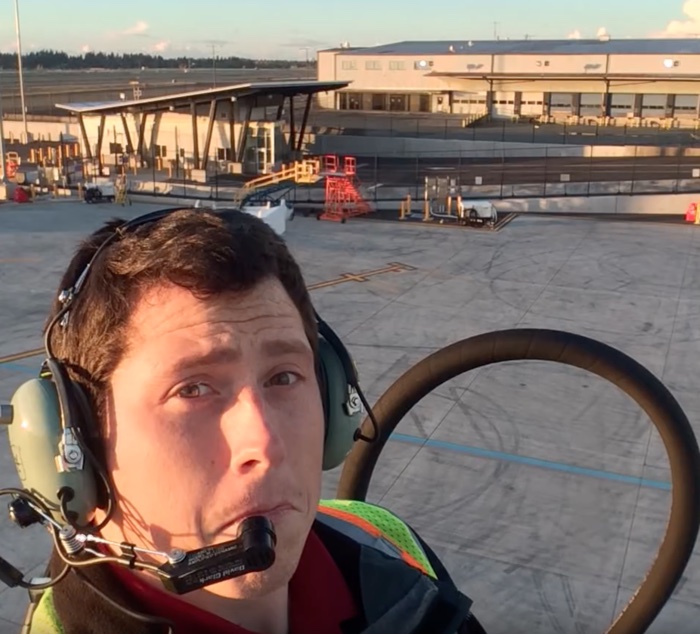 (Beebo Russell/YouTube)
During conversations with the controller and jet pilots tailing him in F–15s, Russell enthuses about flying barrel loops, wonders if he'll get jail time for stealing the plane, but also makes ambiguous comments that could be interpreted as suicidal.
After performing what is thought to have been a risky roll manoeuvre, one of the tailing pilots tells him to land the airplane safely so nobody gets hurt.
"Awwww-right. Ah, dammit. I don't know, man! I don't know!" Russell responds.
"I don't want to. I was kinda hoping that was going to be it. You know?"
At another point, he says he knows how to "put the landing gear down" but adds "I really wasn't planning on landing it".
But despite the personal risks he takes, he repeatedly stresses he doesn't want to hurt anybody else – or risk trying a landing at an air field that could put others in danger.
"I think I might mess something up there, too. I wouldn't want to do that," he says.
"Yeah, not quite ready to bring it down just yet. But holy smokes, I've got to stop looking at the fuel, because it's going down quick."
While some of what he says to air traffic control gives away his lack of flying experience ("I have no idea what all that means. I wouldn't know how to punch it in."), other comments suggest he's enjoying the aerial joy ride ("Nah, I mean, I don't need that much help. I've played some video games before.").
After asking about how to pressurise the cabin, Russell says, "Yeah, I don't know anything about the autopilot. I'm just kind of hand-flying right now".
All of which makes the mystery of how this tarmac worker got the plane up in the air – not to mention the stunt flying he pulled off, at least up to a point – even stranger.
"It's highly improbable, but not impossible, that he never had a lick of flying except other than in a virtual world," the president of the National Association of Flight Instructors, Rick Todd, told The New York Times.
Whatever made it possible for Russell to fly like he did, the fact he was so easily able to steal and take off in a large commercial passenger plane is expected to have significant repercussions in the industry, with moves taken to tighten security around airport employees to prevent such a bold theft occurring again.
Russell's family have since said they are "stunned and heartbroken" that their husband and son took his own life in such wild circumstances, with both family, friends, and co-workers remembering him as a kind, funny, and friendly man – someone who they never would have expected to do something like this.
In some of the final moments of his frantic flight, Russell remembered them too.
"I've got a lot of people that care about me, and it's going to disappoint them to hear that I did this," he told air traffic control.
"I would like to apologise to each and every one of them. Just a broken guy, got a few screws loose, I guess. Never really knew it until now."
If this story has raised concerns or you need to talk to someone, here's a list where you may be able to find a crisis hotline in your country.