NASA is preparing an ambitious test mission to see if it's capable of deflecting an incoming asteroid that, if left unchecked, would imperil Earth.
The space agency wants to examine whether it's possible to knock threatening space rocks off their trajectory to prevent the fiery annihilation of all we hold dear, and has signalled it will move forward with the Double Asteroid Redirection Test (DART) – escalating the mission from concept development to the preliminary design phase.
The test – slated to take place in 2024 – would be a first-of-its-kind drill, demonstrating whether the kind of planet-saving heroics of sci-fi blockbusters like Armageddon are in fact a realistic proposition to defend Earth from potentially devastating surface impacts.
"DART would be NASA's first mission to demonstrate what's known as the kinetic impactor technique – striking the asteroid to shift its orbit – to defend against a potential future asteroid impact," says NASA's planetary defence officer Lindley Johnson.
"This approval step advances the project toward an historic test with a non-threatening small asteroid."
Announced just after Asteroid Day (June 30) – an annual event run by scientists to raise public awareness of the dangers Near-Earth Objects (NEOs) pose – the mission phase will ramp up preparations to intercept an asteroid binary system called Didymos with the DART spacecraft, as pictured in the animation above.
Didymos was discovered in 1996, and is composed of two rocky bodies – a large asteroid (Didymos A) measuring approximately 780 metres (2,560 ft) across, and a smaller object (Didymos B) about 160 metres (525 ft) in size.
The binary will make a distant approach to Earth in October 2022, before coming around again in 2024. When it returns in 2024, the plan is for the self-piloting DART spacecraft – which is roughly the size of a refrigerator – to collide with the smaller Didymos B.
"A binary asteroid is the perfect natural laboratory for this test," says DART program scientist Tom Statler.
"The fact that Didymos B is in orbit around Didymos A makes it easier to see the results of the impact, and ensures that the experiment doesn't change the orbit of the pair around the Sun."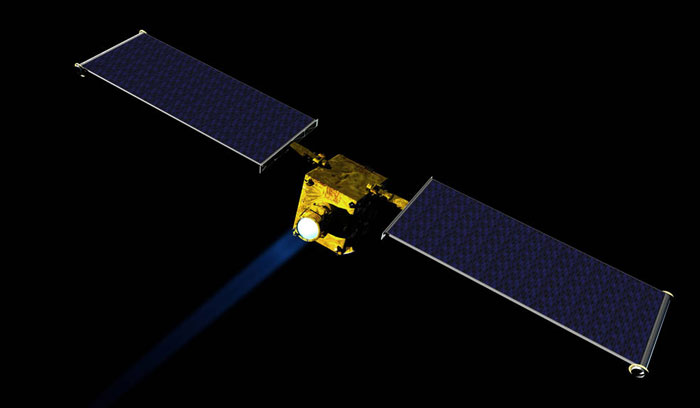 Artist's impression of the DART spacecraft. Credit: NASA/JHUAPL
The collision will take place at a truly awesome speed – approximately 6 kilometres (3.7 miles) per second, or about nine times faster than a bullet fired out of a gun.
If it sounds like a David vs Goliath kind of clash, that's because it is – but while the relatively pipsqueak DART spacecraft will be completely obliterated by its run-in with the much larger asteroid, NASA scientists calculate that the impact will be enough to subtly reduce the space rock's velocity.
Even if it's only slowed by a tiny fraction of its overall speed, that adjustment ought to be sufficient to alter Didymos B's orbit around Didymos A, serving as a valuable test case to demonstrate how kinetic impacts actually play out in space, as opposed to computer simulations, where we're working with incomplete information.
"Since we don't know that much about [asteroids'] internal structure or composition, we need to perform this experiment on a real asteroid," explains one of the team, Andy Cheng from the Johns Hopkins Applied Physics Laboratory.
NASA scientists will be able to study the collision and its aftermath from Earth-based observatories, and if everything goes according to plan, once DART has done it's a thing, we'll know a lot more about how kinetic impact physics – and whether asteroid deflection is a viable proposition for defending Earth in the event of an anticipated planetary impact.
In light of just how many NEOs there are in the sky above us – and how unprepared we currently are should the unthinkable happen – the sooner we have that understanding, the better.