It was a Saturday, and Laura Murray was a 10-year-old girl hanging out with her nanny outside her family's Cincinnati townhouse. Her mother, giddy with excitement, handed the little girl a small glass vial filled with light-gray dust.
It was from the Moon, her mother told her.
Along with it was a handwritten note: "To Laura Ann Murray - Best of Luck - Neil Armstrong Apollo 11".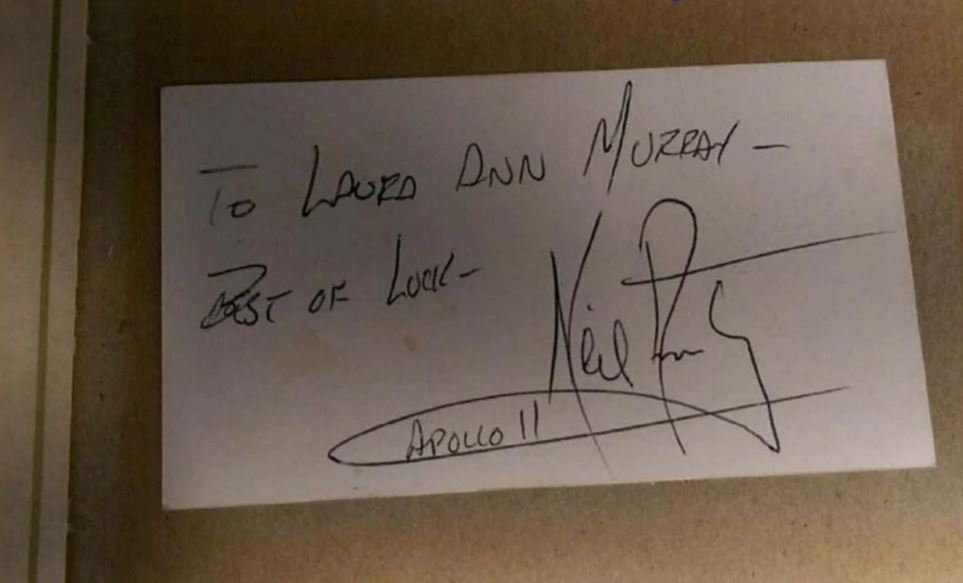 (Christopher McHugh)
Murray, who's now Laura Cicco, didn't see the vial for decades after that day, though she kept the autograph in her bedroom. Five years ago, after her parents had died, she found it while going through her parents' possessions.
"I came running where my husband was and I said, 'This is the vial of Moon dust. I have it'," Cicco said.
"At that time, we didn't really know what to do with it."
Last week, Cicco sued NASA to make sure she can keep what is "rightfully" hers.
It was an attempt to get ahead of the space agency, which has not taken ownership of the vial but has a history of seizing suspected lunar material from private citizens, said Cicco's attorney, Christopher McHugh.
Cicco claims in her lawsuit, filed Wednesday in federal court, that the Moon dust was a gift from Armstrong, who was friends with her father, a pilot for the US Army Air Corps during World War II and for the Federal Aviation Administration.
Armstrong and Tom Murray, who spent much of his career flying politicians and dignitaries, were both members of the Quiet Birdmen, a secretive club of male pilots, Cicco said.
And sometime in the 1970s, when Armstrong was an aerospace engineering professor at the University of Cincinnati and the Murray family was living in the city, the astronaut gave the vial of Moon dust to his friend's little girl.
There's no law prohibiting private citizens from owning materials from the Moon, McHugh said, and Cicco is the rightful and legal owner of the Moon dust. The proof is Armstrong's handwritten note, which has been authenticated by a handwriting expert, McHugh said.
Citing the pending lawsuit, a NASA spokeswoman said it would be "inappropriate" for the agency to comment.
An expert who tested and analyzed the dust found that the sample "may have originated" from the Moon's surface, court documents say.
One test found that the dust's mineralogy is consistent with the known composition of lunar soil. Another test found the sample's composition similar to "average crust of Earth."
Despite the varied findings, the expert wrote in his report that "it would be difficult to rule out lunar origin" and that it's possible that some dust from Earth "mingled with this likely lunar sample".
Cicco's complaint cited a previous case involving an elderly California woman who accused NASA officials of wrongfully seizing lunar mementos that her late husband, an Apollo program engineer, had given her.
Joann Davis said her husband left her two paperweights that contained a rice-grain-sized fragment of lunar material, or "moonrock," and a piece of the Apollo 11 heat shield. Davis said Armstrong gave the mementos to her husband, Robert Davis.
Joann Davis decided to sell the paperweights in 2011 after falling on hard times. She reached out to NASA, hoping the agency would help her find a buyer.
But a NASA official suspected that Davis had committed a crime by being in possession of contraband or stolen government property, as The Washington Post's Fred Barbash wrote.
NASA's Office of the Inspector General launched a sting on Davis, who was then 74. An informant called Davis, posing as a broker and promising to help her sell the paperweights.
On May 9, 2011, Davis and her second husband went to a Denny's restaurant, thinking they were meeting with the broker to finalize the sale.
But three armed federal agents greeted the couple and took them to the parking lot for a two-hour questioning, according to court records.
Davis was not charged. The couple sued in 2013, alleging wrongful search and seizure, false imprisonment, wrongful detention and other constitutional violations.
A federal district court dismissed the lawsuit, but in April 2017, an appeals court judge ruled against NASA's criminal investigator, saying there was "no law enforcement interest" in detaining an elderly woman.
Davis later reached a US$100,000 settlement with the government, according to court records.
While Davis had only her late husband's word that the mementos belonged to her, Cicco has evidence proving that Armstrong had given her the vial, said McHugh, the attorney.
"If you look at the Davis case, what NASA is essentially saying is that lunar material in private hands is stolen property. And that's just not true," McHugh said, adding later: "This is not stolen property. Laura shouldn't be afraid that NASA is going to come knocking on her door and barge in and try and take the vial."
Cicco, who now lives in Tennessee, said she doesn't have the vial in her possession. Her attorney said it's been kept for safekeeping.
2018 © The Washington Post
This article was originally published by The Washington Post.