An adult orca found dead on the Scottish island of Tiree last year wasn't just notable for being one of the last surviving members of her species in the UK – she also died burdened by some of the highest levels of toxic pollutants ever found in a marine mammal.
The 20-year-old Lulu died by becoming entangled in fishing line before being discovered washed up on Tiree's shoreline last January, but researchers say extremely dangerous levels of the chemical polychlorinated biphenyl (PCB) detected in her blubber can't be ruled out as a factor that contributed to her death.
"Previous studies have shown that killer whale populations can have very high PCB burdens, but the levels in this case are some of the highest we've ever seen," says veterinary pathologist Andrew Brownlow from Scotland's Rural College (SRUC).
"[G]iven what is known about the toxic effects of PCBs, we have to consider that such a high pollutant burden could have been affecting her health and reproductive fitness."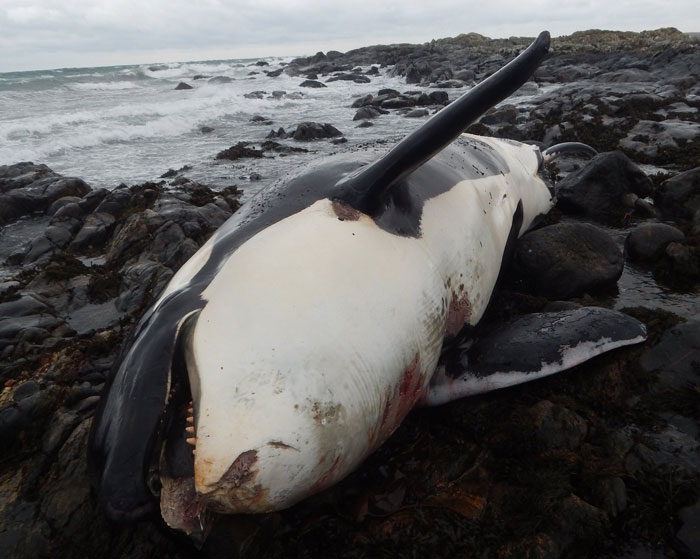 John Bowler/RSPB Scotland
Lulu was one of a small pod called the West Coast Community residing off the west coast of Scotland, and considered to be the UK's only 'resident' orca population.
With her gone, this group is now thought to only include eight individuals – but analysis of Lulu's body has scientists concerned that a grim future could be in store for these remaining animals, after researchers found "shocking levels of PCBs" when analysing her blubber.
According to the team, Lulu's blubber contained PCB levels around 80 times higher than the accepted PCB toxicity threshold for marine mammals, which is 11 milligrams per kilogram of lipid weight.
"The threshold where we think that there is some form of physiological effect caused by PCBs is around 20-40mg/kg stored within the tissues," Brownlow told Rebecca Morelle at BBC News.
"Lulu had a level of PCBs of 957mg/kg – and this has put her as one of the most contaminated individuals we have ever looked at."
PCBs are a class of human-made organic chemicals that were widely used in industry and manufacturing from the 1920s until it was revealed that they have harmful consequences to human health – including causing cancer and suppressing the immune system – in addition to endangering animal and environmental health.
They were prohibited in the US in 1979, and later bans also took effect elsewhere, but it's estimated that 2 million tonnes of PCBs were ultimately produced, with about 10 percent of this still polluting the environment today.
Marine animals are particularly at risk from PCBs, since the chemicals are known to flow into waterways and the sea from landfill sites.
In this case, Brownlow suspects the presence of the pollutants may also be playing a role in the seeming infertility of the West Coast Community, which has been monitored by scientists for 23 years, and in that time has never produced a calf.
An analysis of Lulu's ovaries suggests that despite being significantly older than the average age for female orca sexual maturity, she never appears to have reproduced.
"Lulu's apparent infertility is an ominous finding for the long-term survivability of this group," Brownlow explained in a press release.
"[W]ith no new animals being born, it is now looking increasingly likely that this small group will eventually go extinct. One of the factors in this group's apparent failure to reproduce could be their high burden of organic pollutants."
Worse still, while the exact health effects of such dangerously high PCB concentrations aren't yet entirely clear, the researchers say it's possible that the pollutants could be slowly weakening and poisoning the orcas – which could explain the unusual circumstances of Lulu's fatal stranding.
"Killer whales are incredibly intelligent, they are very nimble, socially aware animals," Brownlow told BBC News.
"It is potentially plausible that there was some effect of the PCBs that was in some way debilitating her so she wasn't strong enough or even aware enough to deal with this entanglement… We very rarely see entanglement in killer whales – actually, this is one of the first cases we have documented."
The analysis of Lulu's body has not yet been peer-reviewed, so we need to see the results independently verified to know for sure that the reported levels are correct.
But environmental advocates say it's just another tragic example of how we've endangered the marine environment, and how we need to turn things around – fast.
"In this case, PCBs will stay in the environment and continue to pollute for many decades," says WWF Oceans Manager Simon Walmsley.
"The results of this analysis must act as a reminder that it is imperative that we continue to strive to find a way that 7 billion people can live on our planet without trashing it."