The first scientific expedition to the depths of the Indian Ocean southwest of Java has returned with some amazing treasure: at least 11 unusual deep-sea species that were previously unknown to science.
Jointly conducted by the National University of Singapore (NUS) and the Indonesian Institute of Sciences, the expedition collected over 12,000 specimens from 63 sites during two weeks off the southern coast of West Java.
"This is a part of the Indian Ocean that has never been sampled for deep-sea animals so we really didn't know what to find," Peter Ng, head of the Lee Kong Chian Natural History Museum at NUS and chief scientist for the Singapore team, told AFP.
"We were very surprised by the findings."
"Spiky." (South Java Deep Sea Expedition)
They creatures collected by the team represent around 800 species from families that include sponges, jellyfish, molluscs, starfish, urchins, worms, crabs and fish.
The new species include new spider and hermit crabs, prawns, lobsters and a tiny deep-sea starfish that lives on wood logs.
(South Java Deep Sea Expedition)
One crab, nicknamed "big ears" for the ear-like plate that protects its eyes, decorates its shell with ocean floor debris as camouflage.
Another nicknamed "spiky" is adorned with strong spines. A hermit crab with vivid green eyes is also new, as is the stunning zebra-striped orange lobster pictured above.
The team has yet to sort, analyse and catalogue the entire collection, but fully expect more new species to emerge - the reason the crustaceans were so quickly picked up is because the expedition included experts in crabs and shrimps.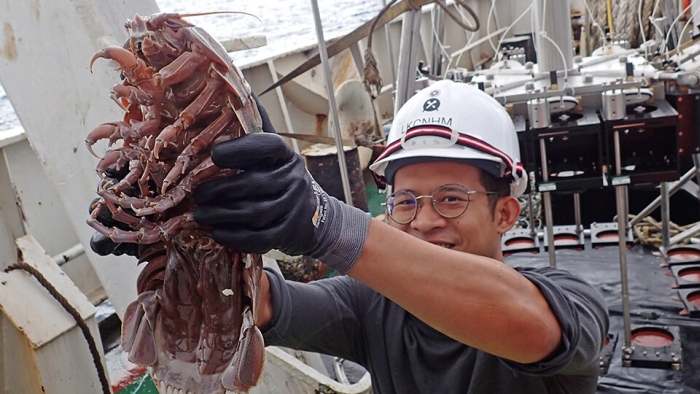 This new giant sea cockroach is over 30cm long. (South Java Deep Sea Expedition)
The expedition ran into several snags. The maps were inaccurate, which meant the 31-member team would often have to conduct repairs on equipment damaged by unexpected terrain.
"Most of the depths given on the map were wrong, most of the details were not accurate," Ng said.
(South Java Deep Sea Expedition)
They also found a lot of garbage in the water - one of the new crabs was actually found in old underwear.
"How rubbish affects the creatures, we still do not know. But ocean plastic is a huge problem," Ng told the Straits Times.
Teams from both countries will be studying the samples collected, a process that is expected to take up to two years. The researchers plan to present their findings and publish them in 2020 in the museum's journal, The Raffles Bulletin of Zoology.
(South Java Deep Sea Expedition)