It has its directive: seek and destroy. And the underwater drone RangerBot is ready to put its lethal skills to work on Australia's horrifically threatened Great Barrier Reef.
But it's not the coral that's the target of its deadly focus. RangerBot is more like a bodyguard, trying to protect the reef from one of its biggest threats, the crown-of-thorns starfish.
The crown-of-thorns starfish (Acanthaster planci), or COTS, in normal circumstances, is a useful part of reef ecosystems. It feeds on the fastest-growing corals, allowing the slower species time to establish themselves and form colonies.
A crown-of-thorns starfish. (tae208/iStock)
But we're not in normal circumstances. The Great Barrier Reef is in straitened circumstances after repeated bleaching events due to climate breakdown over the last few years.
In addition, every few years, there's a COTS outbreak. They are attracted by the nitrogen run-off from fertiliser used on farms nearby. The nitrogen leads to algal blooms, which the COTS larvae feed on before reaching their full size and moving on to their adult food source - the coral. And thanks to overfishing, their natural predators are scarce, so they have pretty much free reign.
In a 2015 report, the World Wide Fund for Nature noted that, in the previous three decades, the reef had lost half its coral cover - and 40 percent of that loss was due to COTS. So it's no small threat.
RangerBot has been in development to fight this threat for several years now. Its original iteration - dubbed "The Terminator" - was called COTSbot. It was in development for 10 years before its first trial in 2015.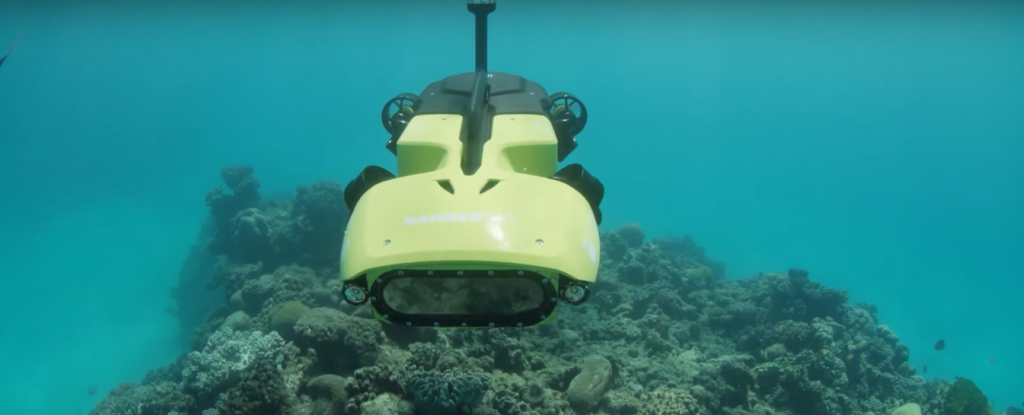 (TheQUTube/YouTube)
RangerBot is the new and improved model, the result of a collaboration between the Queensland University of Technology, Google, and the Great Barrier Reef Foundation.
It has an advanced vision system that allows it to see while patrolling the reef, and can patrol autonomously without COTSbot's tether, or operated by a human with a tablet when the need calls for it. It can also monitor reef health, something COTSbot wasn't equipped to handle.
"RangerBot is the world's first underwater robotic system designed specifically for coral reef environments, using only robot-vision for real-time navigation, obstacle avoidance and complex science missions," said roboticist Matthew Dunbabin of the Queensland University of Technology.
"This multifunction ocean drone can monitor a wide range of issues facing coral reefs including coral bleaching, water quality, pest species, pollution and siltation. It can help to map expansive underwater areas at scales not previously possible, making it a valuable tool for reef research and management."
Back in 2005, Dunbabin developed a vision system that could identify a crown-of-thorns starfish with 65 percent accuracy. Today, RangerBot has a COTS identification accuracy rate of 99.4 percent accuracy.
When it identifies its quarry, the robot deploys an arm, which injects the starfish with bile salts. This triggers necrosis or apoptosis (so not, you know, pleasant), killing the starfish within 48 hours, with 100 percent mortality rate - without harming anything else in the surrounding waters.
In addition to its ability to enter spaces that may be dangerous for human divers, the RangerBot can stay in the water for up to eight hours on a single charge, Dunbabin said - nearly three times as long as a human - and operate during all times of the day, and in all conditions.
"We believe this represents a significant technology leap in both marine robotics and reef protection - the only autonomous, affordable, multi-function solution for effectively detecting and addressing threats to coral reefs," he said.
RangerBot's capabilities have been proven both in the lab and on the reef; the next step is to work with the Great Barrier Reef Marine Park Authority to get the approvals needed to put the robot to work.
The team also plans to make the robot available for reef management teams around the globe.
"Our vision is to make RangerBots readily available and accessible to be deployed on the Reef where they're most needed and to put them in the hands of reef managers, researchers and communities worldwide," Dunbabin said.
"Environmental robotics is a real passion of ours and we see so much potential for these advanced technologies to transform the way we protect the world's coral reefs."