Harald Bluetooth is the most famous of Viking leaders, celebrated for unifying the people of Denmark during his reign from 958 to around 985 CE.
As it turns out, however, another lauded monarch preceded him – one that features on even more Viking runestones than Bluetooth himself: his mother, Thyra.
An analysis of two groups of runestones, dedicated to the first known queen of Denmark, hints at the possibility that Thyra may have once been even more beloved than Bluetooth or her husband, 'Gorm the Old', whose name only features on a single stone.
Scholars from the time have credited Thyra's rule with the expansion of the Danevirke fortifications, which succeeded in holding off German invasion.
Other than that, however, her story is a bit of a mystery. It's not yet clear who her family members were, where they came from, or how she ruled as Queen.
Historically, her role in Viking history has been dismissed as a mere 'side issue'.
But some scientists now think that couldn't be further from the truth.
"The mentioning of Thyra on no fewer than four runestones is unparalleled in Viking-Age Denmark," write researchers from the National Museum of Denmark, the Swedish National Heritage Board, and the County Administrative Board of West Sweden.
"The combination of the present analyses and the geographical distribution of the runestones indicates that Thyra was one of the key figures—or even the key figure—for the assembling of the Danish realm, in which she herself may have played an active part," the team adds.
On one group of memorial stones found in Jelling – the royal seat of the Viking monarchy – Thyra is commemorated as 'Denmark's strength/salvation'.
Meanwhile, another group of memorial stones near Jelling, known as the Ravnunge-Tue Stones, also mentions a person named Thyra and refers to her as a word that could mean 'lady' or 'queen'.
Researchers now suspect that these Thyras are one and the same. They have found a connecting thread between both groups of stones.
3D scans and careful analysis of carving techniques and the runes suggest a stone in each location was chiseled by Ravnunge-Tue, a famous carver of the time.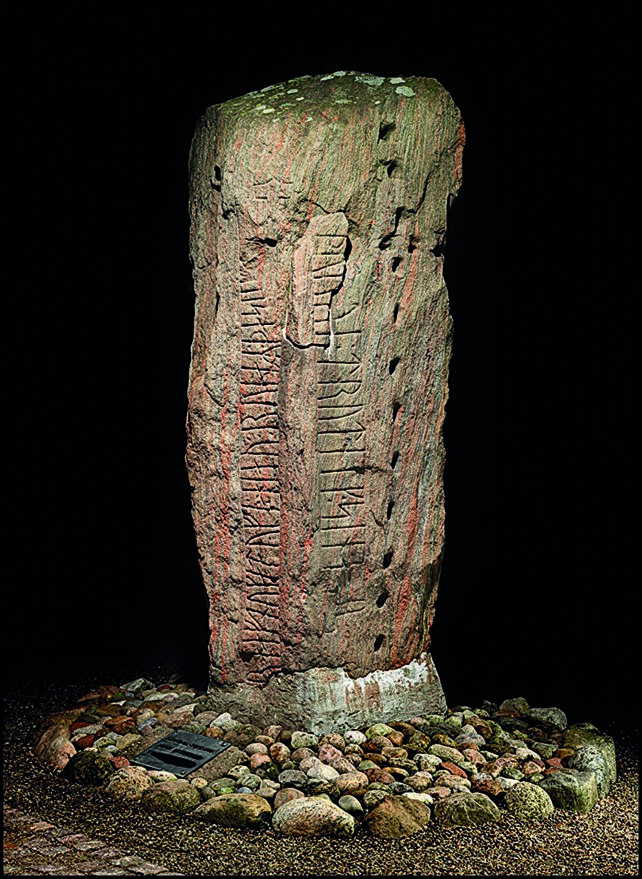 In Danish tradition, runestones were painted bright colors and erected in central places like grave mounds, crossroads, or burial sites that were designed to look like ships.
Usually, only a single runestone was erected to celebrate an individual, and more often than not, this person was male.
In fact, fewer than ten runestones that have been found to date are dedicated to women, and four of these seem to be dedicated to Thyra.
"If we accept that runestones were granite manifestations of status, lineage and power, we may suggest that Thyra was indeed of royal, Jutlandic descent," the authors write, referring to Jutland, a peninsula of northwest Europe that includes Denmark.
"These honors point towards a powerful woman who held status, land and authority in her own right."
The findings also suggest researchers need to reexamine an empty grave site located near Thyra's Jelling runestones. This grave was assumed to once hold Gorm's body but it may actually mark the final resting place of Denmark's first queen.
In recent years, archaeologists have confirmed that female Viking warriors fought alongside men. Now, it seems possible that once, they may have been led by a woman, too.
The study was published in Antiquity.