Earlier this month, a small island village in remote northwestern Greenland slipped into the shadow of an epic, monstrous iceberg.
Living just north of the Upernavik Ice Fjord, the people of Innaarsuit are used to seeing large icebergs drift by. But in recent memory, there has never been a visitor quite this big. Weighing in at 11 million tons (10 million tonnes) and sitting roughly 100 metres above the water, the looming tower of ice is a formidable sight.
Photographs of the giant iceberg have definitely captured the world's attention, too. Here was a Big Ben-sized wall of ice, dwarfing the people, boats, and buildings of a small Greenland village. The images are mesmerising.
"This is absolutely beautiful," says Kelly Brunt, a glaciologist at NASA's Goddard Space Flight Centre, about the photographs.
"The z dimension (height) is pretty extreme."
But photographs from Earth are only one way of seeing the giant iceberg. From space, things look quite different – if you can even spot the iceberg, that is. Below is an image of the furtive iceberg, taken by a NASA satellite on 5 July 2018.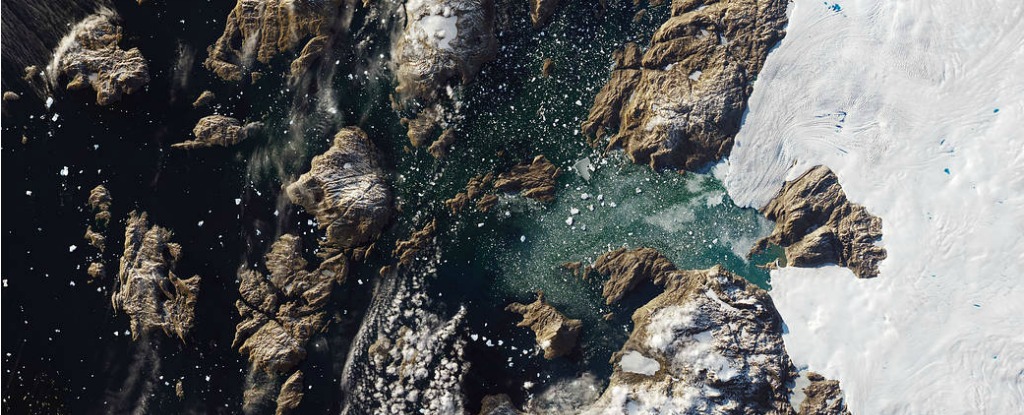 (NASA)
Another satellite image taken fifteen days later by a private company shows the iceberg slightly further away from the village, but still too close for comfort.
#DEIMOS2 captured massive 11-million-ton #iceberg looming over #Greenland's remote village Innaarsuit on Jul. 20 pic.twitter.com/qJwRUOdGmZ

— Deimos Imaging (@deimosimaging) July 24, 2018
Looking at these images, it's easy to understand why the 160 people who live in Innaarsuit are worried. The sheer proximity of the icy giant, nestled right in the village's harbour, has brought fear along with awe.
"Bergs pose a threat when they slough off chunks of ice," says Brunt. 
"The waves that are created from this process could be quite large and could inundate the inhabited coast."
The iceberg is already shedding its exterior. Shortly after the iceberg parked itself outside the village, a huge chunk fell into the ocean. Since then, it has continued to slough off piece after piece.
But that's not the only way that the iceberg could set off a dangerous wave. While the height of the iceberg makes it impressive, it also makes it more likely to roll.
"The sides of tall icebergs like this often have a series of complex water lines, suggesting that they have experienced a complex history of shifting and rolling slightly as they change shape," says Brunt.
"A big roll could be pretty scary, and could create a substantial wave."
Many are understandably pointing their fingers at climate change. But while it's true that global warming will make events like this more likely, experts say that this particular situation isn't necessarily connected to a melting glacier.
"There is no linkage between this event and the retreating glaciers we see elsewhere in Greenland," Keld Qvistgaard from the Danish Meteorological Institute told CNN.
"The Innaarsuit iceberg probably originates from the Upernavik Ice Fjord only 30 to 40 kilometres south. The glacial outlets in the fjord are capable of producing very large icebergs."
The people of Innaarsuit are hoping that the full moon on July 27 will raise the sea level enough to unhitch the giant iceberg and send it on its way. Fingers crossed.