Since Thursday, at least 31 people have died from three wildfires burning in California.
The Camp Fire charred the entire town of Paradise in northern California.
As of Sunday evening, the blaze covered 110,000 acres and was 25 percent contained. Officials have declared it the most destructive wildfire in California history based on the loss of 6,700 structures.
In southern California, the Woolsey and Hill fires have burned more than 140 square miles (363 square kilometres) in Ventura and Los Angeles Counties.
According to CalFire, the Woolsey Fire had burned about 91,500 acres as of Monday morning and was 20 percent contained. The Hill Fire burned over 4,500 acres and was 75 percent contained.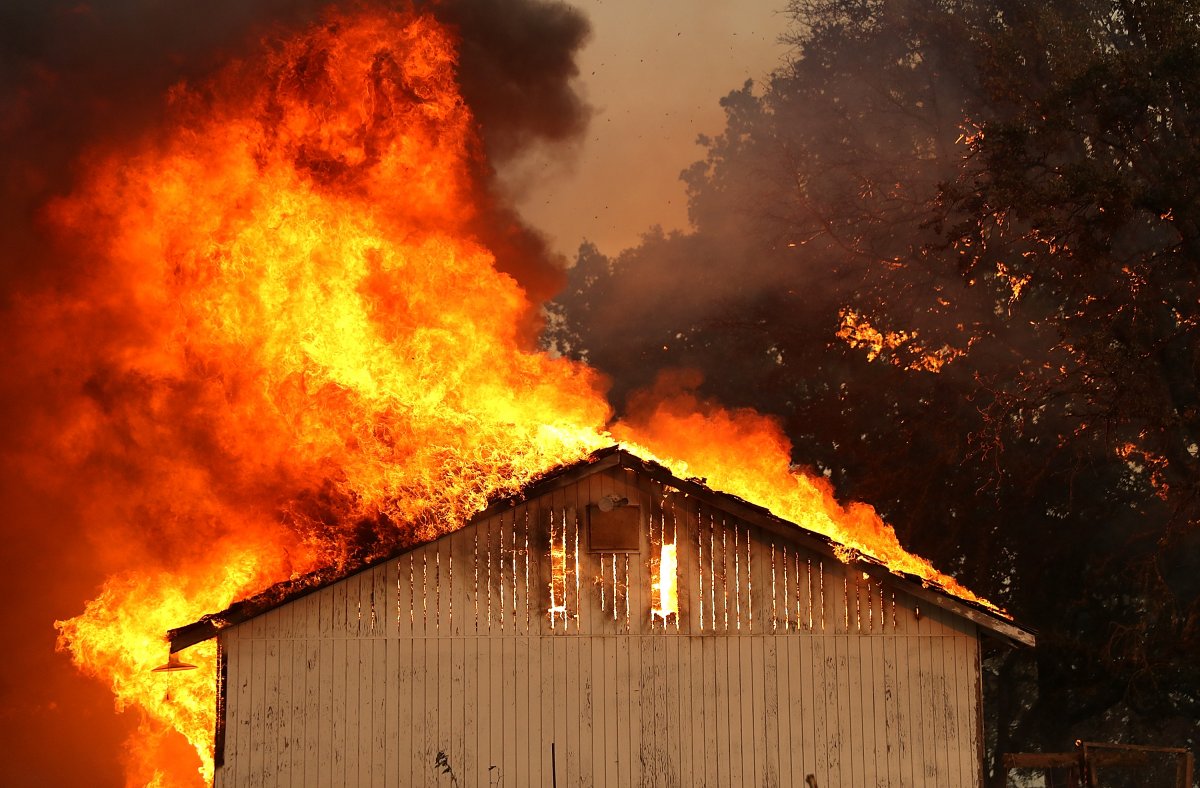 A home burns as the River Fire moves through Lakeport, California. (Justin Sullivan/Getty Images)
These fires are part of a trend. Fire season in the western US is getting longer each year, and some experts say the concept of seasonal wildfires is outdated, since dangerous fires can now happen anytime.
Here's how devastating fire season has become, and how much worse it could get in the future.
On average, the annual number of fires that burn more than 1,000 acres in the western US has more than tripled between the 1970s and the 2010s.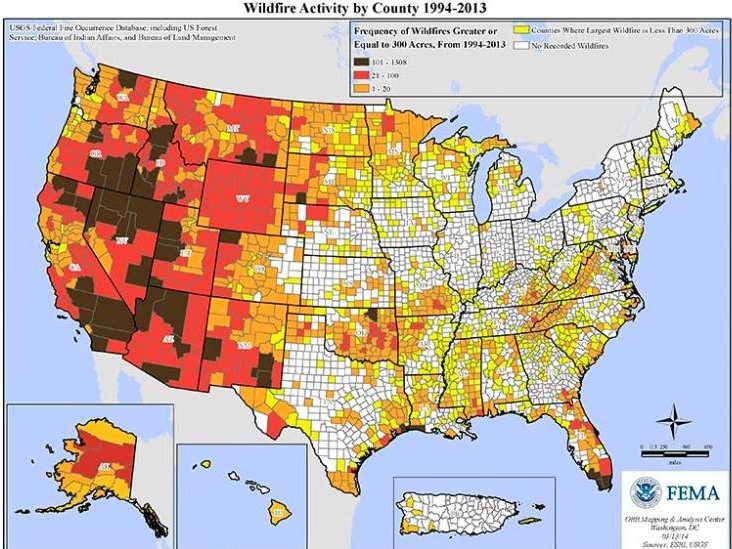 A FEMA map shows wildfire activity across the country from 1994 to 2013. (Twitter/Jason Keeler)
California's Mendocino fire covered a total area nearly 10 times the size of San Francisco.
The Mendocino Complex fire, which broke out in July 2018, is the largest on record in California. It burned an area stretching more than 450,000 acres.
The US Forest Service spends 12 times as much money suppressing wildfires as it did in 1985.
Last year's wildfires cost the US Forest Service nearly US$3 billion.
The number of US homes at risk of wildfires has gone up dramatically, from 30.8 million in 1990 to 43.4 million in 2010.
In California, more than 11.2 million people live in areas with elevated risk of wildfire exposure.
Since the 1970s, the average temperatures in spring and summer have gone up by 1.8 degrees Fahrenheit (1 degree Celsius) in California.
Higher temperatures have been linked to more frequent and severe wildfires.
Twelve of the 15 largest fires in California history have occurred since 2000.
(Shayanne Gal/Business Insider)
Fire season in the western US is now 105 days longer than it was in the 1970s.
The average wildfire season now lasts at least 2.5 months longer than it did in the early 1970s.
Annual financial losses due to wildfires now range from US$63.5 billion to US$285 billion.
In 2016, up to US$285 billion in economic losses were caused by fire-related deaths, evacuations, and declining property values.
By 2050, California will have 24 more days each year with high risk for wildfires.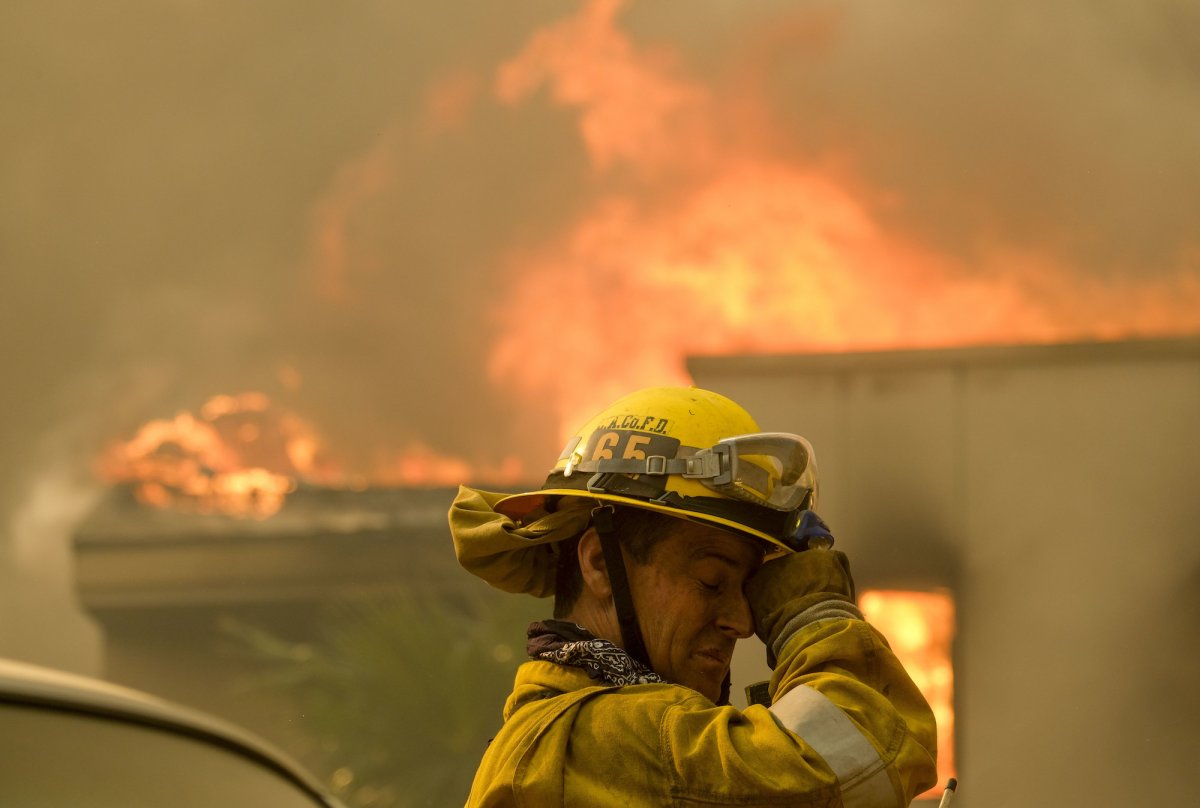 A firefighter battles the Woolsey Fire in Malibu, California on November 9, 2018. (AP Photo/Ringo H.W. Chiu)
In 2000, there were 120 days with high risk for wildfires in California.
As many as 11 states could see a 500 percent increase in the amount of land burned annually by 2039, according to a recent study.
The same study suggests that California could see a 10 to 150 percent increase in the amount of land burned in the next two decades.
This article was originally published by Business Insider.
More from Business Insider: