Each year, millions of people are forced to live on the streets, facing the scary reality of having to sleep rough, without a private place to retreat to or store their things. But Australian entrepreneur Simon Rowe is hoping to help change that, by designing a bus that provides 8,030 safe sleeps per year for homeless people.
The idea is that the bus will help to supplement hostels and homeless shelters by offering a mobile service that can deliver help where it's most needed at any given time. The 'Sleepbus' includes 22 adaptable, fully lockable sleep pods, two toilets, lockers for personal items and space for pets, so that people can bring their companion animals on board. 
Importantly, the bus will be well-lit and monitored 24/7 by caretakers to help people feel safe, if only for the night.
Rowe, who's worked across business and architecture, experienced homelessness himself back in 1993 when he fell behind on his rent and was forced to live out of his car. He was inspired to create the Sleepbus when he saw the worse conditions that many other people have to endure.
"That man, trying to sleep on a concrete floor, in the middle of the day, on a busy city street affected me in a profound way," he writes on the Sleepbus GoFundMe page, referring to a homeless man he encountered in Melbourne. "And that's a mild story; for many sleeping on the streets are being subjected to terrible weather, harassment, bullying, being robbed and worse. No one should have to live like that."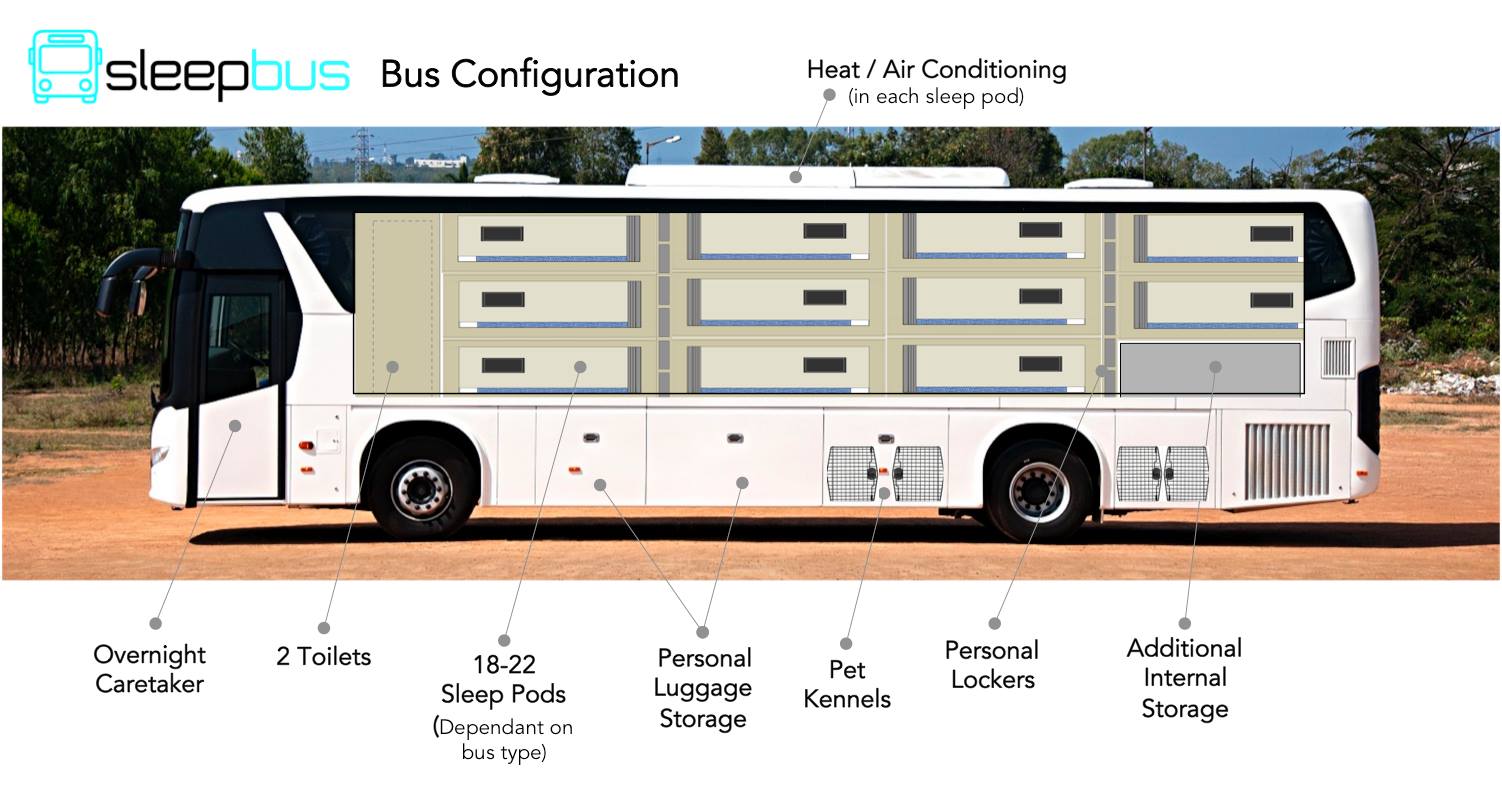 Sleepbus
To help fix the problem, he decided to develop his own mobile shelter, and the idea of Sleepbus was born. One of the main challenges was trying to fit as many pods as possible into the bus, while making sure they were comfortable and private.
Rowe told Stu Robarts from Gizmag that he did this by building prototype sleep pods at home and sleeping in them for up to three weeks at a time.
The final pod design comes with a bed, pillow, and mattress, with sheets that are washed daily. There's also a USB port for changing mobile devices, a light, a lockable roller door, climate control, and a television. 
"The TVs play an important role," Rowe told Gizmag. "When guests first hop into their pod, close the door and switch on the TV, it's calming, they could be home in bed watching TV. It is strategically free-to-air television for a connection to the world [that they have] been missing."
Sleepbus
Security also played a big role in design, with both toilets located up the front of the bus next to a round-the-clock caretaker, to make guests feel safer. The pods can also be adapted for families, with parents able to control their child's door lock and speak to family members throughout the night through an intercom.
Rowe is now crowdfunding the first prototype bus, which will hit the streets of Melbourne in June - just in time for Australian winter. There's also been "significant interest" from businesses who want to fund the venture - and, who knows, maybe one day it'll be replicated overseas.
The ultimate goal for Rowe is to eventually have more than 300 buses operating across Australia, with each able to provide 8,030 safe sleeps per year - these will be followed by shower buses, to give guests a place to clean up.