Researchers from Washington University in the US have built a camera that's capable of capturing a mind-blowing 100 billion frames a second. It's so fast, it's able to capture a photon of light in motion.
Described in this week's issue of Nature, the camera is far faster than anything currently available, with today's high-speed cameras maxing out at around 10 million frames per second.
"For the first time, humans can see light pulses on the fly," said biomedical engineer Lihong Wang, who worked the new camera, in a press release. "Because this technique advances the imaging frame rate by orders of magnitude, we now enter a new regime to open up new visions."
Currently, cameras are limited by the amount of on-chip storage, and also their electronic readout speed.
But the team overcame this using something called a streak camera - a device that is used with microscopes and telescopes to capture images extremely quickly, but only in one dimension. Usually this means that streak cameras don't provide very useful images. Wang compares it to "watching a horse race through a distant vertical slit."
To overcome this, the researchers developed computer algorithms that convert the data captured by the streak camera into a 2D image that looks like a regular camera.
They're calling the technique compress ultrafast photography (CUP), and it could lead to currently unimaginable breakthroughs in astronomy, medicine and materials science.
The CUP system doesn't look or work like a regular camera - its lens transports photons to a tiny piece of technology called the digital micro mirror device, which encode the image and reflect the photons away to a beam splitter. This beam splitter shoots the photons to a widened slit of the streak camera, where they're then converted into electrons. These are then sheared by electrodes.
As the press release explains:
The electrodes apply a voltage that ramps from high to low, so the electrons will arrive at different times and land at different vertical positions. An instrument called a charge-coupled device (CCD) stores all the raw data. All of this occurs at the breathtaking pace of 5 nanoseconds.
You can see the set-up in the illustration below.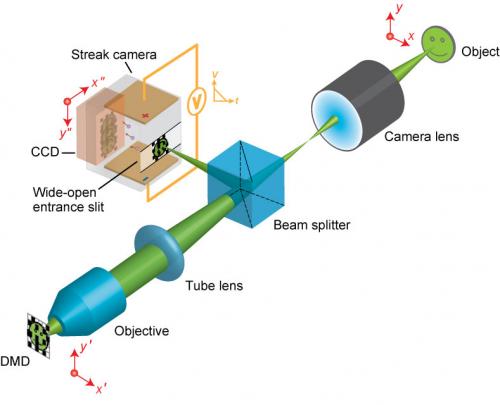 Washington University
While the device is currently being used in biomedical research, it's hoped that it will help to revolutionise other fields of science.
"Each new technique, especially one of a quantum leap forward, is always followed [by] a number of new discoveries," said Wang in the release.
"Combine CUP imaging with the Hubble Telescope, and we will have both the sharpest spatial resolution of the Hubble and the highest temporal solution with CUP. That combination is bound to discover new science."
Source: Washington University, Tech Times