The Bill & Melinda Gates Foundation has some pretty noble goals - including eradicating polio, developing superior condoms, and finding a cure for Ebola.
They've also been trying for years to find a way to turn human waste into clean drinking water, so that it can help provide water to the more than 2.5 billion people around the world who don't have access to any.
With that goal in mind, their researchers have developed the Janicki Bioenergy Omniprocessor - technology that turns untreated human waste, in the form of sewer sludge - into electricity, drinking water, and ash in just a few minutes. You can find out more about how it works in the Gates Notes video above.
But of course, someone had to make sure it worked properly, so above you can see Bill Gates try some water that five minutes ago was sewage.
One of the highlights is that the Omniprocessor is self-contained, so it can be used anywhere in the world, even in places without a proper sewer system. The latest model produces up to 86,000 litres of water every day, and also 250 kW of electricity, if it has the human poop from 100,000 people put into it.
This means that the human waste also won't be dumped into rivers and waterways, which will help stop the spread of disease.
Next the Omniprocessor will be tested in the field in Dakar in Senegal. 
To celebrate, Digg even made this gif of Bill Gates drinking the Omniprocessor's products.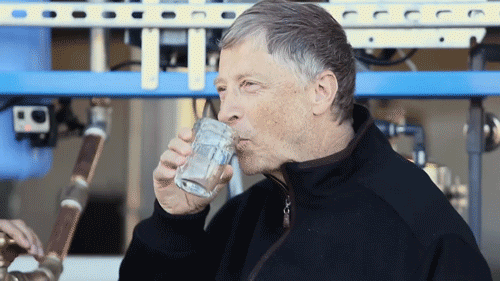 Mmm, we'll drink to that.