Those with vertigo, look away now. Everyone else, gawp in wonder at the Duge Beipanjiang Bridge in southwest China, opened to traffic this week and now the highest bridge in the world, some 565 metres (1,854 feet) above the valley below.
The bridge stretches across a 1,341-metre (4,400-foot) span. Three years in the making, it's estimated to have cost the Chinese government around 1 billion yuan (or US$144 million).
According to China Central Television, the bridge is going to cut travel times between Liupanshui in the Guizhou province and Xuanwei in the Yunnan province to two hours instead of the current five – as long as you don't mind the heights.
The bridge crosses the the Nizhu river, and to give you some idea of the size of the drop down to the water below, it's almost two Eiffel Towers or one-and-a-half Empire State Buildings. 
The new bridge overtakes the former highest bridge record holder, the Sidu River Bridge, also in China, which rises more than 500 metres (1,640 feet) above the ground below – though the exact height of the bridge is debatable.
And if your knees haven't turned to jelly yet we've got some more high bridges to tell you about.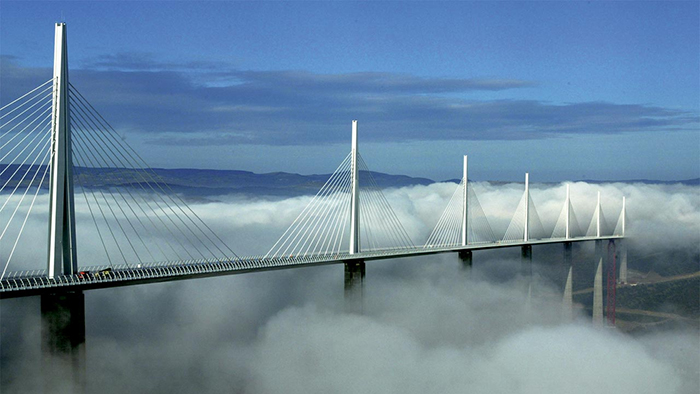 The Millau Viaduct, France. Credit: Foster + Partners
The tallest bridge in the world – in terms of its own structure rather than how high it is off the ground – remains the Millau Viaduct in France, standing 343 metres (1,125 feet) tall in total.
That bridge also took three years to build at a cost of €394 million (about AUS415 million).
At 2,460 metres (8,070 feet) long but a mere 270 metres (886 feet) off the ground – less than one Eiffel Tower – it doesn't trouble the new champion in that regard.
We were also recently wowed by the Zhangjiajie Grand Canyon Glass Bridge, again in China, which holds the distinction of being both the tallest and longest glass bridge in the world. Yes, you read that right, glass.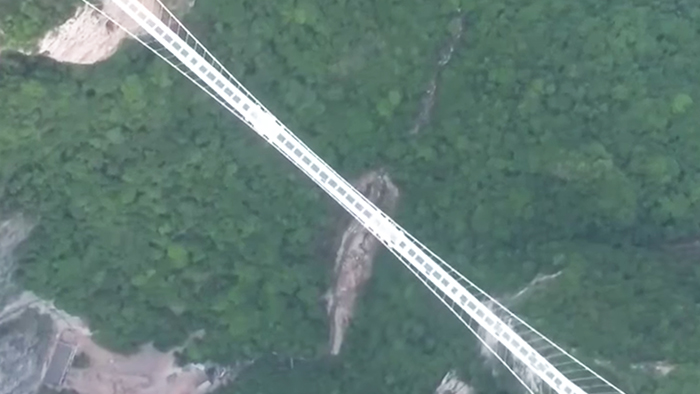 The Zhangjiajie Glass Bridge, China. Credit: New China TV
This pedestrian bridge is 300 metres (984 feet) off the ground below and offers a 265-metre (870-foot) bungee jump experience if you're up for it, believed to be the biggest bungee jump drop ever.
Unfortunately, the bridge was closed just two weeks after its opening in August, with officials saying urgent maintenance work needed to be carried out. A date for reopening hasn't been set, so don't book your plane tickets yet.
Apparently, overwhelming visitor demand rather than any structural problems with the bridge itself was the reason for the closure, so let's hope it's back open soon.
In the meantime, we'll continue to marvel at these magnificent feats of engineering from afar.