When it comes to birds having ears, you've probably had one of two thoughts - either you assumed birds' ears were tiny, inconspicuous holes like they are on snakes, or you've never really thought about bird's ears that much.
The secret option #3 here is you know exactly what birds' ears look like, in which case it's time to move on, there's nothing to see here.
But for those of you who aren't cool about what's going on in the picture above - we're right there with you. We've spent our entire lives not knowing how outrageous birds' ears are.
The footage below, posted by trained crow handler and animal volunteer Olly Peckar, shows a very happy crow getting some gentle pets while Olly exposes its ear from underneath its feathers.
Let's just say we weren't expecting something that… big?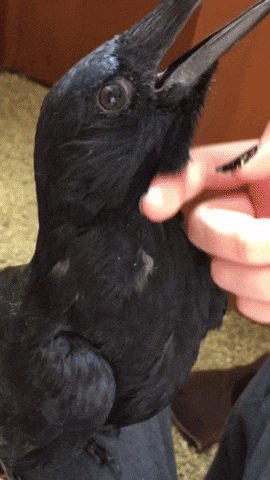 Avian ears lack the external pinnae that our human ears have, but they do have an internal cochlea like us - only it's not shaped like a spiral, it's mostly straight.
Birds are known for their keen sense of hearing, and also their ability to figure out if a sound is coming from above, below, behind, or next to them. 
Wherever the source is situated, somehow a bird is able to localise it, and all without an external ear structure like mammals have.
Scientists have only recently figured out how they do this, and it turns out that in lieu of an external ear, birds use their entire heads to detect the location of incoming sound waves.
"Because birds have no external ears, it has long been believed that they are unable to differentiate between sounds coming from different elevations," Hans A. Schnyder from the Technische Universität München in Germany explained.
"But a female blackbird should be able to locate her chosen mate even if the source of the serenade is above her."
Back in 2014, Schnyder and his team investigated the hearing ability of three bird species - crow, duck, and chicken.
They found that the birds were able to identify sounds from different elevation angles thanks to their slightly oval-shaped heads, which appear to process sound waves in a similar way to the external ears of mammals.
Turns out, birds receive different sounds at different volumes, and this helps them figure out the general direction of the source. 
Sounds originating from the same side as the ear hit the eardrum at a certain frequency, but once they passed through the head and reached the eardrum on the other side, they would register at a different frequency. 
"The eardrum differences allowed the bird's brain to determine whether the sound was coming from above or below or at level with the bird," CBC News explains. "That meant the bird's head was able to reflect, absorb or diffract the sounds."
You can read about the experiment here.
Oh and if you thought that crow gif was disturbing, you should probably know that you can see an owl's eye though its ear hole:
A version of this article was first published in December 2016.