It's hard to get more psyched about the total solar eclipse that's going to darken most of the continental US on August 21 - all the best viewing spots have been booked out for months, and most of us have some plan on how we'll watch the Sun disappear, even if it's only from the comfort of our computer screens.
But NASA and video platform Stream have just gone and upped the ante by announcing they'll be livestreaming the eclipse in its entirety from a maximum altitude of 30 km (100,000 feet) above Earth's surface. 
Specific details are still thin on the ground, but we know that what NASA is calling the 'megastream' will be facilitated by a network of more than 50 high-altitude balloons with video equipment attached.
Stream is predicting that it could be watched by even more people than the landing of NASA's Curiosity rover on Mars back in 2012, which earned more than 100 million views across all platforms.
NASA will also use live footage from its space-based solar observatories and several Earth-bound telescopes to round out the coverage.
This is the first time a total solar eclipse will be livestreamed from such a high altitude, but it's not the first time people have been lucky enough to view the phenomenon from great heights - last year, 163 passengers on an Alaska Airlines flight were lucky enough to witness a solar eclipse from 11,000 metres (37,000 feet).
Not only will this much higher livestream offer an unprecedented view of the event, but it also eliminates the risk of bad weather on the day - the balloons will be released from multiple locations, and will soar high above any clouds that could mess up our view.
A total solar eclipse occurs when the Moon and Sun line up in the sky, with the Moon nearly perfectly blocking out the Sun's light, and plunging an area of the Earth into total darkness.
Everyone in the so-called path of totality, which you can see below, will be able to make out the outer atmosphere of the Sun (while looking safely through a pinhole camera or eclipse glasses) - and what's so special about this year's eclipse is that around 50 million people live within just a few hours' drive of that path.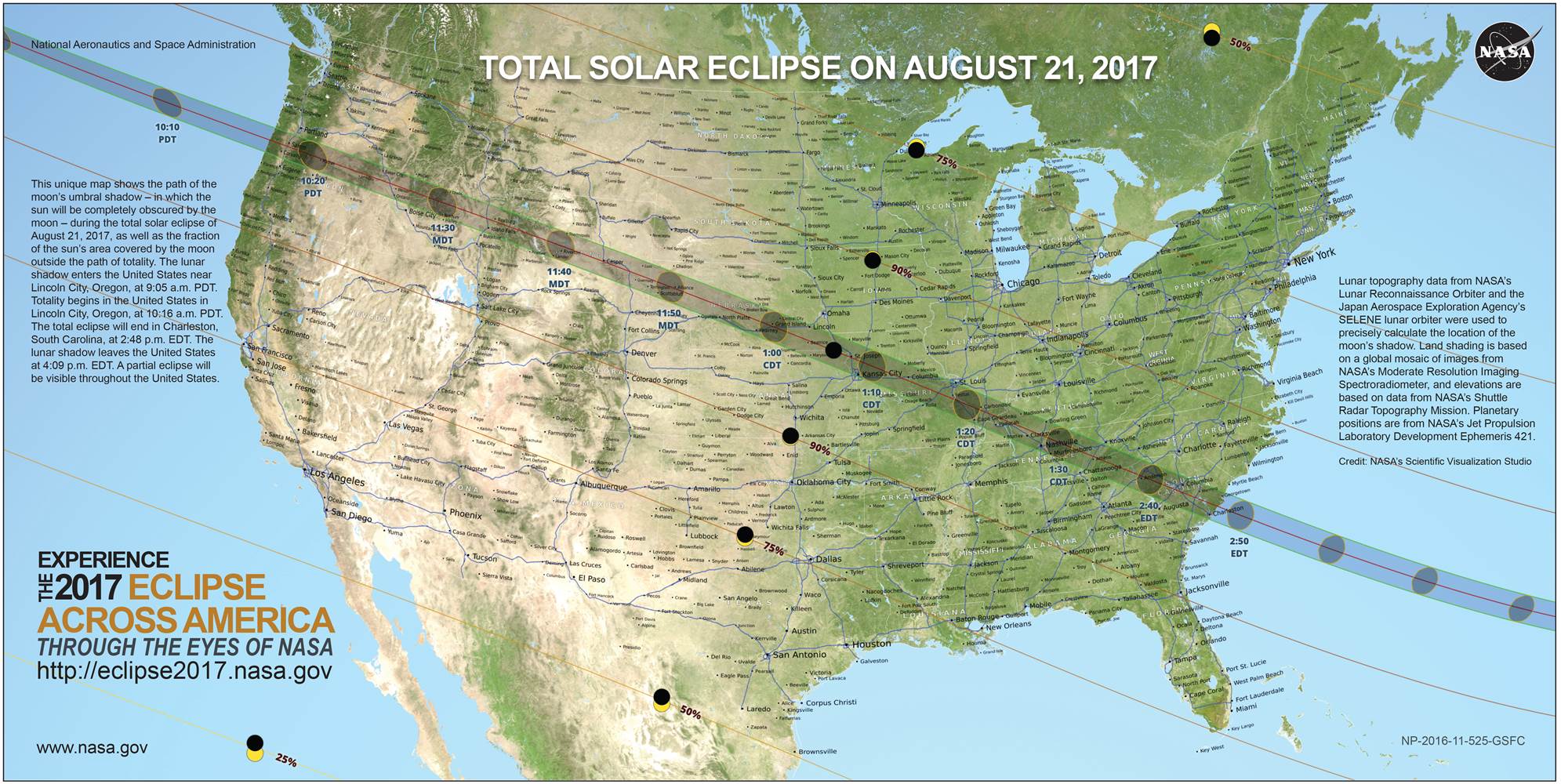 NASA
It's the first time in 99 years that a total solar eclipse has been so accessible to Americans on both coasts.
So what can you expect to see?
"All of a sudden, you know, you see a 360-degree sunset all around you," said NASA's Lika Guhathakurta last year at a meeting of the American Geophysical Union.
"Stars appear. The temperature drops. You can actually hear chirping of grasshoppers. So, animals actually naturally go back to their nocturnal behaviour."
"A total solar eclipse, I would say, is widely regarded as probably one of the most breathtaking, amazing phenomena that you can observe from this planet Earth with your own eyes," she added.
Universities and volunteer science teams around the US will be releasing the high-altitude balloons in preparation for the livestream, in cooperation with various NASA programs.
"We have spent the last three years researching and building the camera payloads and ground stations in preparation for eclipse day," Angela Des Jardins, director of the Montana Space Grant Consortium and leader of the Eclipse Ballooning Project, said in a press release emailed to Mashable.
"The live-video distribution was the last technical hurdle we needed to overcome, and the partnership with Stream allows us to focus on the payload technology while they handle the video."
You can get more information on the NASA livestream here, and more details on the eclipse in general at their awesome Eclipse 2017 site. And check out some of the other viewing options here.
We can't wait.