NASA isn't thrilled about having to pay Russia billions of dollars to launch US astronauts on Russian rockets inside of Russian spacesuits. But that's the current spaceflight pickle the space agency finds itself in; there's really no other option unless you're China.
However, two aerospace companies - SpaceX and Boeing - are working hard to fulfil contracts for NASA to build and launch astronauts to low-Earth orbit as soon as 2018 (a delay of about three years). SpaceX is working on its Dragon spacecraft while Boeing is developing and testing its CST-100 Starliner spacecraft.
To that end, on Wednesday, Boeing for the first time publicly unveiled a crucial new piece of its Starliner system: a spacesuit to protect the next generation of astronauts as they launch toward the International Space Station, and eventually more exotic destinations like an asteroid, or even Mars.
Behind the new suit is former astronaut Chris Ferguson, director of Boeing's Starliner Crew and Mission Systems program, and lead designer Shane Jacobs.
"Astronauts had formerly had these relatively bulky, heavy suits with thick neck rings. And we learned throughout the years that maybe we didn't need that," Ferguson said in a Boeing promotional video.
"We've simplified the suit. It's lightweight."
Typical space shuttle suits weighed about 33 lbs (15 kilograms), while Boeing's new suit weighs about 12 lbs (5.4 kilograms) - roughly a few Macbook laptops' worth of mass.
The suit, according to Boeing, is also much cooler than typical spacesuits. Below the shoulder material, for example, is a mesh that allows passive airflow to the suit.
"You can pretty much lay there without any external cooling. It's that comfortable," Ferguson said.
The suit also features a helmet that comes on and off with a large zipper, and smaller and less bulky gloves (which, yes, are made with material that allows them to interact with touchscreens).
Here are some of the first public views of Boeing's new spacesuit.
This is the new CST-100 Starliner spacesuit that was designed and built by Boeing:
Boeing
Here's former astronaut Chris Ferguson, one of its designers, wearing the device. The gloves are compatible with touch screens.
Boeing
The helmet is attached with a thick, air-tight zipper - no heavy or bulky neck ring required. NASA astronaut Eric Boe is the guy in the suit.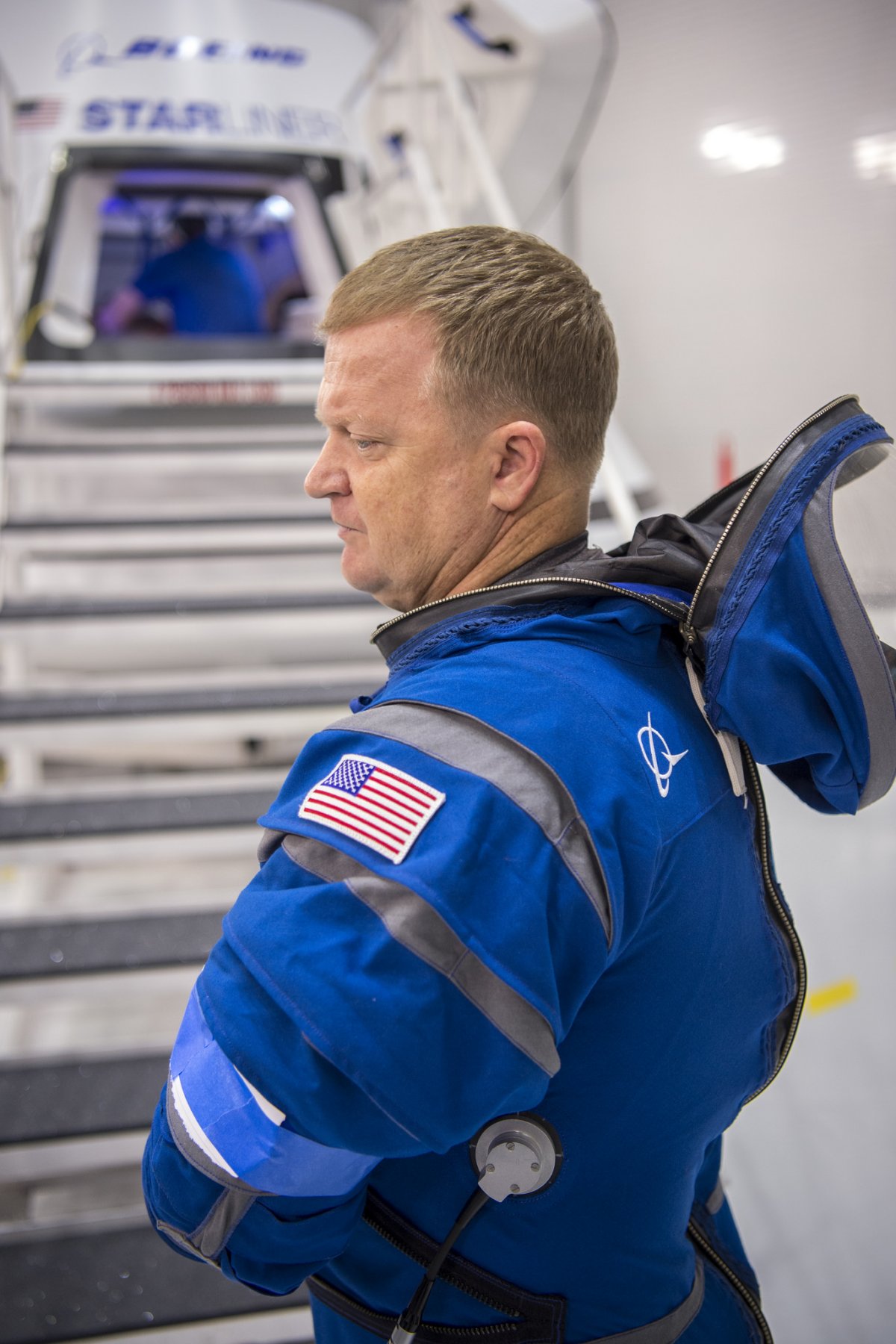 NASA Kennedy/Flickr
NASA astronaut Suni Williams wears the usual 'Snoopy cap' communications systems, which go under the Starliner's helmet: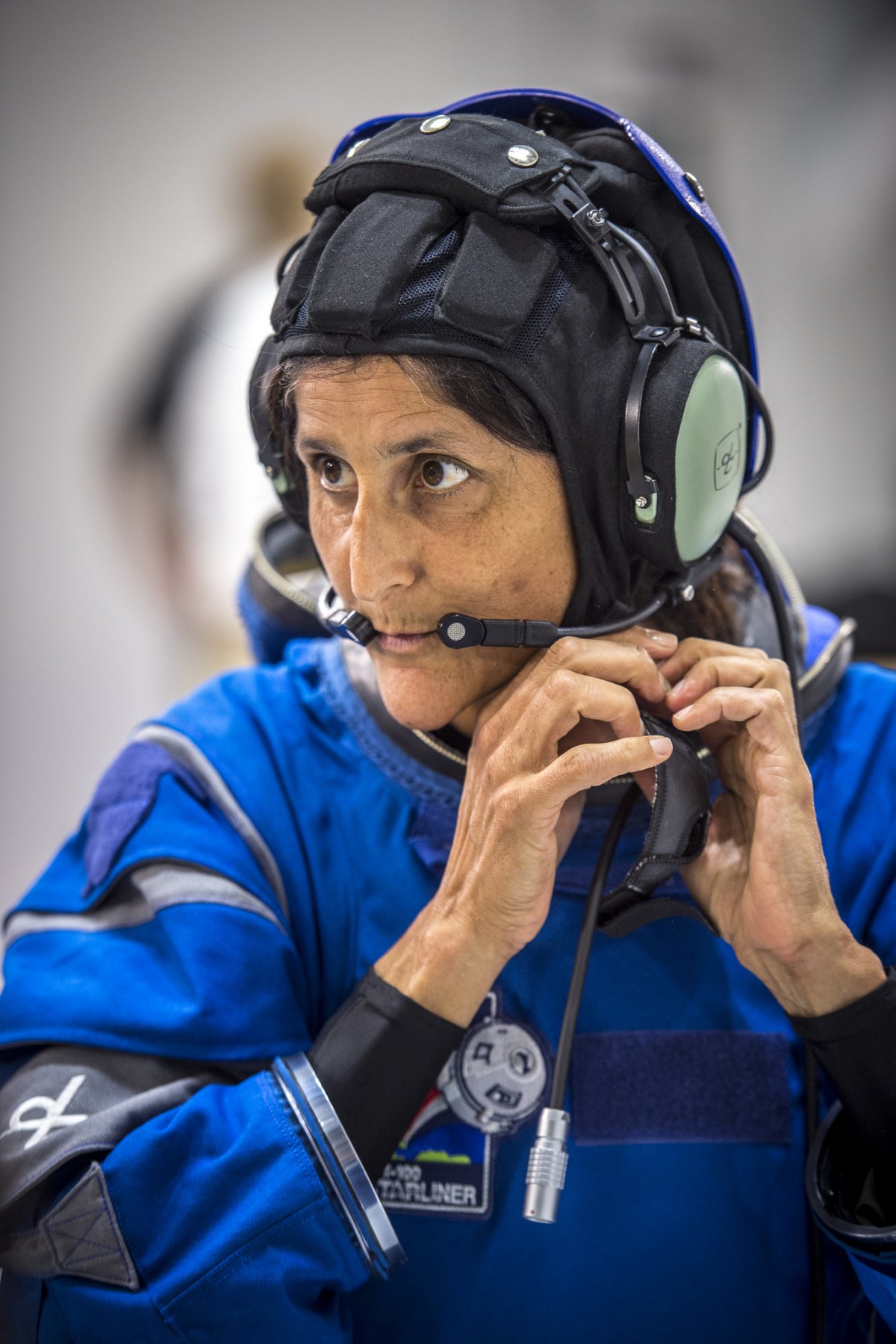 NASA Kennedy/Flickr
Here's the helmet fully zipped up. (That's Ferguson again.)
Boeing
Boe is being strapped into a prototype of the CST-100 Starliner space capsule:
Boeing
A Boeing worker works with Boe during a test:
NASA Kennedy/Flickr
The CST-100 Starliner spacecraft will eventually carry up to seven astronauts:
NASA Kennedy/Flickr
Boe shows off the rest of the suit, including the booties:
NASA Kennedy/Flickr
This article was originally published by Business Insider.
More from Business Insider: