Lots of people complain about having to work in stuffy, open-plan office buildings, but it's a fair bet their workplace doesn't look anything like this. 
New pictures have emerged of the world's first 3D-printed office building currently proposed for construction in Dubai, and let's just say it looks pretty darn cool, even if we currently only have the architectural plans to go off.
The building, unveiled yesterday by the UAE National Innovation Committee, will occupy close to 200 square metres of land near Dubai's recently opened Museum of the Future and will act as a temporary headquarters for the facility's staff.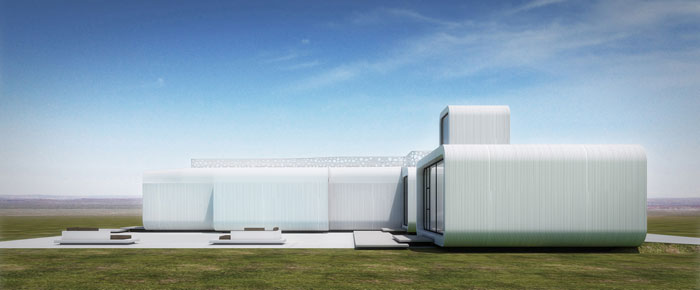 Image: Museum of the Future
"This building will be a testimony to the efficiency and creativity of 3D printing technology, which we believe will play a major role in reshaping construction and design sectors," said H.E. Mohammed Al Gergawi, UAE Minister Of Cabinet Affairs, in a press release. "We aim to take advantage of this growth by becoming a global hub for innovation and 3D printing. This is the first step of many more to come."
It's not just the futuristic-looking externals of the building that are going to be 3D-printed, either; the plan is for all interior elements including furniture and structural components to also be produced via the same technology, which the building's backers claim "will make it the most advanced, fully functional 3D printed building to date".
The project, a completion date for which has not yet been announced, is set to be printed in layers by a 3D printer measuring some 6.1 metres tall, with the individual components subsequently assembled on site "in a matter of weeks".
By utilising 3D printing in place of conventional construction techniques, the building's engineers project significant savings in time and costs, with estimated 50 to 70 percent reduced production times, 50 to 80 percent reduced labour costs and 30 to 60 per cent reduced construction waste.
Image: Museum of the Future