Last year, on January 19th, the Environmental Protection Agency (EPA) began removing key references to climate change from its website. Now, over a year later, the information is still conspicuously missing.
Thankfully, the Environmental Data and Governance Initiative (EDGI) has carefully documented the overhaul and removal of all government documents, webpages and websites regarding climate change - not to mention significant language changes to the information that still exists.
While several other agencies, like the Department of Energy (DOE) and the Department of State, have also removed or significantly reduced climate web content, under administrator and climate denier Scott Pruitt, the EPA has removed the most.
The most drastic changes at the EPA came one day before the People's Climate March, when the agency made substantial alterations to its climate change website.
Now, when you try to access the EPA climate change web page, it merely reads "This page is being updated." Plus, the climate change tab is now entirely removed from the EPA homepage.
Screenshots and red underlines in the sections are by TIME.
According to a statement from the agency, these changes are being made to the website to better "reflect the agency's new direction under President Donald Trump and Administrator Scott Pruitt."
After the overhaul, the agency provided archived screenshots of the older pages in order to comply with the Freedom of Information Act. However, some pages which were entirely removed, like the "Student's Global Guide to Climate Change", were not included in EPA archives.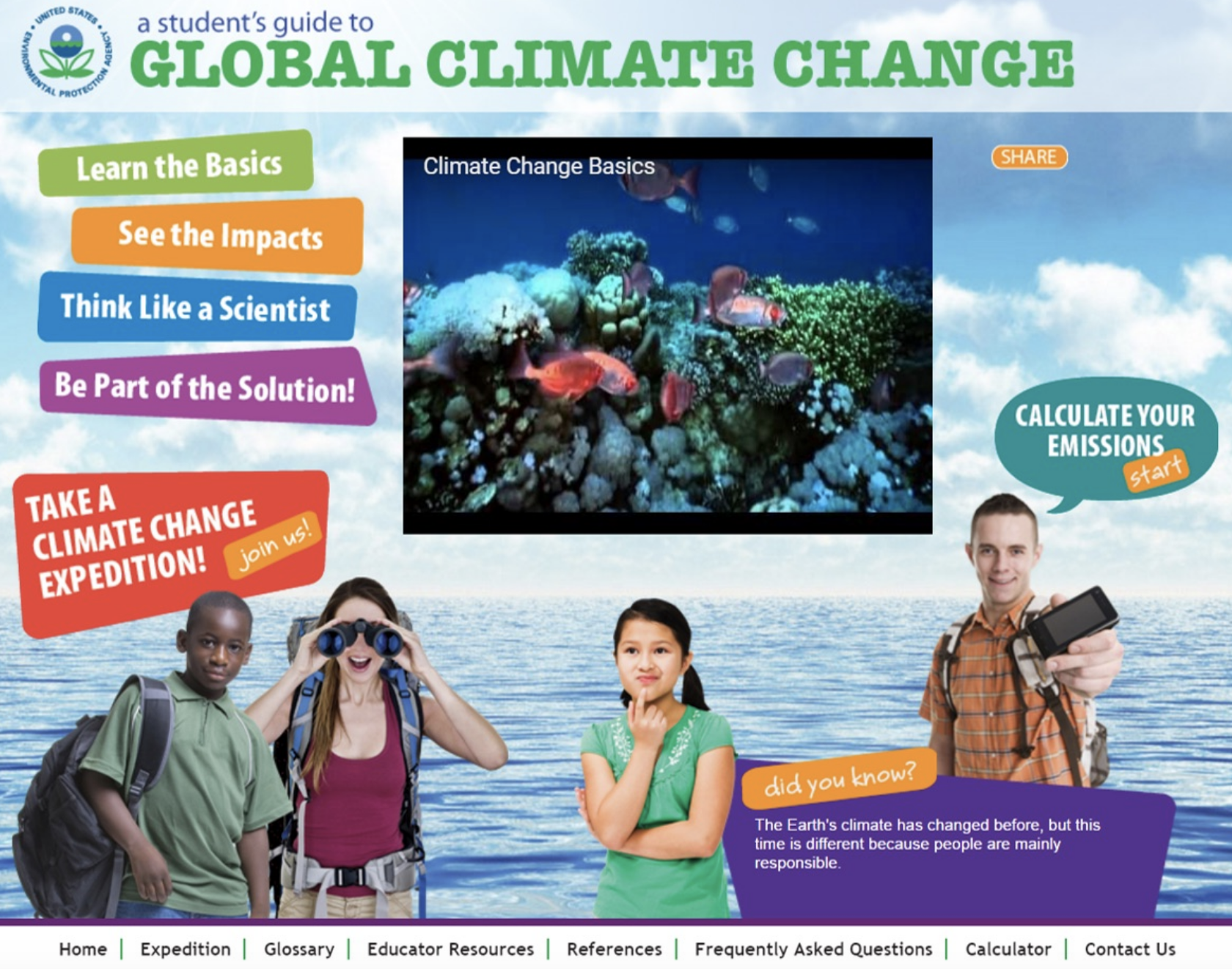 "The EPA's notice that an overhaul was in progress did represent some degree of transparency, yet it failed to note which domains and pages were being removed or altered," reads the EDGI report.
"Moreover, it was posted the same day that the overhaul began, preventing stakeholders from being able to download and archive valuable pages and information."
One of the many websites removed last year was the "Climate and Energy Resources for State, Local, and Tribal Governments" website, which contained 380 pages of information.
About three months after this website was removed, a new website titled "Energy Resources for State, Local, and Tribal Governments" was launched. On the new page, over 200 pages of information were omitted, including references to and descriptions of climate and change change.
While many of the links contained within the climate change subdomain still exist, they are notoriously difficult to find, buried within pages and pages of government material. Meanwhile, other pages have simply been deleted.
For instance, if you search the term "climate change" on EPA.gov, it produce around 5,000 results. In the past, a similar search would have produced closer to 12,000 results.
Apart from burying and deleting information, the agency has also drastically changed the information available. For instance, a map that detail the regional affects of climate change has now been replaced with a far less-detailed version.
Of the 56 states and territories on the new EPA map, only 19 bother to mention climate change, and out of 19 links, only 8 are functional.
Still, many American states and cities are not letting the federal government get away with such censorship.
Concerned by the lost climate information, for instance, Chicago has copied old EPA web pages over to the city's own website.
A banner on the site states that "while this information may not be readily available on the EPA's website, in Chicago we know climate change is real. We are joining cities around the country to make sure citizens have access to information on climate change."
Alongside Chicago, 14 states and territories have formed the U.S. Climate Alliance, which represents a pledge to uphold the Paris accord and reduce emissions, and 382 cities have joined the Climate Mayors, promising similar sustainable practices.
"Censoring scientific data doesn't make its threats any less real, it hides the problem from the American people so the Trump administration can wage a dangerous assault on public health safeguards that protect all Americans," Gina McCarthy, the EPA administrator under President Obama told TIME.
"It is beyond comprehension that they would ever purposely limit and remove access to information that communities need to save lives and property."
Science AF is ScienceAlert's new editorial section where we explore society's most complex problems using science, sanity and humor.