Earth's core is solid and we were totally wrong about the date of the Pompeii disaster.
Those are just two of the breakthroughs scientists made this past week - confirming once again that a lot can change in just seven days. After all, that's the reason we love science so much.
To keep you up to date we've put together this shareable image with all the highlights from the science world the past week. 
Links to all the stories are below the image.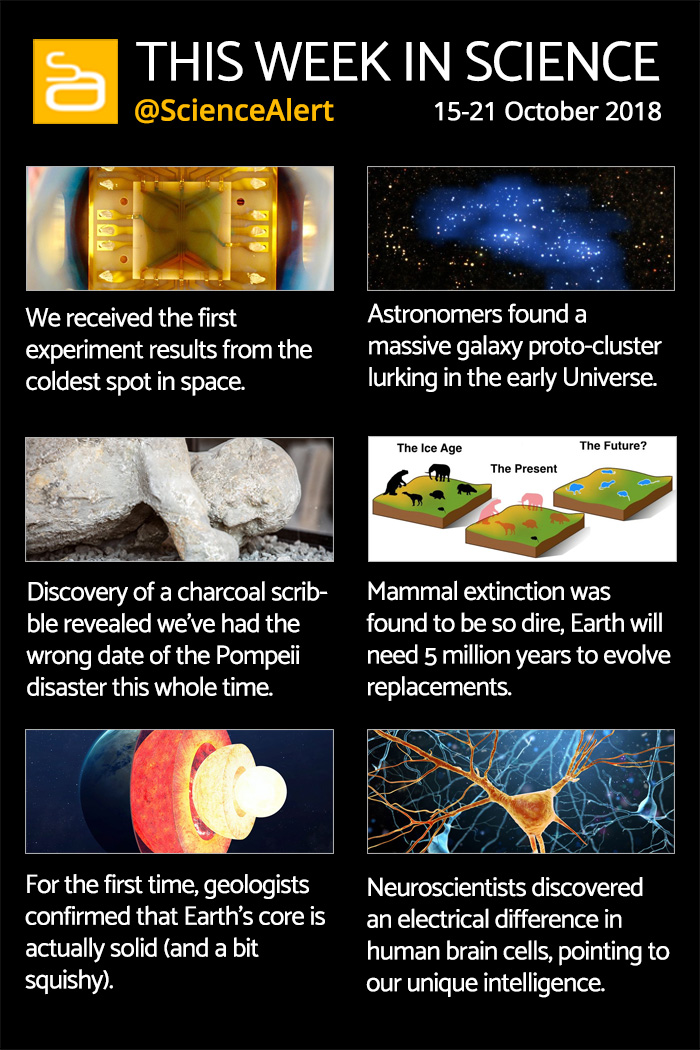 This week in science October 15-21
We Received The First Experiment Results From The Coldest Spot in Space
The first data on how Bose-Einstein condensate behaves under microgravity conditions are in.
Astronomers Have Found a Massive Galaxy Proto-Supercluster Lurking in The Early Universe
The discovery of a huge supercluster of galaxies that formed just 2.3 billion years after the Big Bang is massive for our understanding of the Universe. 
We Had The Wrong Date For The Pompeii Catastrophe This Whole Time
A message in the dust suggests it happened sometime after 17 October 79 CE and not, as has been previously thought, on August 24.
We've Wiped Out So Many Mammals, Earth Will Need 5 Million Years to Evolve Replacements 
Humans will cause so many mammal species to go extinct in the next 50 years that the planet's evolutionary diversity won't recover for 3 to 5 million years, a team of researchers has found.
For The First Time, We Have Confirmation That Earth's Core Is Actually Solid
Geologists have finally confirmed that our planet's inner core is indeed solid - although it's also squishier than other models suggested.
Neuroscientists Have Found a Crucial Difference That Makes Human Brain Cells Unique
Human brain cells have been found to carry electrical signals in a unique fashion that could significantly increase the power of individual neurons - and might explain our unique intelligence.
Subscribe to our daily newsletter to stay up to date with all the most fascinating and inspiring science news as it happens.