Avatar director James Cameron is no stranger to taking on big projects. Not only has he recreated an extraterrestrial world and a 1912 cruise ship for his films, he's also IRL pioneered deep-sea exploration and advised NASA.
And now Cameron has created a solar device that he hopes will not only help people harness more of the Sun's energy, but offer a more attractive alternative to the existing roof-top panels. The 'Solar Sun Flower' is built to track the Sun as it moves across the sky, so it can soak up as much daylight as possible. 
"The idea was to unify form and function with this life-affirming image that anyone looking at it would instantly get," Cameron told Alissa Walker over at Gizmodo.
Looking more like an artwork than an energy generator, the 10-metre-tall structure is made up of a central face surrounded by 14 'petals'.
All of this space is covered with state-of-the-art solar panels, and Cameron worked with tech company Sonnen to develop a tracking system that uses astronomical data to calculate the Sun's position throughout the day and align the Solar Sun Flower's face accordingly.
The first flowers were installed last month on the Malibu campus of the MUSE school, a not-for-profit institution that encourages environmental learning and sustainability, and was co-founded by Cameron's wife, Suzy Amis Cameron. They're currently connected to the grid, but Cameron told Walker that he's looking forward to trying out Tesla's soon-to-be-released Powerwall battery to store the energy the produce.
Right now, a set-up that links five Solar Sun Flowers generates around 260 kWh per day, which meets roughly 75 to 90 percent of the school's energy demands. But in the height of summer, Cameron predicts this could reach 100 percent. To put that into perspective, the average US household uses around 29 kWh of electricity per day, so just one of these beauties would have you covered.
While Cameron is patenting his design to make sure no one else tries to claim ownership, he's also going to be making all the designs and plans open-source, so they can be replicated around the world. He's also creating a cool little dashboard site that allows the MUSE students to monitor how much energy is being generated, while they study the engineering behind the solar device. 
And not only do the Solar Sun Flowers look pretty, they also offer an unexpected benefit: shade. The almost 9-metre-wide structure works sort of like a beach umbrella that moves as the Sun does. We can only imagine the benefits the device could offer to desert regions that are short on both shade and cheap electricity.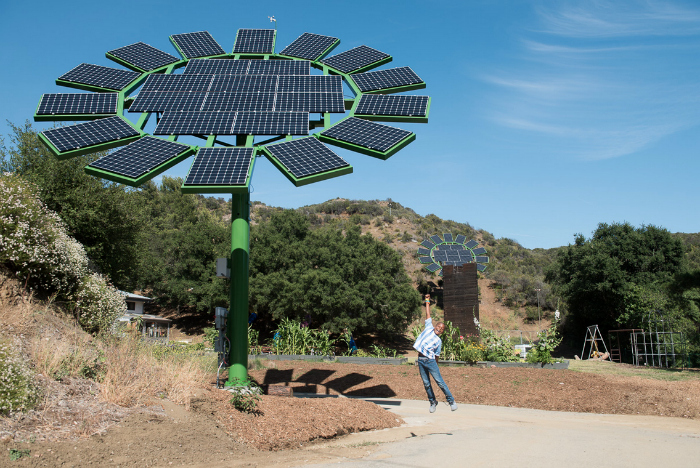 MUSE School