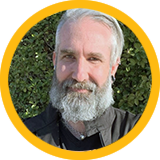 Mike McRae is a part-time Journalist at ScienceAlert. He has been telling science stories in one form or another for more than 20 years, and expertly navigates a broad range of subjects, from health and neuroscience to the weirdness of quantum physics.
From classroom teacher to journalist, Mike has contributed to the CSIRO's magazines, The Guardian, the ABC, and Australian Financial Review, and joined ScienceAlert in 2016. He is the author of popular science books Tribal Science: Brains, Beliefs, and Bad ideas and Unwell: What Makes a Disease a Disease?, which reflect his strong passion for sociology and health.
Mike is slowly building a collection of cephalopod tattoos on his right arm and swears there's still room for a nautilus or two.
Twitter: @tribalscientist