Last month was the hottest October on record globally, Europe's climate monitor said Wednesday, as months of exceptional heat are likely to make 2023 the warmest year in history.
With temperatures soaring beyond previous averages by exceptional margins, scientists say the pressure on world leaders to curb planet-heating greenhouse gas pollution has never been more urgent as they prepare to meet in Dubai for the UN COP28 climate conference this month.
Drought parched parts of the United States and Mexico during October, while huge swathes of the planet saw wetter than normal conditions often linked to storms and cyclones, said the EU's Copernicus Climate Change Service (C3S).
Sea surface temperatures were the highest ever recorded for the month, a phenomenon driven by global warming that scientists say plays a key role in driving storms to be more ferocious and destructive.
"October 2023 has seen exceptional temperature anomalies, following on from four months of global temperature records being obliterated," said Samantha Burgess, C3S deputy director.
"We can say with near certainty that 2023 will be the warmest year on record, and is currently 1.43 degrees Celsius above the pre industrial average.
"The sense of urgency for ambitious climate action going into COP28 has never been higher."
The landmark 2015 Paris Agreement saw nearly 200 countries pledge to limit global warming to well below two degrees Celsius since the pre-industrial era and preferably a safer 1.5 °C.
These temperature thresholds will be measured as an average over several decades, rather than a single year.
This year has also seen the beginning of a warming El Nino weather phenomenon, which warms waters in the southern Pacific and stokes hotter weather beyond.
Scientists expect the worst effects to be felt at the end of 2023 and into next year.
Warming oceans
October was 1.7 °C warmer than an estimate of that month's average for the pre-industrial era, Copernicus said.
Global average temperatures since January have been the highest in records going back to 1940, the monitor added, registering 1.43 °C above the 1850-1900 pre-industrial average.
Beyond these official records, scientists say proxy data for the climate going back further – like tree rings or ice cores – suggests the temperatures seen this year could be unprecedented in human history, potentially the warmest in more than 100,000 years.
Average sea surface temperatures for the month excluding the polar regions reached 20.79 °C.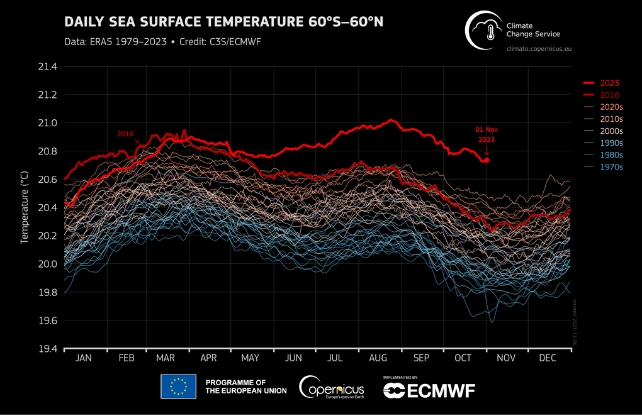 Oceans have absorbed 90 percent of the excess heat produced by human activity since the dawn of the industrial age, according to scientists.
Warmer oceans are linked to an increase in the intensity of storms and the melting of crucial ice shelves buffering the vast ice sheets of Greenland and Antarctica, threatening destructive sea level rise.
A warmer atmosphere also holds more moisture, resulting in heavier rainfall.
Leaders meeting in the United Arab Emirates for the November 30 to December 12 COP28 conference will have to respond to a damning progress report on the world's Paris pledges after major scientific studies have made clear the world is far off track.
Carbon emissions – largely from fossil fuels – continue to creep up when they need to be slashed in half this decade.
Just under 1.2 degrees Celsius of temperature rise above pre-industrial levels has triggered a range of calamitous and costly weather extremes.
'Uncharted territory'
"Another month, another unprecedented record. The consequences are all too clear," Ed Hawkins, professor of climate science at the University of Reading, told the Science Media Centre.
"We already have many of the solutions to wean ourselves off this deadly addiction, but only if different choices are made to confront this issue now, rather than pretend it will be solved in the future and therefore commit the world to even worse consequences."
People across the planet have faced heatwaves and droughts this year, while severe flooding has struck the United States, China, India and beyond.​
In Canada, record wildfires partly related to climate change released more carbon dioxide than the country's total 2021 greenhouse gas emissions, according to a "State of the Climate" report published by a group of prominent scientists last month.​
The report warned that humanity had veered into "uncharted territory" with warming that imperils life on Earth.