Researchers have identified more than 50 new species of spider during a two-week expedition in Queensland's Cape York Peninsula, which they say could be the "the spider capital of Australia".
A 23-strong team of scientists working with Australian research program Bush Blitz encountered the arachnids in Quinkan Country in far north Queensland – examining an area that's never been surveyed before, but which provided the organisation with its most epic haul of new spider discoveries yet.
"This was one of the largest number of species Bush Blitz has ever discovered during one expedition," the researchers said in a statement.
"Far-north Queensland can boast an extraordinary variety of spiders."
Mygalomorphae Barychelidae Idiomata sp. Credit: R. Whyte
The new discoveries are now being formally classified by the team – who will have to make sure that the spiders they've found haven't already been documented by other researchers.
But with a possible 15,000 species of spider in Australia yet to be formally classified, there's a good chance most of these critters are unknown to science.
Among the new finds are: ant-eating spiders that elude detection by mimicking their prey; scuba-diving tarantulas; spiders the size of dinner plates with legs like thick biros; and miniature jumping spiders, like Saliticidae Jotus sp. nov. cf auripes, pictured at the top of this page.
"Jumping spiders have a nice courtship behaviour: they dance for their women," one of the team, biologist Barbara Baehr from the Queensland Museum, told The Guardian.
"I once described one after Mao's Last Dancer because I had seen the ballet and it danced like that. There is a lovely side to spiders, there's not just a terrible, dangerous side."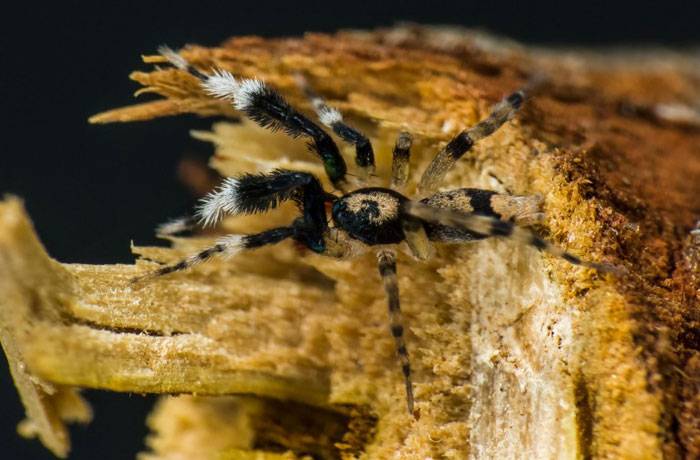 Gnaphosidae Ceryerda. Credit: R. Whyte
The researchers say the discoveries wouldn't have been possible without the help of Quinkan Country's Indigenous rangers and traditional owners – and the expedition also benefited from a lush wet season that set the stage for several new finds every day.
"It's so vibrant – so many spiders are out there," Baehr told Calla Wahlquist at The Guardian. "When you just cup leaf-litter together, it's crazy."
While this crawling cornucopia might sound like a horror movie to arachnophobes, it's the stuff of dreams for arachnologists, giving them an opportunity to observe spider behaviours and interactions that have never before been documented.
Zodariidae Habronestes. Credit: R. Whyte
"Under one rock, down in a gully with a fresh-water spring pumping through, I found species from six arachnid orders," arachnologist Robert Raven from the Queensland Museum told Joanna Khan at Australian Geographic.
"It was absolutely spectacular to see all these six groups together."
Of course, we'll have to wait until these spiders are formally classified before we can confirm that they are in fact new species – but early signs are promising, and it's a valuable reminder of just how ecologically rich unsurveyed regions of the world can be.
Mygalomorphae ctenizidae sp. nov. F. Credit: R. Whyte
"We've undertaken 34 expeditions, but it's likely this expedition will yield the greatest number of new species discoveries so far," says Bush Blitz manager Jo Harding in a press release.
"With over 1,200 new species discovered by Bush Blitz already, we are slowly filling gaps in our knowledge of Australia's biodiversity."