US developers have announced plans to turn a dying shopping mall and its sprawling parking lot into the world's largest green roof - creating a green, walkable neighbourhood filled with gardens, apartments and retail spaces.
Vallco Shopping Mall is located in a suburban area of Silicon Valley, and like many malls around the world following the 2008 stock market crash, it's currently sitting half-abandoned. One option was simply to knock it down and build new shops in its place, but development company Sand Hill has instead decided to turn the whole area into a 30-acre park-filled neighbourhood that contains running trails, vineyards, orchards, and farmers markets, as well as nearly 1,000 apartments and 100 square metres of office space. 
The plan is waiting on approval by the city of Cupertino - which won't happen till some time in 2016 - but Sand Hill has already released some of its blueprints, and it looks pretty damn impressive. 
Sand Hill
Sand Hill
"For us, the challenge was how do we bring to the community the town centre they've wanted for decades, revitalise retail at this location, but also meet their desire for a model for sustainable growth and a desire for open space," managing director of Sand Hill, Reed Moulds, told Adele Peters from Co.Exist. "The 30-acre community park and nature reserve was what they've always wanted."
This isn't the first time an old mall has been turned into a walkable green space - a similar redevelopment happened in Seattle a few years ago. But it's still an impressive demonstration of what can be done with a little clever planning and sustainable design principles.
And it's not just the environment that will benefit - recent research has shown that living near trees can improve people's wellbeing as much as a US$10,000 pay rise.
The new development will also meet the best sustainability requirements, with recycled water being used for irrigation, heating, and cooling. The parks will also feature native, drought-tolerant plants and natural ventilation will help to manage the temperature of building spaces naturally.
One thing the Sand Hill team wanted to change was the fact that currently the town surrounding the Vallco mall is completely car-dependent, even though most attractions are an easily walkable distance.
"It's a 50-acre, inaccessible, auto-dominated, super block - a massive building surrounded by a sea of parking - walled off from the surrounding neighbourhood," Moulds told Co.Exist. "Our goal was to transform that to a walkable city, a walkable town centre."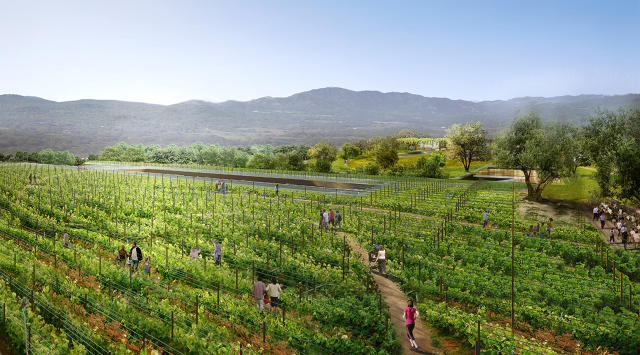 Sand Hill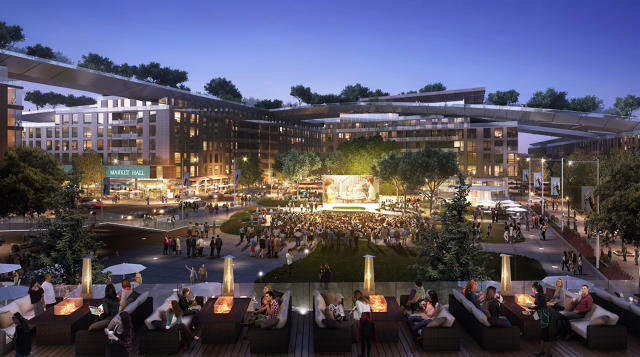 Sand Hill
Their new design will feature 6.1 km of walking and cycle paths, plus a shuttle to service the area, seeing as there's currently no public transport.
We think it's a pretty awesome idea, and just another example of the clever things that people can do with currently unused urban space. Let's keep it happening.