This is what it looks like when a bear breaks into your home to steal M&M's while you're out. And we totally empathise with those candy cravings.
Footage of the break-in was captured last week by security cameras set up in the home of Lane Sykes and Carole Scofield in South Lake Tahoe, California. The couple had been out for around an hour, and when they returned, one of their friends spotted this snack-stealing intruder through a window.
"She says, 'There's a bear in your house!'" Sykes told Patch. "Carole goes, 'Oh, yeah right.'"
There was, in fact, a bear in the house. A seven foot, 300 pound (213 cm, 136 kg) one.
In hindsight, they really shouldn't have been surprised. This is actually the sixth time a bear has tried to force entry inside their home in recent years, and at least the second time this particular burglar has dropped in.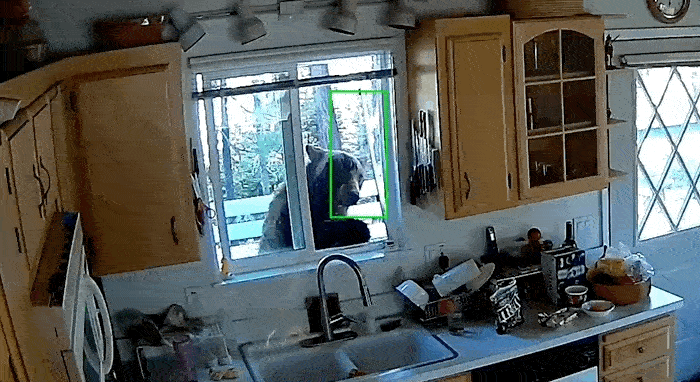 The previous visit, last November, caused US$700 of damage in a brazen break and enter.
"He pushed-in the front door to gain access to the refrigerator and shelves," Sykes said.
But what made this latest home invasion so remarkable is the couple now knows well enough to properly secure their home before leaving it, to bear-proof things as much as possible.
And they did this time too, save for one glaring omission.
"The doors were locked," Sykes told local news station KOLO8.
"We left the back window open, which is a small window. I have never thought a bear could get in that window."
But get in it did, as a series of YouTube uploads of the incident proves, showing a furry looter who means no harm – but will not be denied when it's time to snack.
While the identity of the bear has not been revealed, the suspect has a definite sweet tooth, showing a preference for things like maple syrup, chocolate powder, and cinnamon-flavoured raisin bread.
"He likes M&M's," Sykes told Patch.
"He does go for the sweet stuff. He also goes for vegetables, but that's not his first choice."
In the videos, the bear can be seen entering the house repeatedly by climbing as far as it can through the kitchen window, thoroughly rummaging through the kitchen sink and searching the adjacent countertop.
To gain access, it adroitly removes the window's fly screen. Later, it shakes M&M's free from a storage container, before hoovering the spilled candies off the bench.
After that, it steals something in a wrapper and retreats to enjoy the sealed snack outside. Realising it's onto a good thing, it repeats this trick a few times, grabbing ahold of whatever it can gets its paws on, before eventually being discovered and chased away by Scofield armed with a can of pepper spray.
According to Lesa Johnston from the California Department of Fish and Wildlife, bears usually source human snacks from easier targets like bins outside properties – but in this case, the individual has learned there's a place where even better fare can be found.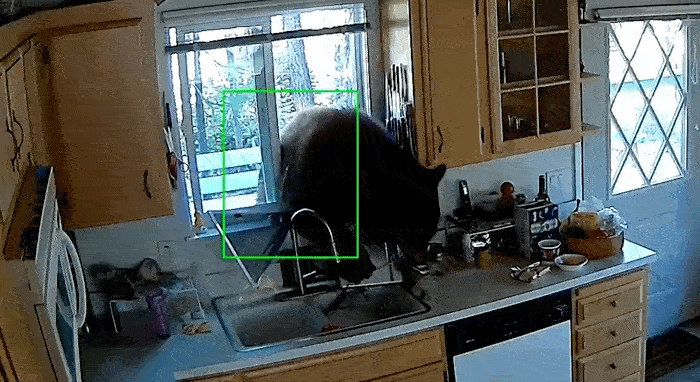 "[At some] point in the bear's life, they gained some type of food reward by breaking in a cabin or a home, so they remember that, so the behaviour is likely to be repeated," Johnston told KOLO8.
It's a lesson Sykes knows only too well by now.
"Once they learn that you become the grocery store," he told Patch, "then it's just easier to go back to the grocery store."