The headlines of record-crushing heat in the Northern Hemisphere began in June and haven't stopped midway through August. Scores of locations on every continent north of the equator have witnessed their hottest weather in recorded history.
The swelter has intensified raging wildfires in western North America, Scandinavia and Siberia, while leading to heat-related deaths in Japan and eastern Canada.
Even with the peak of summer having passed, several locations in western North America notched their highest temperatures on record last week. They included Calgary in western Canada and Glacier National Park in Montana, where the temperature touched the century mark for the first time in 70 years of records.
A weather station in Idaho soared to a torrid 119 degrees (48.3 Celsius) last week. While it requires verification, it would mark the state's highest temperature ever measured.
Maps and charts really help tell the story of the incredible heat this summer and place it in historical perspective. Here are seven of the most compelling:
1. Record heat, day by day, May through July
(Robert Rohde/Berkeley Earth)
The remarkable coverage of both record-challenging and record-breaking heat is shown in this animated map which illustrates how many locations around the planet were coping with exceptionally hot weather every single day.
Few areas were left untouched by the heat which spread around the planet. Some areas, like the western United States, Japan and Scandinavia, were hit repeatedly.
2. The hottest May-through-July on record in the Lower 48 states
(NOAA)
The contiguous United States witnessed its hottest May on record, passing the previous mark set during the Dust Bowl. But it was July, which ranked 10th hottest, which delivered some of the most remarkable heat extremes.
California endured its hottest July on record. The scorching weather created ideal wildfire conditions, and blazes have since consumed about 750,000 acres. Death Valley's average July temperature of 108.1 degrees (42.3 Celsius) represented the hottest monthly reading ever measured on the planet.
In early July, the weather station at the University of California at Los Angeles, which has kept measurements since 1933, posted an all-time high of 111 degrees (43.9 degrees Celsius).
San Diego has seen astonishing warmth, including a record 16-day streak with highs of at least 83 degrees (28.3 Celsius) that just ended and an ongoing 21-day streak in which its low temperature hasn't fallen below 70 (21.1 Celsius).
The historic warmth has transformed the normally cool ocean temperatures off the San Diego coast to ostensibly bath water in early August. The water temperature at Scripps Pier broke its previous record high mark set in July 1931 four times, most recently climbing to 79.5 degrees (26.4 Celsius) on Aug. 9.
3. The hottest May-through-July on record in Europe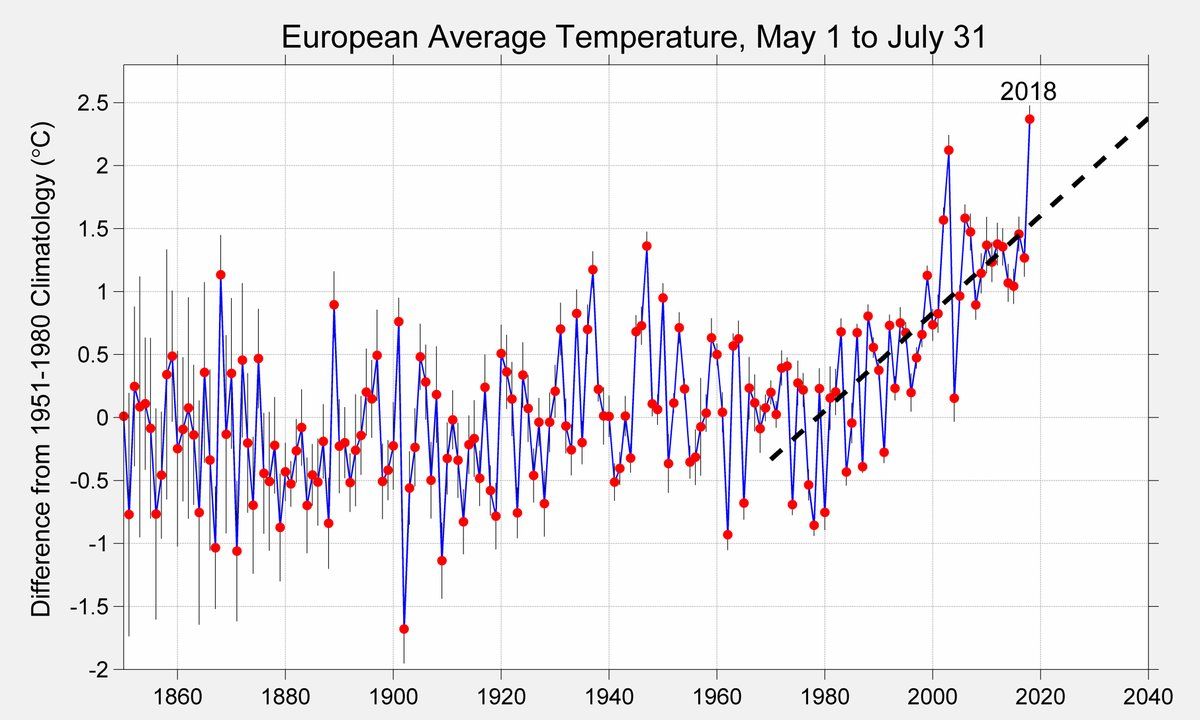 (Robert Rohde/Berkeley Earth)
A number of major cities in Europe have witnessed all-time high temperature records since July, including Lisbon, Shannon, Glasgow, Copenhagen and Berlin.
The heat has intensified rare instances of drought in parts of the United Kingdom, which experienced its driest first half of the summer on record.
"This was a heat wave on top of long-term warming," tweeted Robert Rohde, a climate scientist at Berkeley Earth, a nonprofit group that analyzes temperatures. "However, if the recent rate of warming continues, then by 2040 a typical summer in Europe might be just as warm as 2018 has been."
4. Scandinavia torched
Plot of the day: rank of the highest maximum temperature of the summer so far (TXx) in Europe. Dark red means record high since 1950, bright red second place etc. Note that the heat wave is not yet over. Source: E-OBS extended to 3 August, via https://t.co/yooXTASmqq (of course). pic.twitter.com/nZVuChnfFv

— Geert Jan van Oldenborgh (@gjvoldenborgh) August 5, 2018
The hottest weather ever recorded spread over large parts of Scandinavia. The heat was remarkable for its coverage, intensity and duration. Many areas saw temperatures exceed 90 degrees (32.2 degrees Celsius), compared with normal levels in the 70s, even locations more than 300 miles north of the Arctic Circle.
Sweden was hit by more than 60 wildfires, which the heat made worse.
5. The planet's third-hottest July on record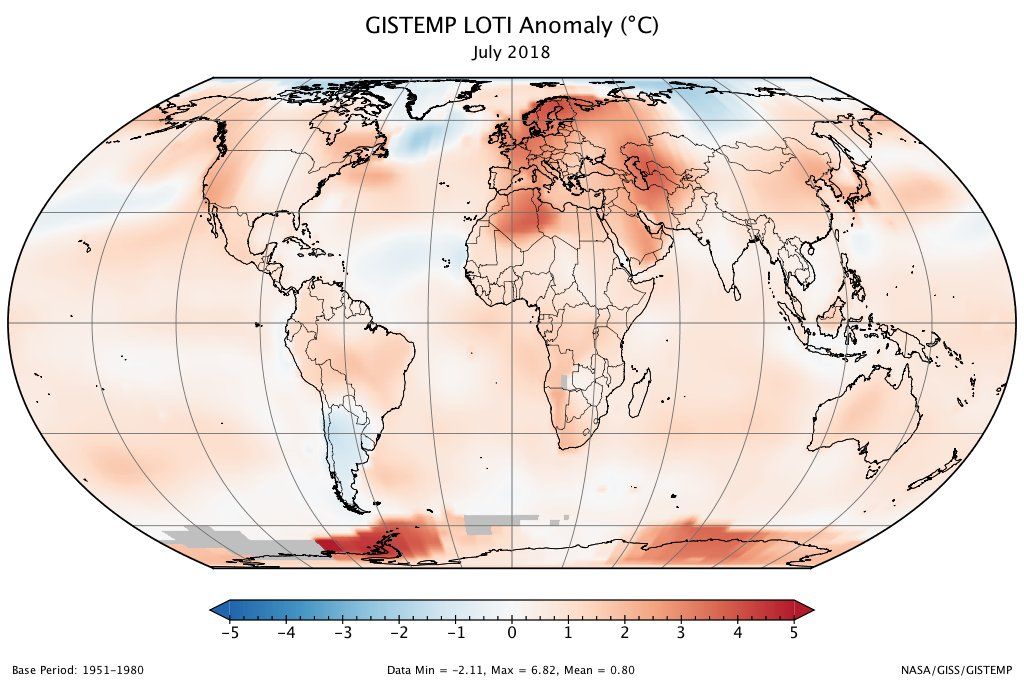 Temperatures difference from normal (1951-1980 base period) in July 2018. (NASA)
It was the third-warmest July on record for the planet, according to NASA, following 2016 and 2017, the two warmest.
"Since July is the warmest month of the year, the past July was one of the warmest recorded months ever," tweeted climate scientist Stefan Rahmstorf. "Likely among the warmest months since the Eemian 120,000 years ago."
During the exceptionally hot month, national heat records fell in Japan, South Korea, Algeria and Taiwan.
6. Heat records vastly outnumbered cold records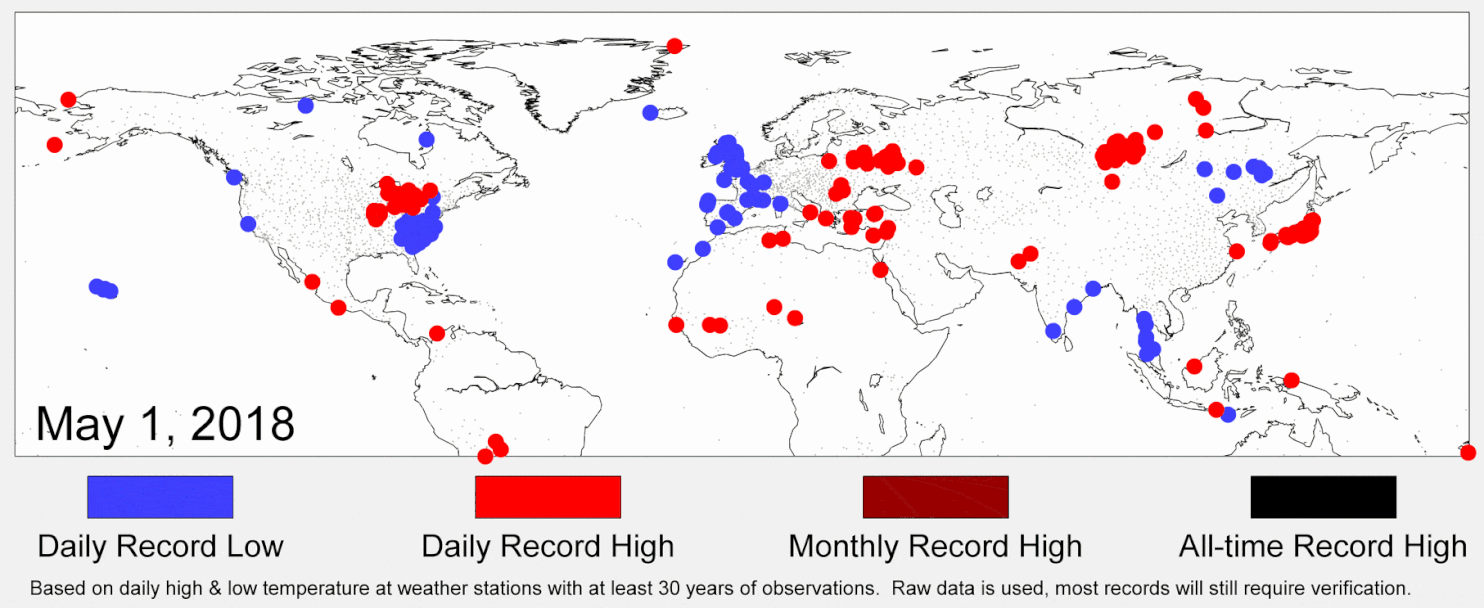 (Robert Rohde/Berkeley Earth)
During these brutally hot summer months, cool pockets popped up at times. However, according to Berkeley Earth's Rohde, daily record highs outnumbered record lows by a factor of more than three.
7. 2018 vs. 1976
The big difference between the heatwaves of 1976 and 2018.
June 1976: the UK was one of the warmest places relative to normal across the globe, with most areas cooler than average.
June 2018: the UK was just another warm blob in a mostly warmer than normal world.#GlobalHeatwave. pic.twitter.com/eIsj7glEiE

— Dr Simon Lee (@SimonLeeWx) July 22, 2018
The viral tweet above, from Simon Lee, shows the stark difference in June temperatures around in the globe in 2018 vs. 1976. In half a person's lifetime, the summer climate has changed profoundly.
"June 1976: the UK was one of the warmest places relative to normal across the globe, with most areas cooler than average," tweeted Lee, who is a PhD student in meteorology in Britain. "June 2018: the UK was just another warm blob in a mostly warmer than normal world."
Epilogue
In case you prefer text to graphics, below find a condensed list of the more notable heat records set on different continents:
In North America: Multiple locations in Southern California; Denver; Montreal; Mount Washington, N.H.; and Burlington, Vt.; Death Valley, Calif. posted the hottest month ever observed on Earth in July; Calgary, Canada; Pittsburg Landing in Idaho hit 118.9 degrees (48.3 Celsius), unofficially a state record; West Glacier, Montana
In Europe: Multiple locations in Norway, Finland and Sweden; Multiple locations in Portugal; Glasgow, Scotland; Shannon, Ireland; Belfast and Castlederg, Northern Ireland; Amsterdam and Rotterdam in the Netherlands; Copenhagen; Berlin.
In Eurasia: Multiple locations in central and eastern Russia; Tbilisi, Georgia; and Yerevan, Armenia.
In the Middle East: Quriyat, Oman, which posted the world's hottest low temperature ever recorded on June 28: 109 degrees (42.6 degrees Celsius).
In Africa: Ouargla, Algeria, which may have posted the highest temperature in Algeria and the entire African continent on July 5: 124.3 degrees (51.3 degrees Celsius).
In Asia: Japan, South Korea and Taiwan posted their highest temperature on record.
Collectively, all of these exceptional heat milestones are consistent with what is expected in a warming world, as concentrations of greenhouse gases from human activity continue to accumulate.
Many thanks to world-weather record experts Maximiliano Herrera and Etienne Kapikian for compiling these records on their website and Twitter feed, respectively, over the last few months.
2018 © The Washington Post
This article was originally published by The Washington Post.