Taiwan has been battered by super typhoon Nepartak, which made landfall on Friday morning, ripping off rooftops, flipping cars, and injuring at least 69 people, with one death reported so far. 
Nepartak is the strongest 'first typhoon' of the rainy season to hit Taiwan in more than 50 years, and it intensified incredibly quickly, going from a tropical storm on Monday afternoon to a category 4 super typhoon on Tuesday. 
On Thursday, it reached its peak strength and achieved category 5 status, before being downgraded to a category 4 just before it made landfall, delivering winds of 234 km/h (145mph) to the east coast of Taiwan.
The colour-enhanced image above was taken by the Visible Infrared Imaging Radiometer Suite (VIIRS) instrument onboard NASA's Suomi NPP satellite, and it gives a pretty crazy overview of just how powerful the storm is.
In the image, you can see the eye surrounded by powerful thunderstorms.
The red colour in the image represents atmospheric convection - basically the churning of hot and cold air in the atmosphere that causes thunderstorms - with the darkest areas representing the most intense areas of thunderstorm activity.
That's impressive enough, until you realise that the storm spans 200 km (125 miles).
To put that into perspective, compare it to this other NASA satellite image taken just 2 hours earlier, which shows the super typhoon dwarfing the island of Taiwan: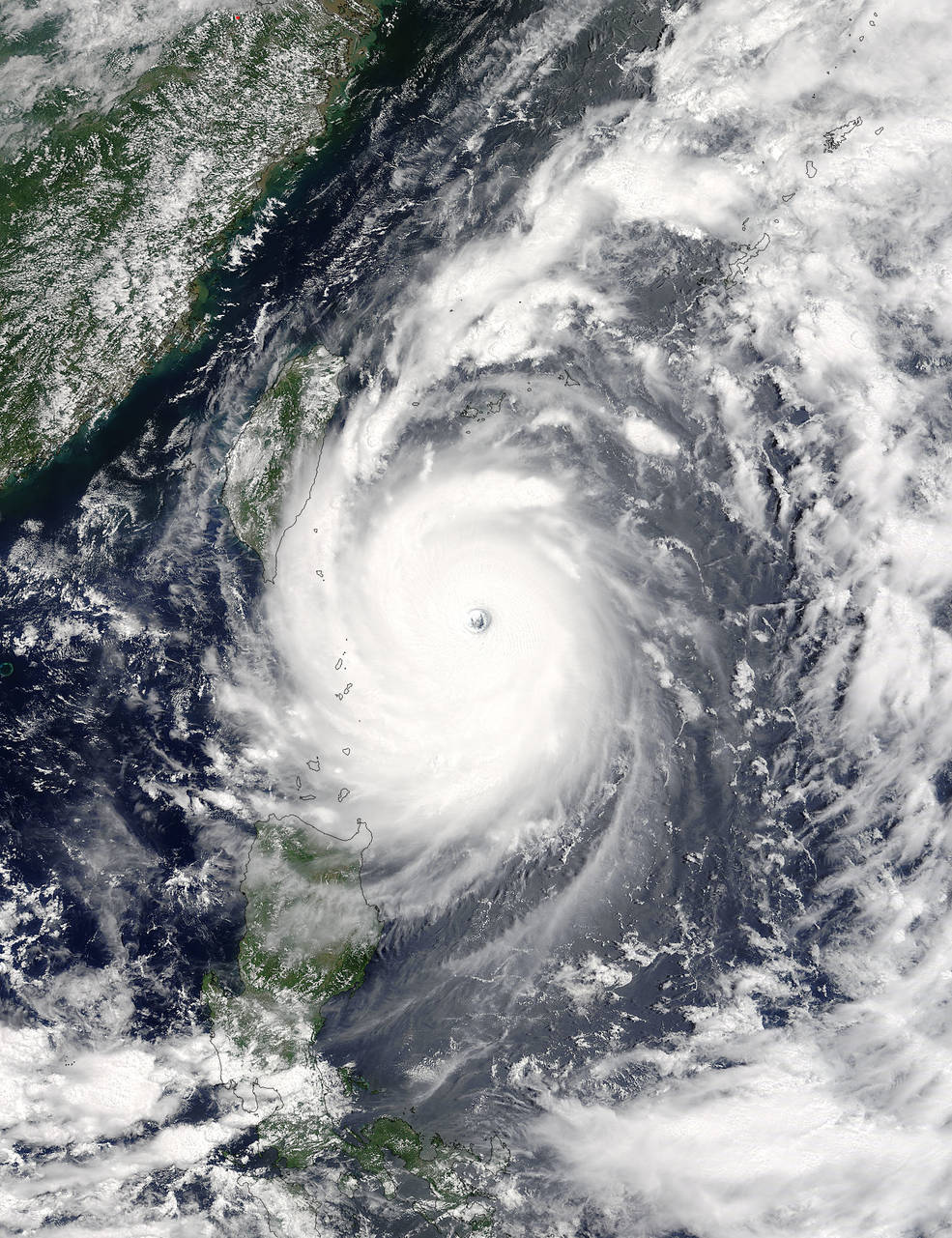 NASA Goddard MODIS Rapid Response/Jeff Schmaltz
Terrifying.
The typhoon is continuing to cause heavy rainfall and strong winds in Taiwan, and hundreds of thousands of homes remain without power. 
The storm is now moving north-west towards mainland China at a speed of around 17 km/h, which just last week had one of its most extreme floods in recent history, with more than 120 people killed.
You can watch the haunting progress of Nepartak below:
NOAA/RAMMB/Colorado State
Stay safe out there, everyone.