Some paintings keep their secrets under the paint, but for Vincent van Gogh's 1889 painting Olive Trees, the secret has been hiding in plain sight - if you know where and how to look.
More than a century after the artist completed his work, researchers have discovered a surprising 'guest' lurking in the paint - and they used it to try and discover more about how the artwork was created.
Conservator Mary Schafer at The Nelson-Atkins Museum of Art in Kansas City recently discovered a 128-year-old grasshopper forever preserved in the paint of the Olive Trees, although it's so small it could only be spotted under magnification.
If you're a painter working outdoors, keeping your paint detritus-free is no mean feat. It's also well-known from his letters to his brother Theo that Van Gogh liked to paint outside - or en plein air, as artists call it.
In an 1882 letter, he inventoried new equipment that would enable him to transport and set up his materials for outside painting; and in an 1885 letter, the hardships of painting outdoors.
The grasshopper was found in the lower foreground of the landscape. (The Nelson-Atkins Museum of Art)
"But just go and sit outdoors, painting on the spot itself," he wrote.
"Then all sorts of things like the following happen - I must have picked a good hundred flies and more off the four canvases that you'll be getting, not to mention dust and sand [..] not to mention that, when one carries them across the heath and through hedgerows for a few hours, the odd branch or two scrapes across them."
Sometimes these foreign materials embedded in the paint can help tell more about when and where the artwork was created.
"It is not unusual to find insects or plant material in a painting that was completed outdoors," Schafer said.
"But in this case, we were curious if the grasshopper could be used to identify the particular season in which this work was painted."
In the case of Olive Trees, we know where and roughly when it was painted. It was during Van Gogh's self-admitted stay at the Saint-Paul asylum in Saint-Rémy-de-Provence, France from May 1889 to May 1890.
Michael S. Engel of the Museum of Natural History was called upon to help identify the insect and see if the species could tell us during which season the masterpiece was created.
Unfortunately, all Engel was able to confirm was that the grasshopper's head and thorax were missing, and the paint around it was undisturbed, which means it was already dead by the time it hit the canvas.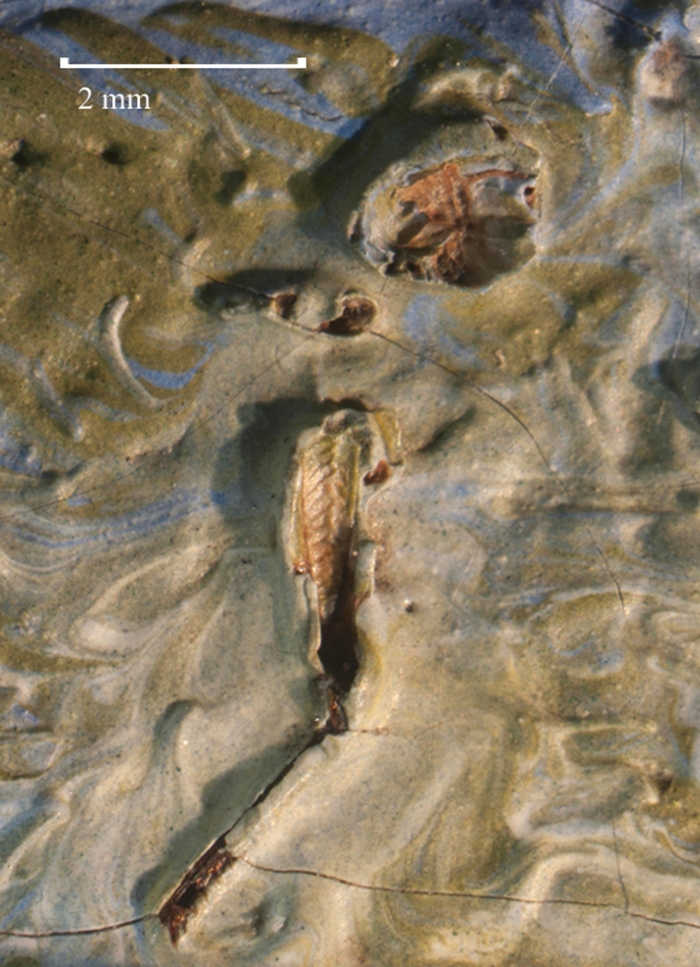 (The Nelson-Atkins Museum of Art)
Alas, nothing about the time of year the painting was made could be gleaned. But, Schafer noted, it makes a good talking point about the painting.
"We're able to talk about the grasshopper with our visitors in a fun way, learn about Van Gogh's process and how he painted," she said.
"The grasshopper's discovery connects viewers with Van Gogh's painting style, and the moment in which he made the work."
Painting over old works, often to re-use canvases, has been a common practice for centuries. With the tools of modern science, researchers and conservators have revealed hidden masterpieces from Picasso, Degas and even Da Vinci.
This is not the first time one of Van Gogh's paintings has yielded up a secret, either. In 2008, researchers using X-ray discovered that the artist's 1887 work Patch of Grass had been painted over an earlier portrait.
In 2012, X-ray techniques revealed a pair of wrestlers, painted when the young artist was just a student, and subsequently painted over with flowers, previously thought to be the work of an unknown artist. In that case, the hidden picture confirmed that Van Gogh was the author.