The bees never stood a chance. In the bitter chill of Iowa's winter, freezing temperatures became deadly for half a million of the exposed pollinators, whose hive homes were destroyed by vandals over Christmas.
In all, 50 hives were trashed in the spree, and without their protection from the elements, the honeybees froze to death in the extreme cold. Now, police in Sioux City have charged the alleged culprits behind this bizarre, senseless crime.
Two boys, aged 12 and 13, were arrested and charged last week in connection to the vandalism, which the owners of Wild Hill Honey, Justin and Tori Engelhardt, discovered on the morning of December 28, when they went to check on their hives after Christmas.
"They knocked over every single hive, killing all the bees. They wiped us out completely," Justin Engelhardt told the Sioux City Journal.
"They broke into our shed, they took all our equipment out and threw it out in the snow, smashed what they could. Doesn't look like anything was stolen, everything was just vandalised or destroyed."
So far it's not clear why the teens would have done such a senseless thing.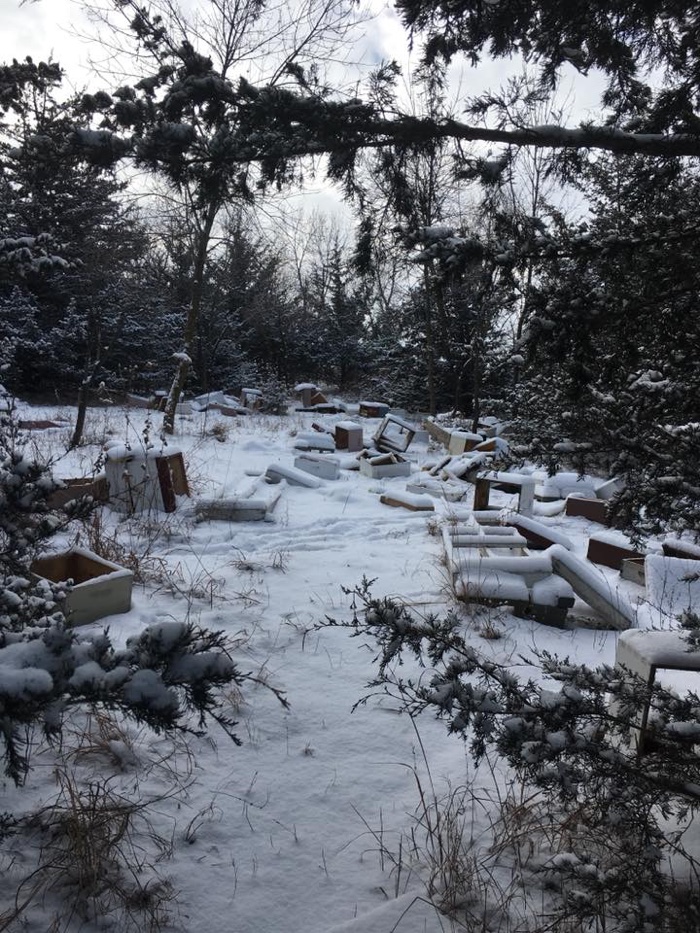 (Wild Hill Honey/Facebook)
The ransacking didn't just kill at least half a million bees. It also caused an estimated US$50,000 to $60,000 worth of damage to the couple's business, and with none of their equipment insured – due to insurers not offering beehive coverage – this single act of vandalism threatened to end their operations permanently.
Fortunately, a GoFundMe page set up by a friend of the couple after the incident saw a huge amount of support from the local community and elsewhere, raising in excess of $30,000 – and meaning Wild Hill Honey will be able to restock its hives and could be selling honey again as soon as later in the year.
As for the alleged vandals behind the crime, their prospects aren't so certain.
The two boys, who as juveniles can't be identified due to state privacy laws, have been charged with three felonies, including criminal mischief in the first degree and burglary in the third degree – in addition to possession of burglar's tools, an aggravated misdemeanour.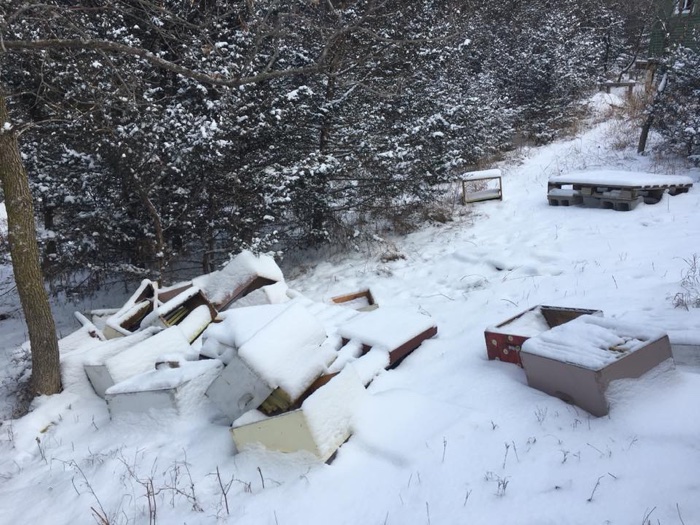 (Wild Hill Honey/Facebook)
Nonetheless, the defendants could be looking at up to 10 years in prison and fines as much as $10,000 if they are found guilty of having committed the crimes – although, since they're minors, it's most likely the case will be heard in a juvenile court, where lesser penalties would be imposed.
A separate felony relating to agricultural animal facilities offences is also alleged, but while this law has been in effect since the 1990s, such violations are so rare that county assistant attorney Mark Campbell – who's worked in the Woodbury County office for more than three decades – doesn't think it's ever actually been prosecuted.
Then again, it's not every day that two boys decide to allegedly kill half a million honeybees for seemingly no purpose other than sheer kicks – and it's not like bees don't already have enough problems as a species.
Right now scientists are warning bee populations worldwide are facing what looks to be an extinction crisis, and studies are pointing towards overuse of toxic pesticides called neonicotinoids as one of the potential causes.
With more and more bee species becoming threatened by the problem, a global food industry worth hundreds of billions of dollars is in jeopardy, and it's incumbent on us to find a solution that keeps our pollinators alive and our food crops growing.
At the very least, we can do without vandals smashing up bee hives and adding to the death toll.
In fact, the Englehardts think that general awareness of the critical issues facing bees contributed to people's willingness to donate money and put Wild Hill Honey back in business.
"It was amazing and we are deeply grateful for all of the contributions from the people of Sioux City and people around the country," Justin Englehardt said.
"Bees are critical and people are conscious of the fact that bees are having a hard time right now and facing some real challenges."