If you're looking for inspiration for your Fourth of July party, look no further than this incredible firework ladder that blazes its way into the sky.
This fiery art installation was created by renowned Chinese-born artist Cai Guo-Qiang in June 2015 and, as you can see, it's pretty damn breathtaking.
It begins like a pretty standard fireworks show but quickly lights up a gasp-inducing ladder that just keeps on climbing higher and higher into the sky. 
Guo-Qiang worked on the display for more than 20 years and this was his third attempt to create what he calls the 'Sky Ladder'. There's now a Netflix documentary, Sky Ladder, on the journey.
Guo-Qiang created the display for his grandmother, who had recently celebrated her 100th birthday. His vision with the artwork was to create a "stairway to heaven".
Unfortunately his grandmother ended up being too unwell to see the display in person, but she watched the whole thing via phone. She died just a month later. 
The footage has since been seen more than 56 million times on Facebook.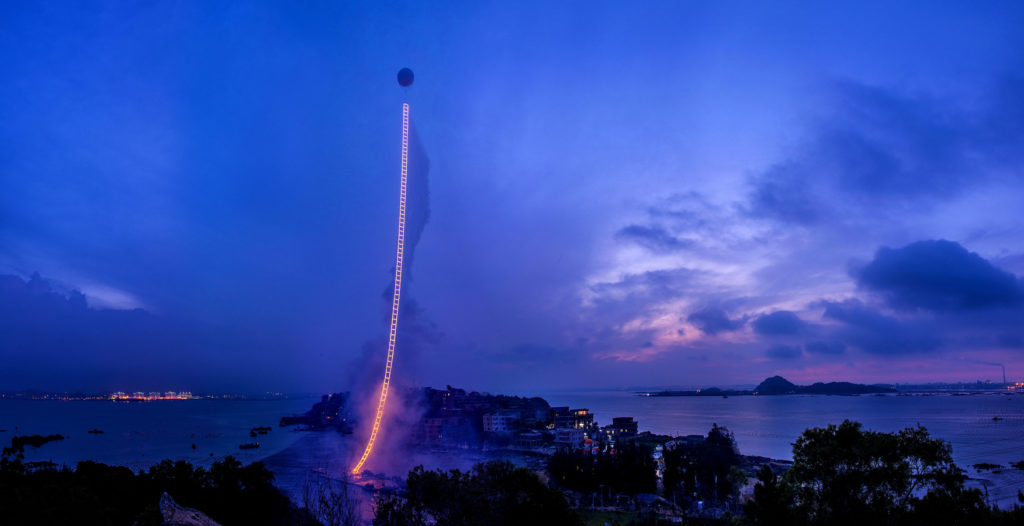 (Cai Studio/Netflix)
So how exactly do you create a giant ladder that lights up the dawn sky?
Although it looks pretty magical, the artist actually used a large weather balloon to suspend a 500-metre (1,650-foot) long wire ladder, which was studded with gold fireworks, quick-burning fuses and gunpowder, Matt Payton reported for Yahoo News.
First, Guo-Qiang sent the weather balloon rocketing up into the sky, dragging the ladder with it, before setting off a chain reaction of explosions along its length to produce the light show. 
The New-York based artist is famous for his large-scale installations and is no stranger to using explosions in his work.
"Gradually, I began to create works with gunpowder, and my works became more conceptual. Creating art has always been enjoyable and amusing; it has been my time-space tunnel," Guo-Qiang told Laura Thomson from art magazine Ocula in 2014. 
This particularly spectacular 80-second spectacle occurred in Quanzhou City in China's southeast Fujian Province on 15 June 2015, just before dawn, but Guo-Qiang has been attempting the 'Sky Ladder' since 1994.
His first attempts more than two decades ago in Bath, UK, were thwarted by strong winds.
In 2001 he was ready to try again to celebrate Shanghai hosting the APEC summit. But then the September 11 attacks happened and air space access was heavily restricted, so he put the light show on hold again. 
Thankfully this attempt went off without a hitch. 
"I was touched and happy to see so many people could relate to it. It kind of proved the power of artworks," Guo-Qiang told artnet in 2016.
You can see some more of Guo-Qiang's incredible explosive work below:
A version of this story was first published in August 2015.