Authorities have been able to drain some of the water from the cave where a Thai soccer team has been trapped for 12 days, which may allow the team to avoid using diving equipment and almost walk out.
Rescuers can now enter the cave up until the third chamber located about 1.5 kilometers (1 mile) from the cave's entrance without using scuba gear, Poonsak Woongsatngiem, a rescue official with Thailand's Interior Ministry, told reporters on Thursday.
There are 20 pumps currently draining floodwaters from the cave and water levels have been reduced about 40 percent in some areas.
But challenges still remain with 2.5 kilometers of the tunnel full with water and heavy monsoon rain expected this weekend.
"The water level between the third chamber and the point the students are at is still high and we have put the tubes at the third chamber trying to get the water out as much as possible," Woongsatngiem said.
"We can't say whether there will be a rescue today or not. We hope there is no rain," he added.
"We cannot calculate how much the water flows out of the cave because there is always water flowing into the cave."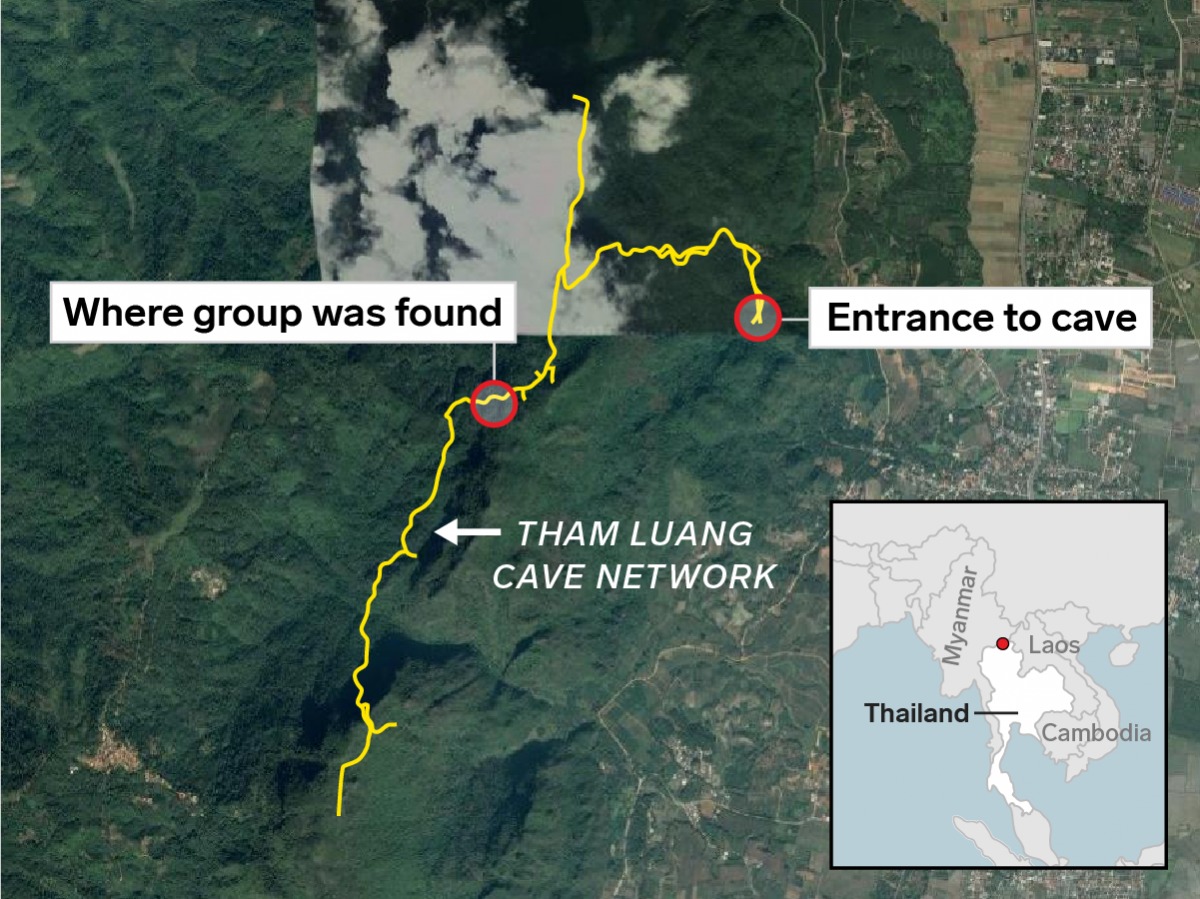 (Skye Gould/Business Insider)
The 12 boys, aged 11-16, and their 25-year-old coach are situated on an elevated embankment about 4 kilometres (2.5 miles) from the cave's main entrance.
The goal of this latest rescue plan is to drain enough water from the chamber and passageway so the level drops from the ceiling to waist height.
This way the boys wouldn't need to learn to swim or dive, and would be able to have their head above water as they exit, almost allowing them to walk out.
"We want to drain water as much as we can," Poonsak said, "However, I couldn't estimate the depth. It varies because some areas may be deeper."
According to The Guardian, about 3,400 gallons (13,000 litres) of water are being pumped out of the cave per hour.
Rescue crews are desperately pumping millions of litres of water out of the Thai cave where 12 boys and their soccer coach remain trapped, trying to get the level as low as possible before torrential rain hits tomorrow @9NewsAUS pic.twitter.com/kabyInXWEJ

— Alice Monfries (@alicemonfries) July 5, 2018
Thai authorities have also suggested removing the team in stages, depending on the boys' conditions.
"All 13 may not come out at the same time. If the condition is right and if that person is ready 100 per cent, he can come out," Narongsak Osatanakorn, Chiang Rai's provincial governor, told reporters on Wednesday.
But the largest problem for now is the water levels.
"We can't risk more flooding," Narongsak said. "We were racing against time before we found them. Now we're racing against water. It keeps seeping through the cave."
The boys are being taught how to swim and dive so they can be escorted out by Navy divers if required, and authorities may also be considering drilling down into the cave.
The boys have been given food and treated for minor cuts.
This article was originally published by Business Insider.
More from Business Insider: