Over 100 captured whales are being held in small, crowded enclosures in a so-called 'whale jail' off the coast of Russia, where they await suspected sale to Chinese theme parks, according to local media reports.
The discovery of the marine containment facility near the city of Nakhodka in Russia's south-east is being investigated by Russian prosecutors, who are examining whether the detainment is for illegal commercial purposes – in which case the captured animals would be worth a fortune on the black market.
According to Russian news site VL.ru – which obtained a number of photos of the holding pens in Srednyaya Bay – the whale jail is monitored by armed men who walk around the perimeters of the facility, while the animals are held in underwater cages formed by nets.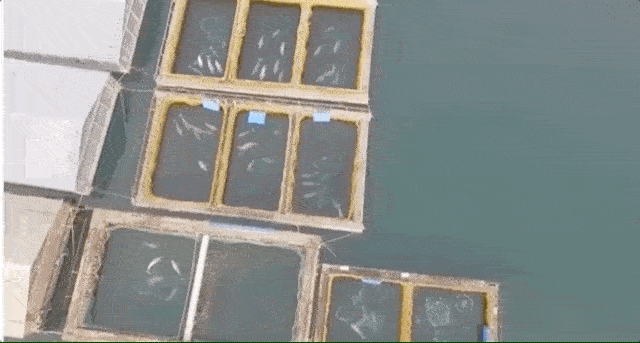 (Masha Netrebenko/Facebook)
Independent Russian newspaper Novaya Gazeta reports the giant haul of captured animals – said to be 11 orca whales and 90 beluga whales – represents a record catch for the four companies responsible: LLC Oceanarium DV, LLC Afalina, LLC Bely Kit and LLC Sochi Dolphinarium.
The report claims the virtually unregulated activity of these four companies controls the market for capturing and exporting marine animals, with some of the whales having been kept in crowded confinement since July.
Under international law, whales can be captured for certain scientific, educational, and cultural purposes, but commercial export – in this case, allegedly for sales to Chinese aquariums and entertainment parks – is strictly outlawed.
According to The Telegraph, an individual orca whale can fetch US$6 million on the Chinese black market, and there's ample demand for the specimens. While China already has some 60 marine parks, a dozen more are reportedly under construction.
"Catching them at this tempo, we risk losing our entire orca population," Greenpeace Russia research coordinator Oganes Targulyan told The Telegraph.
"The capture quota now is 13 animals a year, but no one is taking into account that at least one orca is killed for every one that is caught."
While the current allegations remain an open investigation, the new details have emerged in the wake of a previous whale trafficking scandal reported to involve the illegal export of 15 orcas from Russia to China between 2013 and 2017.
While prosecutors investigate, there are also concerns for the way the animals are being kept and transported. Video on YouTube shows whales being moved between tanks, while drone footage shot from overhead just how cramped these poor whales' captive conditions are.
"Under the guise of enlightenment and culture, dirty business is conducted on rare orcas," a Greenpeace representative told RIA News (translated).
"They were caught in 2018, allegedly for educational and cultural purposes, but in fact it is about commerce with fabulous profits."