A Chinese engineering and design firm has unveiled the world's tallest 3D-printed building - a five-storey residential apartment block made from recycled construction materials.
The building was made by the Shanghai-based company called WinSun Decoration Design Engineering. The company's epic custom-built 3D printer cost roughly US$2.3 million and took the company 12 years to manufacture. It measures 6.6 metres tall, 10 metres wide and about 150 metres long - and something just like it may very well print your future home.  
The machine works by printing, layer by layer, large sections of buildings (such as wall panels) using an "ink" made from a mixture of fibreglass, steel, cement, hardening agents and recycled construction materials. These sections are then assembled on site, much like prefabricated concrete, to create the final structure. (You can watch it in action in the Associated Press news report below). 
According to the company's website, their 3D-printed walls are about 50 percent lighter than concrete walls, but have "much higher strength and toughness". It also says they won't crack, that they have strong water-proofing, as well as improved air permeability and heat retention compared to walls made from "common construction materials".    
In addition to their apartment building, the company simultaneously unveiled a 1,100-square-metre 3D-printed mansion, which cost an estimated US$160,000. It's the first of 10 that have been pre-ordered by a large Taiwanese realty group.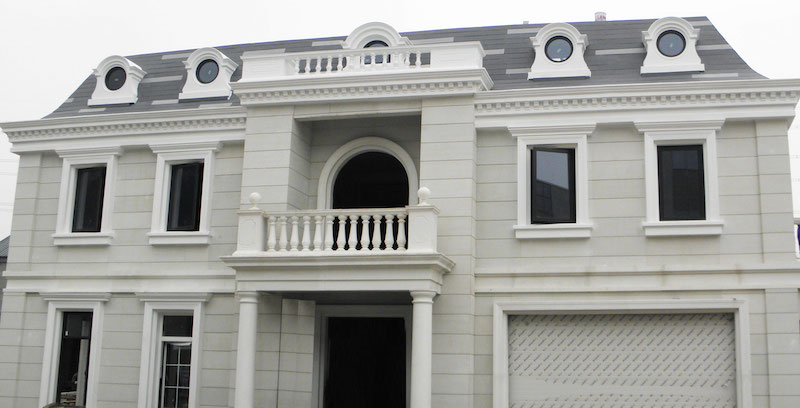 A 3D printed villa (courtesy WinSun)
As the team at ArchDaily reports, "the two buildings represent new frontiers for 3D-printed construction, finally demonstrating its potential for creating more traditional building typologies and therefore its suitability for use by mainstream developers". 
In a press conference, reported on by 3Ders.org, the Chief engineer of China Construction No.8 Engineering Bureau, Ma Rongquan said: "These two houses are in full compliance with the relevant national standards. It is safe, reliable, and features a good integration of architecture and decoration. But as there is no specific national standard for 3D printing architecture, we need to revise and improve such a standard for the future."
WinSun gained international attention in April 2014 when it constructed 10 single story homes from 3D-printed materials in less than 24 hours, with each building costing less than US$5,000.  
"Such a new type of 3D-printed structure is environment-friendly and cost-effective," the company's CEO Ma Yihe told the International Business Times at the time.  
"Industrial waste from demolished buildings is damaging our environment, but with 3D printing, we are able to recycle construction waste and turn it into new building materials," said Ma. "This would create a much safer environment for construction workers and greatly reduce construction costs."
And the company, which already holds nearly 100 patents, has lofty aims to keep popularising 3D buildings. As 3Ders.org report, over the next three years they will be setting up factories in more than 20 countries, including Qatar, Morocco, Tunisia and the US, and will also be unveiling a sand-based 3D printer.    
One of the first researchers to conceptualise how 3D printing coupled with robotics might fundamentally change the construction industry was Behrokh Khoshnevis, an all-around engineer at the University of Southern California. 
His work on contour crafting (outlined in the video below) holds big potential for developing affordable housing, and has garnered interest from NASA as a means to help construct future space colonies. 
Source: ArchDaily, 3Ders.org, International Business Times