A magnitude 7.5 earthquake has struck off the coast of the Indonesian island of Sulawesi, triggering a 1.8-metre (6-foot) tsunami.
The wave tore through several of the island's coastal cities and towns, including the capital Palu, on Friday.
The devastating quake has been followed by multiple strong aftershocks, and comes shortly after a magnitude 6.1 quake that struck central Sulawesi, reportedly killing several people.
Onlookers captured the moment the tsunami hit on camera, and the brutal footage shows the incredible force of the wave as it crashes and tears through buildings, submerging entire structures and sending people screaming and running.
You can watch the footage below, shared by Twitter user @ksjoona, but be warned it's pretty harrowing. 
You can see more video via PM Breaking News:
Breaking: Tsunami hits Palu, Indonesia after massive 7.7 earthquake. Major damage is being reported. pic.twitter.com/nRvge2mKy2

— PM Breaking News (@PMBreakingNews) September 28, 2018
"The situation is chaotic, people are running on the streets and buildings collapsed," Dwikorita Karnawati, head Indonesia's meteorology and geophysics agency, BMKG, told the BBC. 
It's not clear as yet if anyone was killed in the tsunami directly, but the BBC is reporting at least five deaths as a result of the events. Telecommunication lines are down in the area, making it hard for accurate information to get out.
The quake hit at a depth of 10 km (6.2 miles) around 56 km (34.7 miles) northeast of the Sulawesi town of Donggala.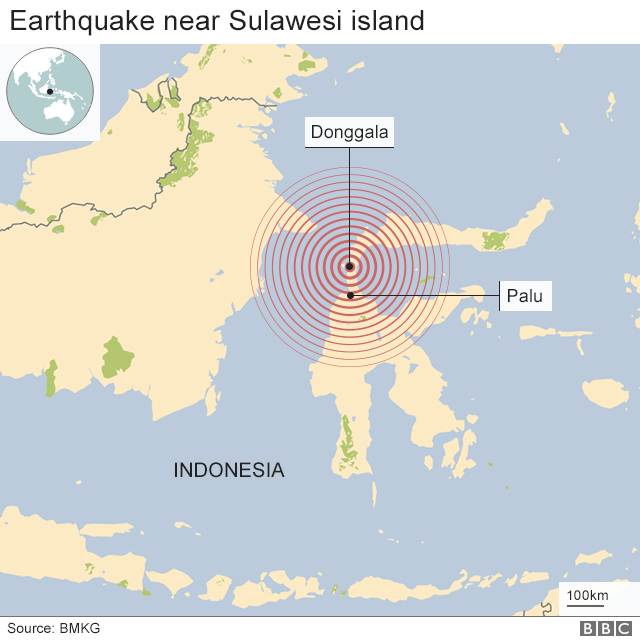 (BBC)
Karnawati, told News.com.au that the tsunami waves reached up to 3 m (9.8 feet) high in some parts.
The tsunami warning has now been lifted, and the military is deploying troops to the area to help with clean up.
But disaster agency spokesperson Sutopo Purwo Nugroho told News.com.au that people are encouraged to remain vigilant.
"It is better not to be in a house or building because the potential for aftershocks can be dangerous," said Nugroho.
Indonesia is no stranger to earthquakes due to its location on the 'Ring of Fire'. In fact, in 2016, researchers found the largest exposed fault on Earth running under some of Indonesia's islands.  
In 2004 Indonesia was one of the countries hardest hit by the Boxing Day tsunami, which killed hundreds of thousands of people.
And back in August, the island of Lombok was hit by a series of huge earthquakes, resulting in more than 500 deaths and displacing more than 300,000 people.