SpaceX successfully launched its first rocket in almost five months on Saturday, deploying 10 satellites into space and landing the reusable part of the rocket perfectly on a drone ship in the Pacific Ocean.
It's the company's first launch since a fireball engulfed a similar rocket on the launchpad back on 1 September 2016. The entire SpaceX fleet has been grounded ever since, while an official investigation looked into what went wrong, amidst rumours of possible sabotage.
"It's a clean sweep - 10 for 10," says SpaceX launch commentator John Insprucker in the launch footage below.
"Mission looks good," SpaceX founder Elon Musk posted on Twitter. "Rocket is stable."
It's now been determined that the September explosion was due to a helium canister bursting inside the rocket's second-stage liquid oxygen tank, and SpaceX has changed its refuelling process to prevent this happening in future. They're also redesigning the canister for future rockets.
You can see Saturday's launch go down without a hitch in the video below.
It's pretty long, showing all the pre- and post-prep procedures, but lift off happens from around the 18:30 mark, and shortly afterwards, the second stage of the rocket – the part that takes the satellites into space – separates.
The really good part happens at around 26 minutes in, when the rocket's first stage – the reusable part – plummets back down to Earth, and lands itself perfectly on a drone ship floating in the middle of the Pacific Ocean (while the crowd goes wild in the background).
In case you need to see that again, here's a rocket-eye view of the landing. If that doesn't get you at least a little excited for space travel, we don't know what will.
The fact that SpaceX can now do this means it will save the estimated US$62 million cost of building a new Falcon 9 rocket every time it wants to launch something into space.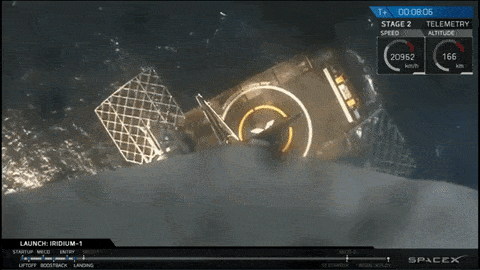 This is the fifth time that SpaceX has managed to nail the landing of its reusable Falcon rockets at sea – a feat that will greatly help the company cut costs.
SpaceX's first launch after the explosion was initially scheduled for January 9, but was postponed due to weather. We think it was worth the wait:
Liftoff pic.twitter.com/pcVJOvFHY2

— Elon Musk (@elonmusk) January 15, 2017
In this latest launch, the Falcon 9 rocket's second stage carried 10 NEXT satellites into low Earth orbit for telecommunications company Iridium.
This is just one of 70 back-logged launch jobs SpaceX now has to clear, worth more than US$10 billion. The company aims to launch an incredible 27 rockets in 2017 to get back on track - more than triple the number it pulled off in 2016.
Some of those rocket launches will also be taking cargo to the International Space Station.
As we've said before, as devastating and expensive as rocket explosions are, they can teach companies a lot about the best and safest ways to get to space in the future.
And that's important, because SpaceX is still hoping to start its first missions to Mars in 2018, so the more they can prepare for that ambitious goal here on Earth, the better.
Even if a few rockets are lost in the meantime.