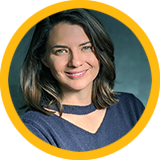 Fiona MacDonald is the CEO of ScienceAlert. She's worked on the site as an editor and journalist since its launch in 2006, and took over as CEO in 2017. 
An award-winning science journalist with 15 years of experience, she has worked at Cosmos magazine and Madison magazine, and reported for Popular Science, Vogue, GQ, ABC Science, the Sydney Morning Herald, Marie Claire, and Australian Geographic. For her reporting on the anti-vaccination movement in Australia, Fiona was awarded the Young Journalist of the Year award by Publishers Australia in 2010.
Fiona is a vocal supporter of women in science and leadership roles, and has worked with organizations including the Australian Science Media Centre and the Walkley Foundation. She graduated with a Bachelor of Science with first-class honors from the University of Melbourne and went on to complete a Graduate Diploma of Journalism at Deakin University.
Fiona believes anyone with access to the internet deserves high-quality, accurate, and engaging science content. Most importantly, she thinks that scientific education can change the world. She lives with her husband and young daughter on the Central Coast, Australia, and is most often found on the beach, on the yoga mat, riding horses, or walking in nature.
Twitter: @fionajmacdonald